Ricky Schroder proves why the maskless honor system won't work
May 15th, 2021 under Coronavirus, Ricky Schroder. [ Comments: none ]
Several stores are relaxing the wearing a mask rule for people who have been vaccinated. However, people who got the COVID-19 vaccine look like the people who haven't gotten it. So how are stores going to know who got it and who didn't? They are going to go with the trust system.
There is only one problem. The people who haven't been wearing masks are the same ones who won't get vaccinated. So why would they suddenly put on a mask now? They won't. Therefore, people like me, who are not selfish and care about others, will still have to wear masks. Because I am not maskhole.
Do you want to see a maskhole? Here is Ricky Schroder asking people to boycott Costco because they won't let him in since he is maskless. If a private business says you have to wear a mask, then you have to wear one. If the store chooses to follow the law of the land, then you have to follow what the store says. If you don't like that, then you can go to another store. It is that simple.
Stores require you to wear shirts and shoes, so you do it. A mask is just another piece of clothing you are required to wear. These are the same people who went to SCOTUS and asked that if a store doesn't want to make a cake for a gay wedding, then the bakery does not have to. They can't just have the rules only be for one side. They are for both.
So, Ricky, you can't ask for anarchy against Democrats when you support Trump. You are either support the government and its laws, or you don't. You can't only support the law when your guy is in charge.
I know you went to school on the set, so you probably didn't learn the basics. Therefore, maybe you should learn them before you make a stand. Life is not a sitcom that you can ask the writers to do whatever you want. There are network execs who are in charge, whether you like them or not. It is just part of the job.
So when Jet Blue asked you to put on a mask, they had every right to do that. That is why you got a warning. If you don't want to wear a mask when you fly, then take a train or a car. Private companies can do what they want. If you don't like it, then go somewhere else.
And use some moisturizer because the sun really wrinkled your face. You would be a lot better with a mask on, so we don't have to look at all of that sun damage. See, masks can be good. You would look a lot younger with one on.

---
Ricky Schroder arrested on suspicion of felony domestic violence
May 1st, 2019 under Ricky Schroder. [ Comments: none ]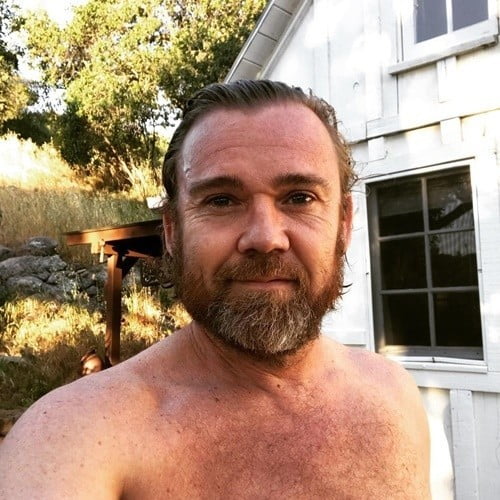 Ricky Schroder was arrested early this morning on suspicion of felony domestic violence. According to TMZ, he allegdely hit his girlfriend. He most likey left a mark because that is why they made it a felony charge.
This site also says that is the second time he was arrested for allegedly striking his girlfriend in 30 days. Police were also called to his house on April 2nd for the same thing.
The child actor is currently still be held on $50,000 bail.
He posted the above photo on April 23rd and said, "Good morning world #sunrise #malibumountains." It looks like he does not have a care in the world, but now we know he does. Today, it is two of them.

---
Does Ricky Schroder's wife get to keep half of the Silver Spoons?
September 13th, 2016 under Divorce, Ricky Schroder. [ Comments: none ]

After 23 years of marriage and 4 kids, Ricky Schroder's wife Andrea has filed for divorce. According to People, she cited Irreconcilable Differences as the reason for the split. As of now, we don't know what made her file two weeks before their 24th anniversary. What we do is that she is seeking spousal support, coverage of attorney's fees and both the legal and physical custody of the couple's only minor child, Faith.
I thought because they took their love out of Hollywood that they would be one of the ones that would actually last, I guess no where is safe.

---
Ricky Schroder had a crush on his TV stepmom!
July 25th, 2013 under Ricky Schroder, Talk Shows. [ Comments: none ]

Ricky Schroder is a guest on Katie Couric's talk show tomorrow and she asked him if it is true that he had a crush on his Silver Spoons TV "mom". Although since she didn't watch the show, she didn't know Erin Gray was his stepmom and not his mom on the sitcom. So it made her Florence Henderson/Barry Williams reference a little off the mark. But it did get him to admit that he tried his hardest to get her to like him for many years. Katie told him it worked because Gray admitted to her that she did have feelings for him.
Can't I say I blame them because both Schroder and Gray look just like they did when they did Silver Spoons 30 years ago!

---
A Silver Spoons reunion!
February 25th, 2013 under Reunions, Ricky Schroder. [ Comments: none ]

Back in 1984 Alfonso Ribeiro and Ricky Schroder met each other on Silver Spoons, and now almost 30 years later they are still friends! Ricky's wife Andrea Tweeted a picture of the two of them at Alfonso's birthday party and even though both men are now in their 40's they look just like they did when we got to know them as teens on that sitcom! Isn't it great to see that Ricky and Alfonso are still buddies after all of these years?
BTW you can see Ricky and all of his kids starring in the Hallmark Movie Channel film Our Wild Hearts on March 9th that was co-written by the actor and his wife.

---