Surprise Adrianne Palicki and Scott Grimes are married and getting a divorce
July 23rd, 2019 under Divorce. [ Comments:

6

]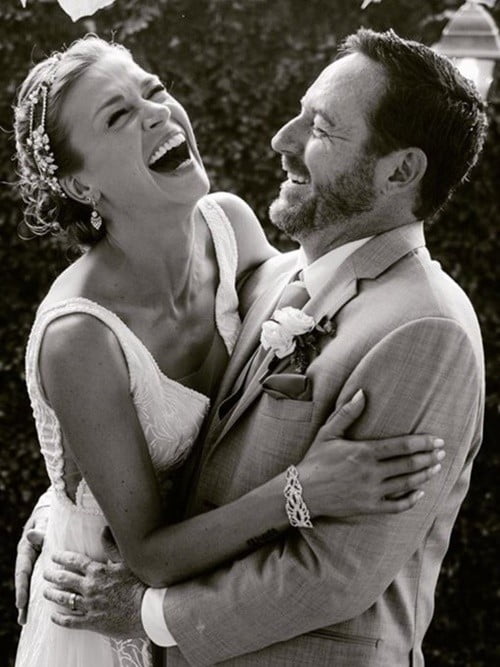 Back in January, The Orville co-stars Adrianne Palicki and Scott Grimes got engaged. Then on May 19th, they got married. Now, the next like should be about a baby in a baby carriage, but that will not be the case. That is because The Blast says she filed for divorce today.
No reason was given for their separation, but I am sure it will make things interesting on the set. Although, they both appeared together on a panel for the Sci-Fi show on Saturday at San Diego Comic-Con and did not kill each other.
I wonder if Seth MacFarlane had to choose, which one would he choose? Palicki is a better name and has a more important role, but Grimes has been working with him since 2005 on American Dad.
This was her first marriage and his third. Which was not a charm.
---
Andy Richter and Sarah Thyre celebrate their silver anniversary by getting a divorce
April 13th, 2019 under Conan O'Brien, Divorce. [ Comments:

none

]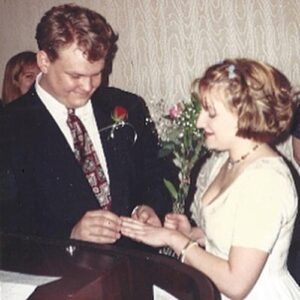 Last month, Andy Richter and Sarah Thyre celebrated their 25th wedding anniversary and today they announced that they are divorcing.
The Conan co-host wrote, "It is with sadness that Sarah and I announce that we have separated and have begun divorce proceedings. We are extremely proud of the life we've built together and shared with so many friends over the years, and even though our marriage has reached its completion we will always maintain a loving friendship and parenting partnership."
While the Strangers with Candy star added, "After careful consideration, @AndyRichter and I have decided to divorce. We've shared a wonderful 27+ years and have 2 fabulous kids whom we love and will continue to parent together. Thanks to our friends and family for their support. ♥️Looking forward to the next chapter…"
They met in 1991 while working on The Real Live Brady Bunch and have 2 teenage children, Williams and Mercy.
A marriage that lasted twenty-five years and 2 coasts in Hollywood is like one that lasted until death they do part.
---
Michael Fishman split from the woman he was married to for half his life
December 28th, 2018 under Divorce. [ Comments:

none

]

Michael Fishman celebrated his 18th birthday by getting married to Jennifer Briner. Shortly before the two celebrated their 18th wedding anniversary, they separated. Yesterday, over a year later, they made their separation legal according to TMZ.

No reason was given for the split, but I have to wonder if the success of the Roseanne revival played into it.

Although their marriage not only beat the odds of Hollywood, it also beat the odds of other child stars by 18 years.

The couple have two teenage children, Aaron and Jamie.

UPDATE: They might no longer be a couple, but they are still a family. Here is Michael Fishman, his estranged wife and their two children having breakfast yesterday.
---
Nia Vardalos' big fat Greek divorce
July 4th, 2018 under Divorce. [ Comments:

none

]

My Big Fat Greek Wedding's Nia Vardalos filed for divorce from CougarTown's Ian Gomez yesterday, 2 month and 2 days before their 25th anniversary.

The former couple celebrated another anniversary on June 29th. One that is much less joyous because they separated a year ago on that date according to the papers attained by The Blast.

The actress asked for joint custody of their 11-year-old adopted daughter, Ilaria.

They also released this joint statement, "We've been respectfully separated for a lengthy period of time. Our relationship became a friendship so the decision to end the marriage is completely mutual and amicable. It is our hope that decency will prevail on the reporting of this story which will soon be yesterday's news. Thank you for respecting our privacy."
---
Jennifer Aniston is making like her movie The Break-Up with Justin Theroux
February 15th, 2018 under Divorce, Friends (cast), Justin Theroux. [ Comments:

none

]

When Jennifer Aniston showed up to Ellen DeGeneres' party without Justin Theroux this weekend, the rumors that they split started up again. Today the couple told the AP, that split "was mutual and lovingly made at the end of last year." Then they added, "Normally we would do this privately, but given that the gossip industry cannot resist an opportunity to speculate and invent, we wanted to convey the truth directly. Whatever else is printed about us that is not directly from us, is someone else's fictional narrative. Above all, we are determined to maintain the deep respect and love that we have for one another."

Therefore, we can stop guessing if she is pregnant and go back to will she get back together with Brad Pitt.

People says sources told the mag, their busy schedules caused problems in the marriage.

They were married on August 5, 2015, in a small private wedding at their Bel Air home.
---