Soleil Moon Frye has separated from her husband of 22 years
December 28th, 2020 under Divorce, Soleil Moon Frye. [ Comments: 2 ]

Soleil Moon Frye just wrapped the first season of the Punky Brewster revival for Peacock, and that is not the only thing she wrapped in 2020.

The actress and her husband, Jason Goldberg, should have been celebrating their 22nd and 2 month wedding anniversary on Christmas. Instead, they were figuring out how to announce that they separated earlier this year.

Frye and the producer "quietly separated this year," her rep told People. "Their priority will continue to be their four beautiful children as they move forward with love and compassion."

Those four children are Poet Sienna Rose, 15, and Jagger Joseph Blue, 12, and sons Lyric Sonny Roads, 6, and Story, 4.

Along with being part of Punky Brewster's revival, she will also be heard in the Proud Family reboot on Disney+ next year.

---
Lake Bell and her husband didn't survive the seven year itch
October 24th, 2020 under Divorce. [ Comments: none ]

Lake Bell and her husband, Scott Campbell have called it quits after seven years of marriage. Both of them took to social media to make the announcement.

The actress wrote, "AFTER 9 YEARS TOGETHER, 7 YEARS MARRIED, 2 SPARKLING CHILDREN… SCOTT AND I ARE ENDING OUR MARRIAGE BUT CONTINUING OUR LOVING FAMILY. WITH RESPECT AND THOUGHTFUL GUIDANCE, WE WILL CONTINUE TO BE PARENTAL COMRADES IN ARMS AND BEST FRIENDS FOR ALL OF OUR DAYS."

While the tattoo artist said, "NINE YEARS TOGETHER SEVEN YEARS MARRIED TWO LUMINARY CHILDREN COUNTLESS MILES INFINITE LAUGHS I COULDN T BE MORE PROUD OF EVERY SINGLE ONE OF THEM. NOW WE FIND OURSELVES ENDING OUR MARRIAGE AND TRANSITIONING THE LOVE AND FRIENDSHIP WE'VE ALWAYS HAD INTO A NEW CHAPTER. ALL THE FEELINGS ARE FELT, AND I HAVE INVINCIBLE CONFIDENCE IN US AS PARENTAL WARRIORS AND AS BEST FRIENDS FOR ALL OUR DAYS."

The couple has two children, daughter Nova, 6, and son Ozgood, 3.

---
Darius Rucker won't be holding his wife's hand anymore
July 12th, 2020 under Divorce. [ Comments: none ]

Darius Rucker and his wife, Beth, were set to celebrate their twentieth wedding anniversary this year, but instead, they are getting a divorce. The singer broke the sad news on social media yesterday.
Beth and I would like to share that after much reflection we have made the decision to consciously uncouple. We remain close friends and parenting partners and continue to be each other's biggest cheerleaders. Our priority will always be our beautiful family. We have so much love in our hearts for each other and will continue to encourage growth and expansion in one other. Please be kind as we take on this journey, and we thank you for your love and support always. — Darius & Beth Rucker
The consciously uncoupling couple have two children together, Daniella, 19, and Jack, 15.

---
Jennifer Grey and Clark Gregg announce they have split
July 5th, 2020 under Divorce. [ Comments: 4 ]

On July 21st, Jennifer Grey and Clark Gregg were set to celebrate their 19th wedding anniversary. However, they announced on Friday that they are getting a divorce.
after 19 years together, we separated in january, knowing we'd always be a family who loves, values and cares for each other. we recently made the difficult decision to divorce, but we remain close and are deeply grateful for the life we've shared and the wonderful daughter we've raised.
– jennifer & clark
p.s. totally crying as we post this
The former couple has one daughter, Stella, 18.
Am I the only one who did not know they were married? Even though they played a married a couple on The Conners this season?

---
Zooey Deschanel already has a new man and it's Jonathan Scott
September 14th, 2019 under Divorce. [ Comments: none ]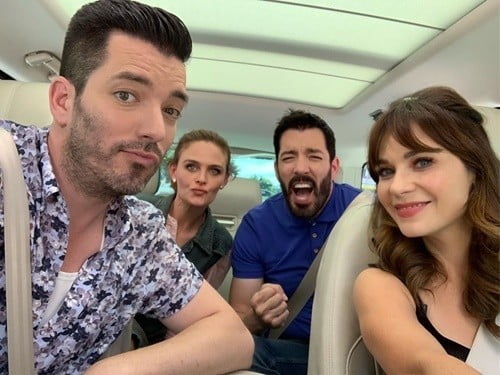 Around August 14th, Emily and Zooey Deschanel and Jonathan and Drew Scott shot a Carpool Karaoke together. On September 6th, Zooey and her husband Jacob Pechenik announced that they split. Yesterday, the actress and half of the Property Brothers were seen holding hands. Today, Us Weekly confirmed that she is dating Jonathan.
The new couple has not said anything about their relationship status. As in no word if they started dating before or after her marriage was over. If they dated before, then their squeaky clean images are completely tainted by an affair.
Pechenik spoke with the mag today and he said to them, "Everything is amicable and we have beautiful children together that are that way because we were the parents." When they asked him how he was doing, he simply told them, "I'm happy!" Two words that can say so much. What they say? Only he knows.

---