Ronan Farrow has the best response to Ricky Gervais' joke
January 6th, 2020 under Ricky Gervais. [ Comments: none ]

Yesterday during the Golden Globes, Ricky Gervais decided to mention Ronan Farrow during his monologue. The host said, "So lots of big celebrities here tonight…But it is just not about the people in front of the camera. In this room, are some of the most important TV and Film executives in the World, people from every background. But they all have one thing in common; they're all terrified of Ronan Farrow. He's coming for you. He's coming for you."
As soon as the investigative journalist heard that, he wrote, "This is why I have no social life, isn't it?"
I would think it would be the opposite. Wouldn't people want to hang out with him so that he does not write about them? I would be his best friend if I did even half of the crap he has uncovered. But sadly, I have not done even 1% of it. Which is why he is writing about them and not me.

---
Ricky Gervais reveals that After Life is going to the dogs
August 12th, 2019 under Ricky Gervais. [ Comments: none ]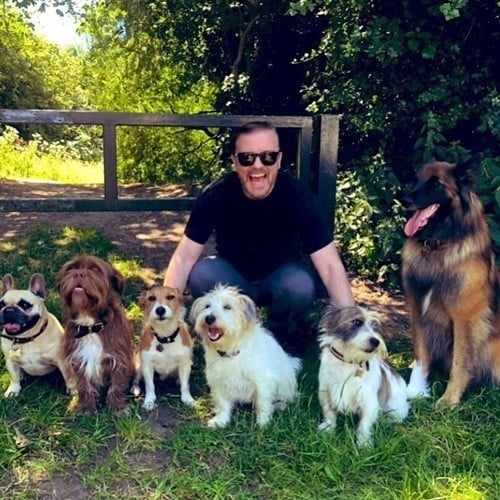 The second season of Netflix's After Life is going to begin filming in four weeks and Ricky Gervais is already casting key roles.
Those who are trying out do not know have to know their lines for the audition, but they better know how to sit, stay and lie down. If they cannot do that, then off the kennel they will go. It is also imperative that they don't put the casting agent to sleep or they might, well, you know where I am going with that thought. If they really want the job, then they should hump Gervais' leg. Are dogs included in the #MeToo movement? The most important thing to do to get the job of a lifetime is to kiss up to Gervais' cat Ollie. Get her on your side, and you are a shoo-in. On that note, don't destroy his shoes. You might be able to walk barefoot, but he is not. Oh and don't smell his butt. Wait, is he into that sort of thing? Scratch that last point, I can see him liking that.
Talking about liking things. If have not seen After Life, then you should watch it now. It is a darling binge that will leave you with a smile on your face. You will be as happy as a dog who gets a pig's ear as a treat when you are done watching it. Unleash yourself from whatever you are doing and watch the first season now.

---
Ricky Gervias caught in bed sleeping with a pussy!
August 6th, 2018 under Ricky Gervais. [ Comments: none ]

Ricky Gervais likes to post ugly photos of himself on Instagram, but over the weekend he shared a very sweet one. Catching a cat nap with his kitty Ollie and it is purrfect. I don't know if she looks so happy because daddy is spooning with her or because she is sleeping on a brush that is scratching her head. I am thinking it is a mixture of both.

---
Ricky Gervais and Seth Meyers talk about their ageing testicles!
March 15th, 2018 under Ricky Gervais, Seth Meyers. [ Comments: none ]

The thing I love most when Ricky Gervais does a talk show, is that you never know what he is going to say and do. Yesterday, he was on Late Night and Seth Meyers set himself up for what was about to happen next.
Gervais has a new comedy special on Netflix now called Humanity and he talks about how ageing has changed his body. There was one scene that the NBC host wanted to talk about and that is when the trouble begins. That is because he talked about his pendulums or as we know them as testicles. Then for the next 2 minutes they talked about their 2 boys.
The comedian said he has not seen them for 20 years, so when he did he was shocked. That is when he realized he "could take down ostriches with" them." The image in our heads right now because it is so true. But if you do not get that reference then Google it.
Now, it was time for the two men to talk about that finger examine. Meyers is too young for that, but he thought it was supposed to start at 40. Therefore, he was a little disappointed because it did not happen at that visit. Gervais then shared with him his first experience with the finger. His doctor decided to break the ice as he inserted the digit in the hole. The doc did that by telling Gervais that he is a big fan of The Office. What else could the actor do but say, "Thank you very much!" And thank you very much for sharing all of that personal information with us.
Oh and good thing that Gervais did not poop himself when his doctor told him he was fan. That would have been a whole new level of awkward.

---
Does Jimmy Fallon wear a hair piece?
March 14th, 2018 under Jimmy Fallon, Ricky Gervais. [ Comments: none ]

Ricky Gervais was on The Tonight Show yesterday and he stumbled onto something that asks so many questions. That thing was a Styrofoam head named Jimmy Fallon with a wig that looks a lot like the host's normal hair. Which makes you wonder if he is folically challenged? If he is not, then why does it have his name on it? What do you think?

---