[ # ] Ricky Gervais reveals that After Life is going to the dogs
August 12th, 2019 under Ricky Gervais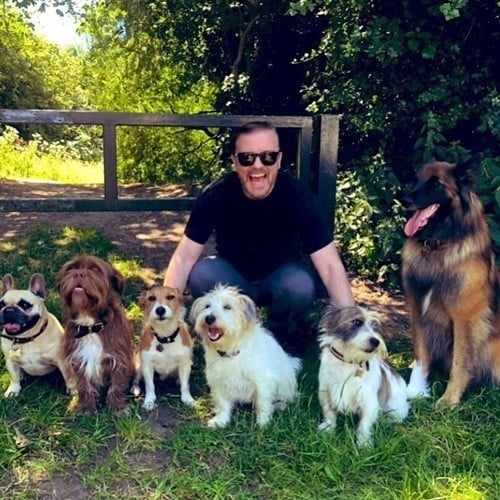 The second season of Netflix's After Life is going to begin filming in four weeks and Ricky Gervais is already casting key roles.
Those who are trying out do not know have to know their lines for the audition, but they better know how to sit, stay and lie down. If they cannot do that, then off the kennel they will go. It is also imperative that they don't put the casting agent to sleep or they might, well, you know where I am going with that thought. If they really want the job, then they should hump Gervais' leg. Are dogs included in the #MeToo movement? The most important thing to do to get the job of a lifetime is to kiss up to Gervais' cat Ollie. Get her on your side, and you are a shoo-in. On that note, don't destroy his shoes. You might be able to walk barefoot, but he is not. Oh and don't smell his butt. Wait, is he into that sort of thing? Scratch that last point, I can see him liking that.
Talking about liking things. If have not seen After Life, then you should watch it now. It is a darling binge that will leave you with a smile on your face. You will be as happy as a dog who gets a pig's ear as a treat when you are done watching it. Unleash yourself from whatever you are doing and watch the first season now.

---