Caption Kathie Lee Gifford and Craig Ferguson!
February 18th, 2019 under Caption the Celeb, Craig Ferguson, Kathie Lee and Hoda. [ Comments:

none

]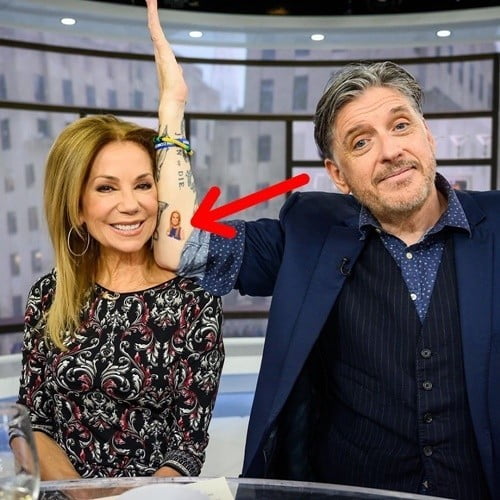 This photo of Kathie Lee Gifford and Craig Ferguson has caption me written all over it, so go ahead and do it.
---
Is Sandra Bullock going to host the Oscars?
December 18th, 2018 under Kathie Lee and Hoda, Sandra Bullock. [ Comments:

none

]

Back in 2010, Sandra Bullock won her first Oscar. Now 9 years later, will she be hosting them? This morning when she was on Today, while Hoda Kotb was asking her who should host, the actress told her, "It's me! It's me!"
How did people react to the news? "Everyone is like that is not going to be very good…It's going to be amazing." Then she told us what we can expect from Hollywood's biggest night, "I need to talk about Meryl like everyone else. I need to make some tasteless jokes, but only three."
Of course, she is joking about being the host. She did, however, say it is a thankless job because everyone is going to hate whoever does it. Which is probably why they cannot find anyone to do it. But she would be a great host if she decided to take the thankless job.
Now that we got that out of the way, let's talk about her lob. Ever since we have known her she has had the same long hair. She liked that hairstyle because she could hide behind it. When she cut it, she was like, "I can be this person now." Who that is, I am sure we find out.
---
Kathie Lee Gifford tearfully announces she is leaving Today
December 11th, 2018 under Kathie Lee and Hoda. [ Comments:

2

]
It has been a very busy year for Kathie Lee Gifford. She wrote a book, did some music and starred in a movie with Craig Ferguson. Therefore, she made the difficult decision to leave Today on the 11th anniversary of Kathie Lee & Hoda to focus on other projects.
Gifford says the news is bittersweet because she loves all the people she works with. She initially signed on to do a year but will have stayed 10 more past that because she enjoyed the job so much.
Then she let a tearful Hoda Kotb know, they will be closer than ever after she leaves than they are now because that is the relationship she has with another former co-host Regis Philbin.
No word what NBC will do with the hour. Meaning will they replace her or let it go since they still have not figured out what they are going to do with the 9a hour that used to be hosted by Megan Kelly. Plus, Kotb was named the co-anchor of the first two hours. Although, they say she will still be part of the hour.
Luckily, NBC has some time to make the decision because Gifford will be with the show until April 7th.
---
There is a thing called a wine condom and Kathie Lee & Hoda tried it
September 26th, 2018 under Kathie Lee and Hoda. [ Comments:

none

]
When I saw that Kathie Lee Gifford and Hoda Kotb were sharing wine condoms on Today, I thought they were talking about tasting wine flavored condoms. I was wrong.
The rubbers are actually condoms to put on open bottles to preserve the alcohol. You put it on the bottle the same way you would put it on a pen!s. And just like a trojan, it kept all the liquid inside.
Actually, it also looks like what it looks like when it is one someone. Kotb was right when she told them not to go in on a closeup.
BTW you have to wonder how someone comes you up with something like this? Did someone actually put a prophylactic on a bottle to see what would happen and was like that is a great idea? And since it is really strong, I wonder if you can use one on your male over in a pinch? Things that make you go hmmmm?
One last thought why aren't their wine flavored condoms? I am over the chocolate and banana ones!
---
Howie Mandel had some famous assistants
September 17th, 2018 under Howie Mandel, Kathie Lee and Hoda. [ Comments:

none

]

Before Meghan Markle was the Duchess of Sussex married to Prince Harry of England, she was a suitcase girl on Deal or No Deal (which is back on CNBC in December). She is not the only person who worked for Howie Mandel before they were famous.
Today, when he was on Kathie Lee and Hoda, he revealed that two of his past assistants are famous today. The first one he mentioned is Dan Fogelman. Know the name but can't place it? He is the creator of This Is Us, Galavant, The Neighbors, Grandfathered and Pitch. He also has a movie coming out this week called Life Itself, so go see it.
Fogleman replaced another now-famous person, Robin Thicke's ex-wife, actress Paula Patton also got Mandel his hand sanitizer whenever he needed to shake hands with someone.
The moral of this story is that if you want to make it big, then work for Howie Mandel. Hey Howie, are you hiring?
---