Is Ricki Lake really 54?
June 5th, 2023 under Are they really their age?, Ricki Lake. [ Comments: none ]
Ricki Lake shared a photo of herself in a tub wearing nothing but Hairspray, and I can't believe that she is 54 years old because she looks so happy in her skin. And it could be because she is loving her 50s!
"Hands down, these days are the best of my life. 54 1/2 years old (young!)," the actress wrote. "Grateful for all that had to happen for me to get to here. A place of complete self-acceptance and self love.
"Ross, you make every adventure the most fun ever."
Love and sex are the secrets to keeping young. Don't believe me? Look at her! She is living proof of that.

---
Ricki Lake says showers are orgasmic since shaving her head
January 3rd, 2020 under Ricki Lake. [ Comments: none ]

Yesterday, Ricki Lake was all over the news because she shaved her head due to the fact that she has been losing her hair for 30 years. Today, she talked to Good Morning America's Robin Roberts about how her new look changed her life.
After three decades of doing whatever she could to keep her hair loss a secret, the actress feels that with her new buzzcut, she "can finally be truly" who she is. Now that she went under the razor, how does she think she looks? She says, "Actually… I don't think I look that bad!" I think she looks better with it because she appears to be so free.
One of the biggest joys she has gotten since shaving her locks is showering. She says it is almost orgasmic now. That is because when she looks down, the drain is not full of her hair. It also takes her a lot less time to get ready.
Another thing she is done with now is dyeing her graying locks. Therefore, expect to go gray in the next few weeks.
This is the new Ricki Lake, and she is loving her freedom. We are loving her excitement about her newfound freedom.

---
Ricki Lake shaved her head and explains why she did it
January 2nd, 2020 under Ricki Lake. [ Comments: 3 ]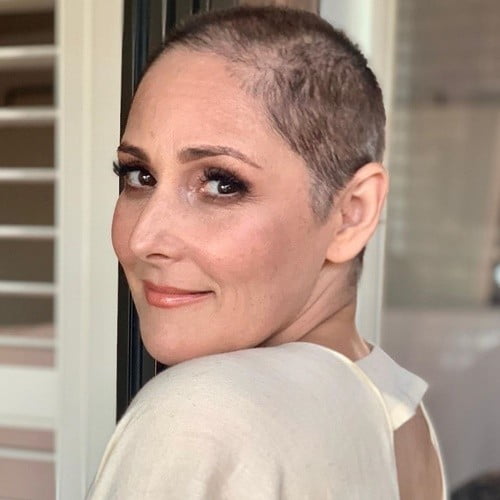 Ricki Lake has been very open about her struggles in life, but there has been one she has been keeping to herself. She has been losing her hair for 30 years. The actress has had enough, so she freed herself from the battle and shaved her head.
She started off her explanation by letting people know, "I am not sick. (THANK GOD.) I am not having a mid-life crisis. nor am I having a mental breakdown, though I have been suffering…I have been struggling with hair loss for most of my adult life."
Then she went on to say, "It has been debilitating, embarrassing, painful, scary, depressing, lonely, all the things. There have been a few times where I have even felt suicidal over it. Almost no one in my life knew the level of deep pain and trauma I was experiencing. Not even my therapist/s over the years knew my truth."
Now, she is ready to share her truth. She claims it all started with all of the damage she did to her hair when she filmed the movie Hairspray. After all of that teasing and dyeing, her locks were never the same. As time went on, other factors played into her hair loss like her pregnancies, hormonal changes, and weight fluctuations.
She tried everything from having steroids injected into her head, extensions that needed to be replaced every 12 days, and wigs. Finally, she decided to shave it off for the new decade.
How does she feel now with her new look? She says, "I am liberated. I am free. I am releasing and letting go. I am brave. I am beautiful. I am love."
While she is enjoying her new look, she says that she will wear hair every now and again.
I am proud of my brave high school alum for speaking her truth. Her actions will help other people who are in the same situation.

---
Ricki Lake says that Lucille Ball was 'salty' at the 1989 Oscars
October 24th, 2018 under Andy Cohen, Lucille Ball, Ricki Lake. [ Comments: none ]

Some people might say that the 1989 Oscars is the worst one in history (looking back at it, it was not that bad), but for Ricki Lake it was a dream come true. She got to take part in a song and dance number with several other up and comers like Christain Slater, Patrick Dempsey, Corey Feldman, Chad Lowe, Keith Coogan, Holly Robinson, Blair Underwood, Joely Fisher and Tracy Nelson to name a few.
The cherry on top was Lucille Ball and Bob Hope introduced them. But you might say it was a sour cherry because the I Love Lucy star was anything but full of love. Lake told Andy Cohen on Watch What Happens Live yesterday that the legendary actress was "salty" because she did not want to be there. She did not do anything to the Lake directly, but she was not nice and was smoking in their small dressing room.
Less than a month later, she passed away and smoking was probably a contributor.
When it comes to Ball not being nice, that is not the first time I have heard that. But very few talk about it because she still is one of Hollywood's most loved people.
To see that infamous dance number, then click here!

---
A living graveyard of old morning bad talk show hosts!
November 5th, 2010 under Oprah Winfrey, Ricki Lake. [ Comments: 4 ]

Ricki Lake, Montell Williams, Geraldo Rivera, Sally Jesse Rapheal and Phil Donahue were all reunited on the Queen of Daytime's show that will air on November 10th. Back in the '80s and '90s the 5 talk show hosts were the leaders of trash TV and now they are all doing Oprah Winfrey. Who would have ever this day would have ever comes? It is almost like TV Hell has frozen over.
BTW does seeing them all together like that make you miss the day when they were all gracing our airwaves?

---