Is Paulina Porizkova really 55?
February 3rd, 2021 under Are they really their age?, Paulina Porizkova, RIc Ocasek. [ Comments: none ]

Paulina Porizkova shared a photo of herself completely naked. She did so to get a message out how we should all feel comfortable in our skin no matter how old we are.
Today, on a serious note, thoughts inspired by the brouhaha around a sexy photo of @elizabethhurley1 …
When I was in my twenties and thirties, the less I wore – the more popular I was.
In my forties, I could walk around practically naked and illicit nothing more than a ticket for public indecency.
At fifty, I am reviled for it. "Put on your clothes, grandma. Hungry for attention, are you? A little desperate here? You're pathetic."
Why is sexiness and nudity applauded in a woman's youth and reviled in her maturity?
Because of men.
Men are biologically programmed to spread their seed, inserting themselves into fertile containers which advertise their viability through youth.
What does this say for men who do not want children?
And what does this say for women like myself, who need to be validated by the male gaze?
Men who have all the kids they wanted? Men who don't want kids right this second?
Unevolved.
Insecure.
The only thing that is pathetic here is allowing others to set your priorities. #sexyhasnoexpirationdate #betweenjloandbettywhite
She is so right. If I had the body she has now; I would also show it off. Seriously, we are all stuck in our bodies until brain transplants; we should love it as it is! We also should not let others judge us because of their own issues.

---
RIP Ric Ocasek
September 15th, 2019 under Obits, RIc Ocasek. [ Comments: none ]









Ric Ocasek passed away today at the age of 75 according to WPIX. He was found unresponsive in his townhome around 4p, and he was declared dead. No foul play is suspected.
He is best known as the lead singer of The Cars. The New Wave band formed in 1976. Their sound was a mixture of the '60s Rock with a modern synthesized sound. As time went on, they were not only known for their defining tunes that evolved with age, but also for the music videos that went with them. In fact, You Might Think was the first Best Music Video at the MTV Awards.
They had several hits from '76 until their first breakup in 1988. Songs like Just What I Needed, My Best Friend's Girl, Good Times Roll, Shake It Up, You Might Think, Magic, Hello Again (which is my phone's ringtone) and Tonight She Comes. Benjamin Orr, who sang Drive, passed away in 2000 from pancreatic cancer. Tonight, he is going to drive Ocasek home to heaven.
On that note, Ocasek met his wife Paulina Porizkova when she co-starred in the Drive music video. On May 2, 2018, she announced that they had "peacefully separated for the past year." The couple has 2 sons, Jonathan Raven and Oliver. He has four other sons, Christopher, Adam, Eron and Derek, two from each of previous two marriages.
Also last year, The Cars were inducted into the Rock and Roll Hall of Fame. The last time the band would perform with their lead.
Today, remember a man that helped to shape modern music by listening to their songs that will bring a smile to your face. They always do that for me.

---
The oh, oh, it's magic is gone for Ric Ocasek and Paulina Porizkova
May 3rd, 2018 under Paulina Porizkova, RIc Ocasek. [ Comments: none ]

Heartbeat City is broken today because the good times are no longer rolling for Ric Ocasek and Paulina Porizkova. The singer and the model announced that they split up a year ago.
She broke the news on Instagram this morning, "Our family always has been – and still is – a well-built car. When the four of us are together, we can go wherever the road takes us. But as a bicycle, my husband and I no longer pedal in unison. So, we're ditching the bicycle.
"Ric and I have been peacefully separated for the past year. The photos of our happy family are, in fact, happy family photos; we are just no longer a couple.
"The love we have for one another is so wide and deep it's practically tangible, and that sort of love can never disappear. Expect to keep seeing happy family photos.
"As I'm sure you can understand, out of respect for our children and each other, we'll not be commenting further (here or elsewhere) at this time."
The two of them met in 1984 when she starred in the music video for The Cars song Drive that was actually sung by the late band member Benjamin Orr and not Ocasek. They married around 5 years later on August 23, 1989. They have two sons Jonathan Raven, 25, and Oliver Orion, 19.
The former couple was seen last month looking happy together with their two sons when The Cars were inducted into the Rock'n'Roll Hall of Fame.
Now you have to wonder, who is going to Drive him home, tonight?
One more, You Might Think he is crazy to break up with and you might be right. Maybe someday they will say Hello, Again to their relationship.

---
Ben Stiller or Ric Ocasek?
September 16th, 2015 under Ben Stiller, Frat Pack, RIc Ocasek. [ Comments: none ]

You might think I'm crazy, but I think that Ben Stiller look more like Ric Ocasek than Hansel. Don't you think he looks more like singer of The Cars who married a Supermodel than the Supermodel he plays Zoolander. It could just be the jet black spiky hair and dark glasses that are throwing me for the loop. So think about it as you wonder who's gonna drive you home tonight?
Not familiar with The Cars and Ric Ocaseck, watch their music video that won the first MTV Video Music Award for Video of the Year. Now I am wondering Ocasek was Stiller's inspiration for Zoolander?

---
Ric Ocasek's body is just Magic
July 20th, 2012 under 80s, Paulina Porizkova, RIc Ocasek. [ Comments: 1 ]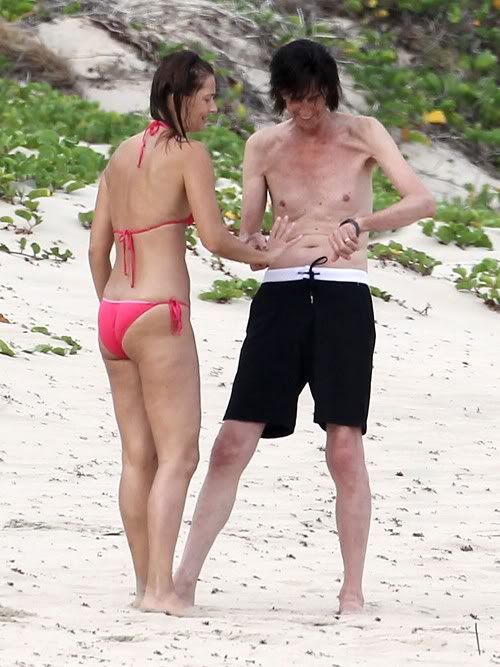 Fame Flynet
Ric Ocaseck took his family to St Barth for some fun and sun and we get to see him in just trunks. You might think I'm crazy, but I think that The Cars singer look sexy for 63. And by the looking at pictures above it looks like he still drives his wife Paulina Porizkova crazy. On that note how cute are their beautiful teenage boys Jonathan Raven and Oliver Orion.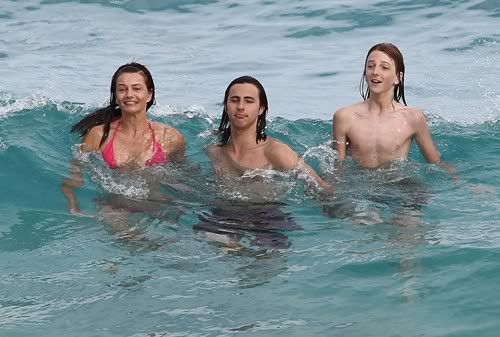 ---