The Jonas Brothers' risky business
January 17th, 2020 under Jonas Brothers, Priyanka Chopra. [ Comments: none ]

Now that all three Jonas Brothers took off their purity rings and got married, they are including their wives in their music videos. What a Man Gotta Do is no different.
This time each brother recreated a movie with a memorable music scene. Nick Jonas and Priyanka Chopra put on a buttoned-down white shirt and let old time Rock'n'Roll possess them like it did Tom Cruise in Risky Business. Sophie Turner and Joe Jonas did the hand jive as they did in Grease. While Kevin Jonas went all John Cusack in Say Anything to Danielle Jonas.
All of this created a fun music video for a catchy song from the band. You can I am a sucker for it.

---
Hot Wings helps Jimmy Fallon hit those Bee Gees high notes
October 11th, 2019 under Jimmy Fallon, Priyanka Chopra, Sean Evans Hot Ones. [ Comments: none ]

Either Jimmy Fallon is a sadist or his staff is masochists. I say that because they brought back Sean Evans and his Hot Wings. The first time things did not go so smoothly for The Tonight Show host and this time, it went even worse.
At first, he and Priyanka Chopra were able to handle the heat, but then they could not stand being in Hell's Kitchen. Actually, they could not sit and they could only stand because they were in so much pain.
They were dancing like they were at a Disco in the '70s. Which gets us in the mood for the final question. That is when Evans asked Fallon to do a singing impression. Who did he choose? He went with the Bee Gees' Stayin' Alive and his notes might have been even higher the band's vocals. Who knew that was possible. I guess if you eat a pepper that is more than 400 times hotter than a Jalapeno, you can hit those notes that only dogs can hear.

---
Priyanka Chopra's wax statue is pretty spot on
June 18th, 2019 under Priyanka Chopra, Uncategorized, Wax Figure. [ Comments: 1 ]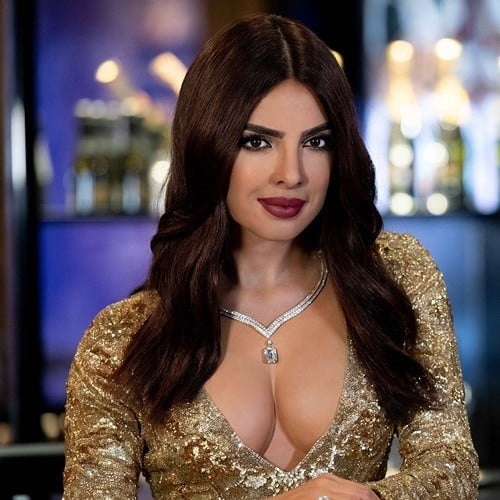 How many times have you seen a wax statue of a celebrity at Madame Tussauds and been like that does not look like the person at all? Well, Priyanka Chopra's life-size candle just arrived in London and I do not think that her husband Nick Jonas would be able to tell his real wife from the fake one.
Actually, no offense to the actress, but it might even look a little bit better than her. I mean if you think about it, her figure is why they call them wax figures. Or at least this one justifies the title.

---
Priyanka Chopra gets waxed!
February 7th, 2019 under Priyanka Chopra. [ Comments: none ]

Priyanka Chopra finally got a life-size candle version of herself. As in she has a wax figure at the Madame Tussauds New York. They did such a great job, I think it might actually look better than the real thing.

What do you think? I am sure Nick Jonas wants to take it home with him when she is away. Too bad it will be going on tour so he will not be able to for a while.

---
Don't fall asleep around Nick Jonas and Priyanka Chopra
February 4th, 2019 under Glee, Jonas Brothers, Priyanka Chopra. [ Comments: none ]

Joe Jonas and his fiancee Sophie Turner, Nick Jonas and his wife Priyank Chopra (in case you didn't know they were married), Chord Overstreet and a few others spent Super Bowl weekend in Mammoth Lakes, California. After spending the day in the snow, they went inside to watch the big game. Well, I guess it was too much for the Glee star because he fell asleep.
Granted the game was boring, but that is not the point. When the newlyweds realized he dozed off, they tried to wake him up. Actually, Nick tried rubbing a tissue on his face. When that did not work, Chopra used her hand. That did the trick and he did not like the prank at first. Then he laughed and we laughed with him.
Who wants to tell them the better prank is to dip his hand in warm water. Oh, but then they would have to pay a cleanup fee for the soiled couch. Although, they can afford it. Therefore, we are back to dipping his hand in the warm water!

---