SNL says goodbye to four Not Ready For Primetime Players
May 22nd, 2022 under Pete Davidson, Saturday Night Live. [ Comments: 1 ]
Kate McKinnon, Aidy Bryant, Kyle Mooney, and Pete Davidson are ready for Primetime because yesterday was their last Saturday Night Live as one of the players.
McKinnon has been there for 11 seasons, Bryant did 10, Mooney comes at 9, and Kim Kardashian's boy toy was only there for 8.
It will be interesting to see if they replace them. If I were Michaels, I would try to bring back one of the greats to rejoin the show. How much fun would it be to have David Spade or Anthony Michael Hall back on the show? Well, the latter would be fun because he would be able to get another shot after his failed season with Robert Downey, Jr in 1985.

---
Pete Davidson is hoping Kanye West does a Mrs. Doubtfire
May 6th, 2022 under Kanye West, Pete Davidson. [ Comments: none ]
For those of you who are lucky enough not to know this, Kim Kardashian is getting a divorce from Kanye West, and she is now dating Pete Davidson. Needless to say, Kanye is not happy about that. So much so that he has made music videos killing off the Saturday Night Live star.
Well, Davidson has not said publically responded to those attacks. However, that is now past tense because yesterday he made a few jokes about his rival at the Netflix Is a Joke festival.
One of Kanye's first digs was that Davidson has AIDS. Well, Davidson believed him, so he went to his doctor to get tested. The good news is that he doesn't have it. The bad news is that he looks like he does. And he really does.
But the jokes didn't stop there. Davidson also is secretly hoping that Kanye does a Mrs. Doubrtfire. Which is totally possible because with the amount have nannies Kim has raising her four kids, Ye could totally blend in, and no one would notice. Well, maybe his four kids. So, I hope he does it.
And with these jokes, Kanye should have learned not to mess with a comedian.

---
What did Marmaduke do to deserve this?
April 15th, 2022 under Netflix, Pete Davidson. [ Comments: none ]
Marmaduke is one of the most beloved fictional dogs, and he is being voiced by one of the most loved up actors. Not John Mayer, but Pete Davidson.
I don't get the casting done by Netflix for this feature. I can understand if it was Scooby Doo, but not Marmaduke. It should be someone more likable who voices the part. For example, Kenan Thompson was a lovable Clifford because that is what he is. Davidson is someone you love to hate.
But, what do I know? I am not Kim Kardashian or Ariana Grande.
Now, having said this, I am so going to watch the film when it begins streaming on May 6th. Marmaduke is fun because he is trouble. And I like bad boys when they walk on all fours! There is a joke there, but I won't go there.

---
Pete Davidson's Space flight is cancelled
March 18th, 2022 under Pete Davidson. [ Comments: none ]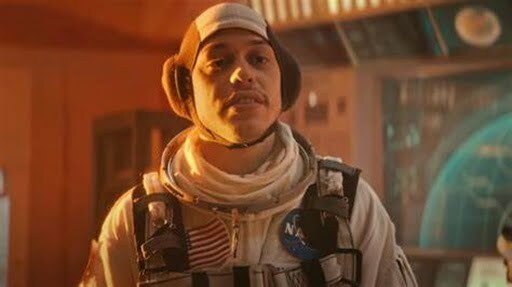 Pete Davidson was supposed to go to Space on March 23rd. However, things changed, and now he is staying on Earth.
Blue Origin explained why, "Blue Origin's 20th flight of New Shepard has shifted to Tuesday, March 29. Pete Davidson is no longer able to join the NS-20 crew on this mission. We will announce the sixth crew member in the coming days."
Too bad Kanye West is friends with Elon Musk and not Jeff Bezos. Because if it was the other way around, then Ye could've said told Pete, "I was in her before you and rode her first."
Back to the Saturday Night Live star, I don't care what he has planned for the 29th. There is nothing that could get me to miss the opportunity to go up in Space. Is there anything that would stop you?

---
Is this Kanye West's new spank material?
March 16th, 2022 under Kanye West, Pete Davidson. [ Comments: none ]
In case you have been living under a rock, Kanye West has been fantasizing about killing his estranged wife's boyfriend, Pete Davidson. So much so that Ye has killed off the SNL star in his music videos via animation.
While he has not been able to do it in person, the director of Davidson's latest film has. Yesterday, the actor was photographed covered in blood after filming a scene for the movie The Home.
As soon as I saw this photo, I just pictured Kanye masturbating to it. Which, I have to admit, was not a pretty picture. And it is an image I cannot get out of my head.

---