American Dad is back with Roger's origin story!
March 27th, 2023 under Seth MacFarlane, TNT/TBS/TCM. [ Comments: none ]
Have you been watching American Dad since day 1 and wondered how Roger came to the Earth? Tonight at 10p on TBS, we will find out.
The alien landed here in 1947, and he's taken in by an interesting family. But then there is a knock on the door, and it is Deputy Director Avery Bullock.
And thus begins their cat-and-mouse game that is still going strong in 2023.
American Dad might be in its 18th season, but it is still just as funny now as when it debuted on that other network that cancelled it.

---
Fox will spend two more years with The Simpson, Family Guy and Bob's Burgers
January 26th, 2023 under Fox, Seth MacFarlane, The Simpsons. [ Comments: none ]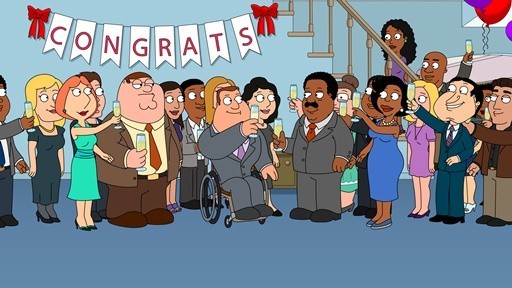 Fox announced today that it picked up The Simpsons, Family Guy, and Bob's Burgers for two more seasons. That will bring their totals to 36, 23, and 15 seasons, respectively.
"With this trio of renewals, we celebrate excellence in animation on FOX, our wonderful, long-time partnership with 20th Television and the brilliant creators and incredible voices behind these forever favorites," said Michael Thorn, President, Scripted Programming for FOX Entertainment. "Three-plus decades of The Simpsons, more than two decades of Family Guy and over a decade of Bob's Burgers proves the enduring power of the animation genre on our network and the infinite fan affinity for these outrageously funny comedy classics."
The Simpsons' renewal means it broke its own record of the longest-running scripted show. At this rate, the show will outlive its voice actors.
The three animated series join The Great North and Krapopolis in the 2023-2024 lineup.

---
Seth MacFarlane got a little pussy!
January 9th, 2023 under Seth MacFarlane. [ Comments: none ]
Seth MacFarlane ended 2022 by losing his cat Helix, and he is starting 2023 off with a new kitty named Arthur.
MacFarlane rescued his son from Heaven on Earth's Perry Place over the weekend. The comedic genius helped to fund Perry's Place over ten years in honor of his mother, a huge cat lover, who passed away.
Heaven on Earth is a no-kill rescue, and Perry's Place has cage-free rooms for the adoptable cats to live freely until they find their furever home! It is the best rescue in Los Angeles. Heck, maybe California! I can keep going, but they are the only rescue I ever adopted a cat from in my nine lives. I cannot begin to tell you what an enjoyable, stress-free experience it was. Several people in my Buy Nothing group also got their kitties from there, and we all praise them and tell all wannabe catrents to go there to adopt.
I am forever grateful to the MacFarlane family and Heaven on Earth for giving me my nut. I hope Arthur makes MacFarlane as happy as my cat has made me.
And hopefully, Arthur will be loving it with his new dad and brother, Hank! But then again, how could Arthur not be purring all the time? He has the purrfect dad and drinking buddy for a brother.
Seth, I am just putting this out there, my girl is single and ready to mingle with your boys!

---
Is Liam Neeson the new Leslie Nielsen?
October 13th, 2022 under Seth MacFarlane. [ Comments: none ]
Deadline is reporting that Paramount is looking to revive Naked Gun with Liam Neeson as Frank Drebin's son. While Liam Neeson sounds like Leslie Nielson, he is not the same type of actor. Nielsen was able to go from drama to comedy so effortlessly; Neeson isn't that brilliant.
He is a great action star, but he is not a straight comedian. But then again, I never thought that Robert De Niro would be, but he is. However, I don't believe Neeson could ever do it.
Plus, do we need another Naked Gun? The three movies were comedy gold, and even Seth McFarlane, who is producing the film, is only bronze worthy. And I love MacFarlane.

---
Family Guy will include car farts
July 23rd, 2022 under Seth MacFarlane. [ Comments: 6 ]
Do you know what Family Guy has been missing these last 20 seasons? They have been missing car farts! But they will make their debut this year, and I can't wait to smell of the jokes that the show's writers give us. Now that the series is old enough to drink…legally.
Family Guy returns on Fox with all new episodes starting on September 25th.

---