Gordon Ramsay's son has his hair
August 18th, 2019 under Gordon Ramsay. [ Comments:

none

]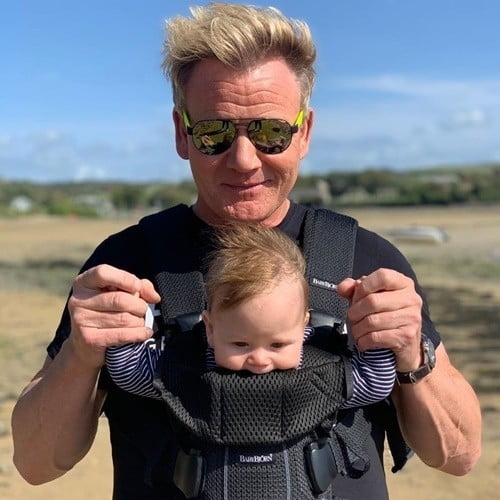 Gordon Ramsay took his 4-month-old son out for a walk on the beach, and we don't need Maury Povich to tell us that the Chef is Oscar's dad. That is because they look alike. At least in the hair department. It has that natural lift just like the man behind Hell's Kitchen.
Don't you just love seeing the meanie become a softie with his son?
---
Christina Tosi is out of MasterChef Junior!
July 17th, 2019 under Gordon Ramsay. [ Comments:

none

]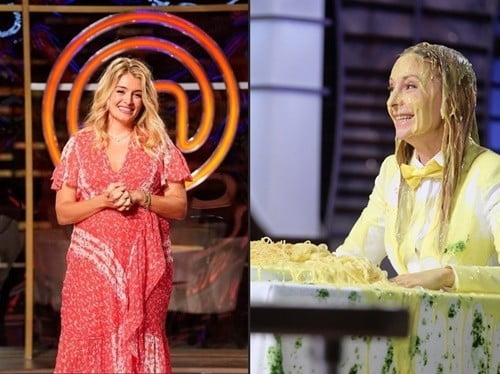 Christin Tosi has been with MasterChef Junior since season 4, but she is all cooked out. Fox announced today that the pastry chef will not be returning for the show's 8th season. Instead, Daphne Oz is joining Gordon Ramsay and Aarón Sanchez as they mentor pint-size cooks who are vying for the title MasterChef Junior.
This upcoming season the chef-testants will serve up dishes at a historical renaissance fair and feed the fans of Monster Trucks at a motocross track. I think they will be more interested in the locations than cooking up yummy meals for their patrons for the day.
When it comes to Tosi, I say good riddance. I was never a fan. She was really harsh on the kids and that never sat well with me.
Will you miss her?
---
Gordon Ramsay leaves Hell's Kitchen to travel the World for food
June 20th, 2019 under Gordon Ramsay. [ Comments:

none

]

We are used to seeing Gordon Ramsey in the comfort of the kitchen, but he will be far from one on Nat Geo's Uncharted. He is going to travel the World to experience some of the scrumptious local cuisines unique to that area.
He will not try them out in a restaurant but instead, he will eat them in their natural habitat. On tomorrow's season premiere at 10p he will climb up a mountain in Peru and find himself 10,000″ above sea level. When he gets there, he will realize why he made the dangerous treck. In the coming weeks, he will travel to New Zealand's Rugged South, The Mountains of Morocco, Hawaii's Hana Coast, The Mighty Mekong of Laos and Alaska's Panhandle.
Each week, his tour guide will be a local chef that will take him to the places that make their local delicacies the best on the planet. While the view is absolutely spectacular, the ingredients native to the area are just as amazing.
Imagine a man, who built his life on food, experiencing new recipes that will make his mouth water. Not only tasting the delicious meals but also seeing the stunning places they come from.
He has been all over the globe with his cooking shows. However, this series takes him out into the environment to meet the people who make the items on his plate taste so yummy. A chef is only as good as their ingredients, and these ingredients are made with love and care. Generations have worked on these crops to preserve their one-of-a-kind flavor.
I am only a few minutes into the series premiere and I think it might be Ramsay's most interesting show to date. It is nice to see him get his hands dirty. Along with other body parts too.
---
MasterChef cooks up its 10th season!
May 29th, 2019 under Gordon Ramsay. [ Comments:

none

]

MasterChef is back tonight at 8p on Fox and they are changing things up for the audition process.
They still have to cook their signature dishes for Gordon Ramsay, Aarón Sánchez and Joe Bastianich, but this time they have their families by their side to root them on. Is that an advantage or a disadvantage for them? If that is not enough pressure for them, they also have three past contestants checking up on them.
Tonight and next week, the large crowd will dwindle down to 19. They will serve food from all over the world. Some will win the bellies of the three judges, others will not. While three will be given a second chance to fill that 20th slot.
Not only are they cooking up delicious meals, but they are also winning our hearts with their backstories. Because those are just as important. One of my favorites is the first to go through.
While it is hard to tell how the season will go by the auditions, but you know it will be just as good as the last nine seasons. Even though it is a competition show, they are not as mean spirited as the shows. That is why I continue to tune in season after season.
---
Gordon Ramsay has a fifth MasterChef Junior in his life
April 4th, 2019 under Gordon Ramsay. [ Comments:

none

]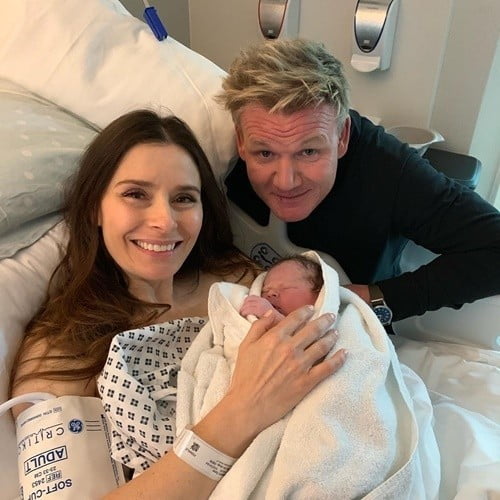 Gordon Ramsay and his wife, Tana, welcomed their fifth child together today. The proud pop wrote, "After 3 baftas and one Emmy… finally we have won an Oscar, please welcome Oscar James Ramsay, who touched down at 12:58 today for some lunch ! Xxx" That kid is going to eat like a king. That is once he is old enough to down solids.
The baby boy has 4 older siblings: Megan, 21, twins Holly and Jack, 19, and 16-year-old Matilda. I am sure Jack is happy that is no longer the only boy in the house.
---