Oscar is Gordon Ramsay's mini-me!
May 22nd, 2020 under Gordon Ramsay. [ Comments:

none

]

Oscar Ramsay is barely a year old, and he is already taking after his father. Gordon Ramsay shared a photo of his youngest child in front of an oven, and the tyke is a natural in the kitchen.

He looks and acts just like his pops. Hopefully, his first words won't be like his dad's too.
---
Gordon Ramsay makes a pretty Southern lady
February 11th, 2020 under Gordon Ramsay. [ Comments:

none

]

Tonight at 9p on Fox, Gordon Ramsay is taking 24 Hours to Hell and Back to Richmond, Va. If you are going to go to the South, then you need to look the part. Since he is a Red Coat, he would stick out like a sore middle finger. Therefore, they put him in disguise as a nice lady who is doing lunch with her book club friends.
Will the staff at Southern Kitchen recognize the MasterChef? Not looking like. I don't even think his wife of 23 years would know that is the man she sleeps with when he is the same location as her. You know, since he is always traveling.
Now let's talk about Ramsay for a second. I wonder if when he was an up and coming chef, he knew this is how his life would turn out? As in that, he would spend his days dressing up as women and bearded men? Probably, not. Who would?
---
Who knew Gordon Ramsay could dance?
January 21st, 2020 under Gordon Ramsay. [ Comments:

5

]

We know that Gordon Ramsay can cook, but did you also know he could dance? The Master Chef showed off his moves, while dressed up in disguise on 24 Hours to Hell & Back, and they are really quite amazing. If he can sing, then he might want to change careers. Is his other one truly working for him? Does he really need all of those reality shows and Michelin Star Restaurants?
---
Gordon Ramsay's son has his hair
August 18th, 2019 under Gordon Ramsay. [ Comments:

none

]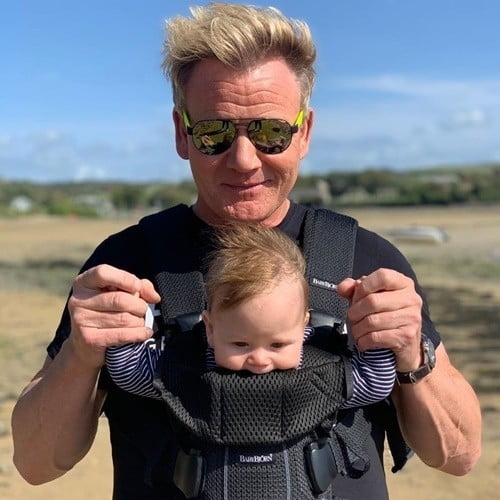 Gordon Ramsay took his 4-month-old son out for a walk on the beach, and we don't need Maury Povich to tell us that the Chef is Oscar's dad. That is because they look alike. At least in the hair department. It has that natural lift just like the man behind Hell's Kitchen.
Don't you just love seeing the meanie become a softie with his son?
---
Christina Tosi is out of MasterChef Junior!
July 17th, 2019 under Gordon Ramsay. [ Comments:

none

]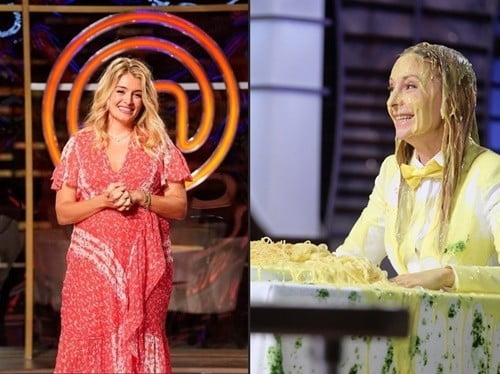 Christin Tosi has been with MasterChef Junior since season 4, but she is all cooked out. Fox announced today that the pastry chef will not be returning for the show's 8th season. Instead, Daphne Oz is joining Gordon Ramsay and Aarón Sanchez as they mentor pint-size cooks who are vying for the title MasterChef Junior.
This upcoming season the chef-testants will serve up dishes at a historical renaissance fair and feed the fans of Monster Trucks at a motocross track. I think they will be more interested in the locations than cooking up yummy meals for their patrons for the day.
When it comes to Tosi, I say good riddance. I was never a fan. She was really harsh on the kids and that never sat well with me.
Will you miss her?
---