Penelope Cruz says that Meryl Street is one of her best lovers in front of the camera
June 15th, 2012 under Penelope Cruz. [ Comments: none ]

Penelope Cruz was on The Tonight Show yesterday and she talked to Jay Leno about her French Vogue cover with Meryl Streep. In the picture she is completely naked as she hugs one of the best actresses of all-time. She explained how it came about and how awkward it seemed at first. But when they were all done, she said they both agreed, "it was one of the best love scenes we ever had." Sadly for you boys, it was only shot for a single frame so there is no video to go with your fantasy.

---
Penelope Cruz is going grey!
September 15th, 2011 under Penelope Cruz. [ Comments: none ]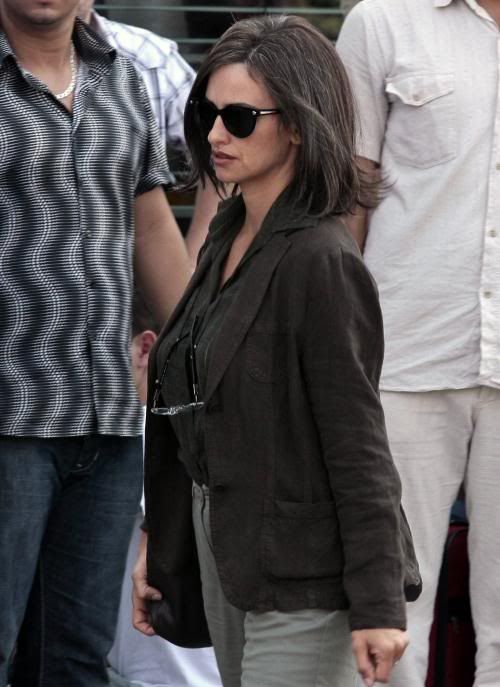 Fame Pictures
I guess the downfall for Penelope Cruz becoming a mom is that she is starting to grey. If anyone can make it work, it is Leo's 37 year old Oscar winning mom!

---
Johnny Depps loves farting!!!
March 25th, 2011 under Duran Duran, Jimmy Kimmel, Johnny Depp, Penelope Cruz. [ Comments: none ]

Penelope Cruz was on Jimmy Kimmel Live last night and she was talking about her two-time co-star Johnny Depp. When the host asked her about Jack Sparrow, she told him she only had nice things to say about him. Well Kimmel found that news "kind of disappointing", so she told him that he really likes to let one Blow. Not like the movie they did 10 years ago, but he has a fart machine and loves to use it when they are on sets.
Can you see the Pirates of the Caribbean star playing with a remote controlled fart machine? I totally can! Not only that I can picture his mischievous smile after he gets caught, like a little boy who knows what they was bad but couldn't help themselves.
You hear all the time that George Clooney and Zac Efron are pranksters, but I never heard that about Depp. Now that I have heard he loves to play with a fart machine, it just makes me love him even more. Doesn't it do the same for you?
Now back to Jimmy Kimmel Live, on Tuesday Britney Spears is going to perform on the ABC show at 12m and on Wednesday Duran Duran will be doing the same on the show. Because I am psychic (well actually cause I was there last night), I can tell you that Duran Duran totally rocked it singing their brand new hit All You Need Is Now and their Notorious song of the same title. Simon LeBon sounds just like he did when I saw him for the first time when I was just 16. And the singer and his Wild Boys all look and sound as good as they did then. Seriously I am one happy Duranie today!!!

---
Javier Bardem and Penelope Cruz got married
July 13th, 2010 under Penelope Cruz. [ Comments: none ]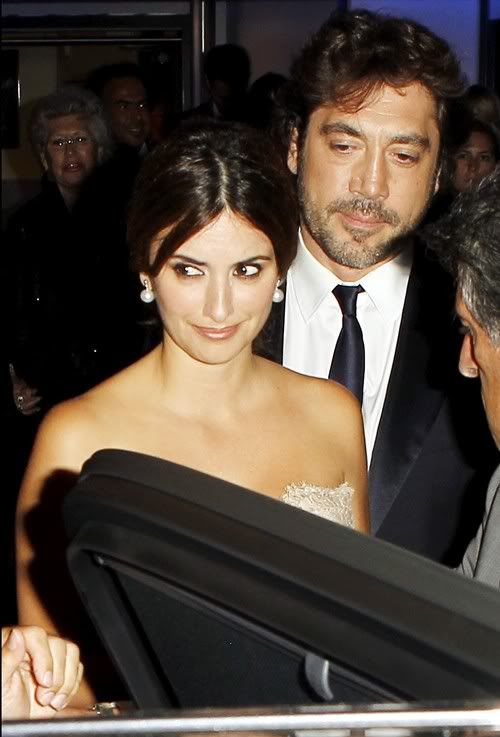 (photo from Fame Pictures)


For years Javier Bardem and Penelope Cruz have been keeping their relationship hush hush, so it should be no surprise that they had secret wedding. According to Life and Style the two Oscar winners tied the knot earlier this month in the Bahamas at a friend's house with just there family there. Even though the two of them have been dating since 2007, they have known each other since 1992 when they filmed their movie together.

---
Penelop Cruz can't stop kissing Meryl Streep
December 3rd, 2009 under Meryl Streep, Penelope Cruz. [ Comments: 1 ]
Penelope Cruz did an interview with Interview and in it she told them she can't stop kissing Meryl Streep according to the
National Enquirer
.
"We only know each other from seeing each other at awards ceremonies or those kinds of events, but whenever I see her, I always go up to her and start kissing her," La Cruz divulged.

"I don't even say anything – I just kiss her. She must think I'm some crazy person."

And Meryl's movies make Penelope nuts too.

"I watch her movies over and over again.

"I saw Silkwood again a couple of weeks ago and it made me just want to kiss her feet!"
Wouldn't it be hot if the two Oscar winners did a movie together where they played lesbian lovers? Sounds like Penelope wouldn't mind it. And I can't resist, but we can guess that Salma Hayek would.

---