James Corden tests positve for COVID-19
January 6th, 2022 under James Corden, Jessica Chastain, Penelope Cruz. [ Comments: none ]
James Corden has joined the omicron club. "I just tested positive for covid 19. I'm fully vaccinated, boosted and because of this am fortunate enough to say I feel completely fine," he wrote. "The show will be off the air for the next few days. Stay safe everyone. All my love, James x"
What worries me about his case is how close he was to his guests this week. Look at how he is sharing air space with Penélope Cruz. She should get tested ASAP, as should Jessica Chastain and all of the other celebrities who were on The Late Late Show this week.
In fact, I think all of the talk shows with in-studio guests should go remote for the month. So far this week, Seth Meyers and Hoda Kotb tested positive after showing up to work. The View was smart to keep their hosts home after Whoopi Goldberg positive at the end of Christmas break.
Be safe y'all. Get the vaccine and/or the booster, wear a mask, wash your hands, and social distance. It is scary out there.

---
Salma Hayek feeds Penélope Cruz caviar
February 10th, 2020 under Penelope Cruz, Salma Hayek. [ Comments: none ]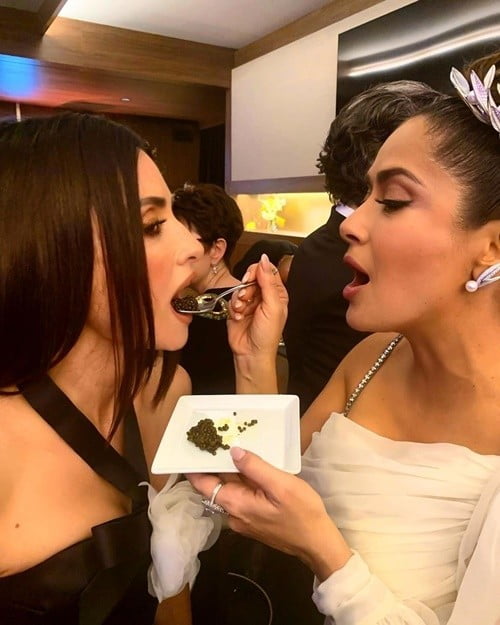 We all know that Salma Hayek and Penélope Cruz are BFFs, but how close are they? So much so, the starving Hayek was not only willing to share her caviar with her amiga, she even fed it to her. For those of you whose fetish that satisfies, you can now cross it off your list.
You can tell they are not New Yawkers. If I asked my best friend to share some of their food with me because I was starving, she would instruct me to go get it myself after a few choice words.

---
Salma Hayek and Penelope Cruz go au naturel together!
January 10th, 2017 under Penelope Cruz, Salma Hayek. [ Comments: none ]

Even though Salma Hayek is 50, yes 50, she still loves to post photos of herself without makeup. Which you can't blame her because she is still absolutely gorgeous with or without it. She isn't the only one, here she is with her BFF Penelope Cruz, who is also not wearing any makeup, and look at them. Beauty with beauty.

---
Anne Hathaway or Penelope Cruz?
June 2nd, 2016 under Anne Hathaway, Penelope Cruz. [ Comments: none ]

Frank Bruni is over in Rome for work staying at an Air BNB when a painting on their wall perplexed him. That's because he can't determine if it is Anne Hathaway or Penelope Cruz, so he asked his Facebook friends to tell him. I see Hathaway, but then when I look at it again I see Cruz. Who do you see?
I should add that the owners told him it was Audrey Hepburn and that is one person we can all agree it isn't.

---
BTWF roles: Javier Bardem in El pícaro
March 20th, 2013 under Before They Were Famous, Penelope Cruz. [ Comments: none ]

via The Back Row
Before Javier Bardem was the guy torturing James Bond in Skyfall, he was being tortured in El pícaro. How awwwwdorable was the 5 year old making his acting debut in that 1974 episode?
BTW is it just me or does he have the same haircut back then that he had No Country for Old Men.

---