Salma Hayek feeds Penélope Cruz caviar
February 10th, 2020 under Penelope Cruz, Salma Hayek. [ Comments:

none

]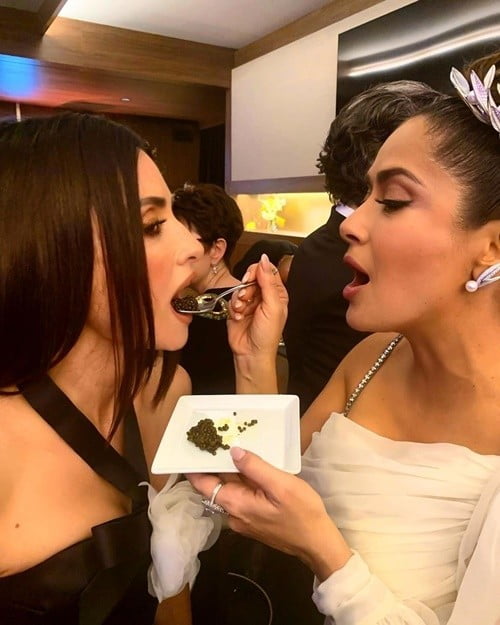 We all know that Salma Hayek and Penélope Cruz are BFFs, but how close are they? So much so, the starving Hayek was not only willing to share her caviar with her amiga, she even fed it to her. For those of you whose fetish that satisfies, you can now cross it off your list.
You can tell they are not New Yawkers. If I asked my best friend to share some of their food with me because I was starving, she would instruct me to go get it myself after a few choice words.

---
Salma Hayek and Penelope Cruz go au naturel together!
January 10th, 2017 under Penelope Cruz, Salma Hayek. [ Comments:

none

]

Even though Salma Hayek is 50, yes 50, she still loves to post photos of herself without makeup. Which you can't blame her because she is still absolutely gorgeous with or without it. She isn't the only one, here she is with her BFF Penelope Cruz, who is also not wearing any makeup, and look at them. Beauty with beauty.

---
Anne Hathaway or Penelope Cruz?
June 2nd, 2016 under Anne Hathaway, Penelope Cruz. [ Comments:

none

]

Frank Bruni is over in Rome for work staying at an Air BNB when a painting on their wall perplexed him. That's because he can't determine if it is Anne Hathaway or Penelope Cruz, so he asked his Facebook friends to tell him. I see Hathaway, but then when I look at it again I see Cruz. Who do you see?
I should add that the owners told him it was Audrey Hepburn and that is one person we can all agree it isn't.

---
BTWF roles: Javier Bardem in El pícaro
March 20th, 2013 under Before They Were Famous, Penelope Cruz. [ Comments:

none

]

via The Back Row
Before Javier Bardem was the guy torturing James Bond in Skyfall, he was being tortured in El pícaro. How awwwwdorable was the 5 year old making his acting debut in that 1974 episode?
BTW is it just me or does he have the same haircut back then that he had No Country for Old Men.

---
Penelope Cruz says that Meryl Street is one of her best lovers in front of the camera
June 15th, 2012 under Penelope Cruz. [ Comments:

none

]

Penelope Cruz was on The Tonight Show yesterday and she talked to Jay Leno about her French Vogue cover with Meryl Streep. In the picture she is completely naked as she hugs one of the best actresses of all-time. She explained how it came about and how awkward it seemed at first. But when they were all done, she said they both agreed, "it was one of the best love scenes we ever had." Sadly for you boys, it was only shot for a single frame so there is no video to go with your fantasy.

---