Paris Hilton can't handle the truth
July 20th, 2011 under Paris Hilton. [ Comments: none ]

ABC News' Dan Harris was interviewing Paris Hilton and she appearantly didn't like what he asked her so she got up, ran over to her publicist and paused the interview. What got her so upset that she walked away from her interview? Well he asked her if she thinks her moment has passed because the people that have come after her like Kim Kardashian are bigger than her and he also pointed out that her new reality show bombed. I didn't even know she had one on the air right now. Did you?
Now back to her, I guess she can't handle the truth that her 15 minutes are almost up. I for one am glad that they are because what has she done to be all over magazine and such. Well you know a few years ago when she was hot, unlike now because she is a not and doesn't get the press she used to.
Paris if you are doing an interview with a major news outlet, don't get up and walk out on the interview. Because you know what they will walk out on you and you need them much more than they need you. Just saying.
Oh an never walk out on an interview when the cameras are rolling because as you just learned, they will air it! Good for ABC News for actually having the balls to show it!

---
Paris Hilton is under wraps!
August 24th, 2010 under Paris Hilton. [ Comments: none ]

(video via KTLA)


Hey Paris Hilton if you are going to call the cops and tell them that there is a man allegedly carrying knives trying to break in to your place during the morning news hours and then you hear helicopters outside your house; word of advice please don't go outside in just your towel because that is what will make the news.
For more information on the man who was arrested outside of Paris Hilton's house this morning check out TMZ!

---
Paris Hilton is a mess
July 26th, 2010 under Paris Hilton. [ Comments: 1 ]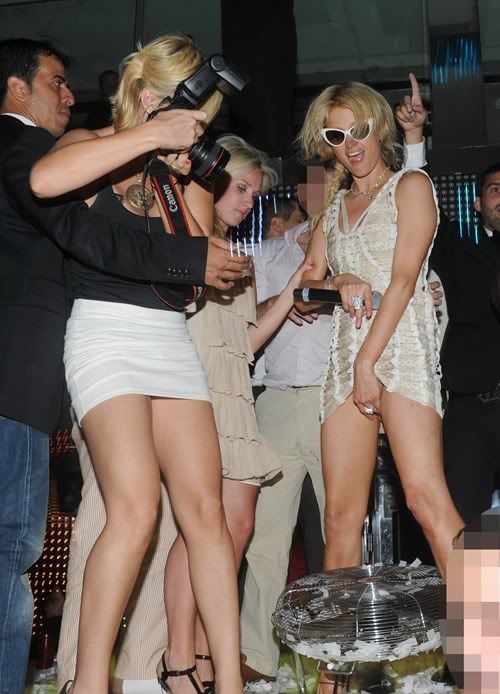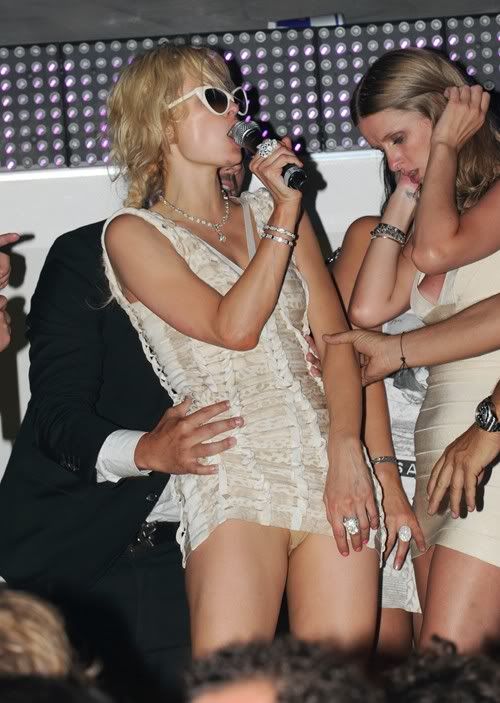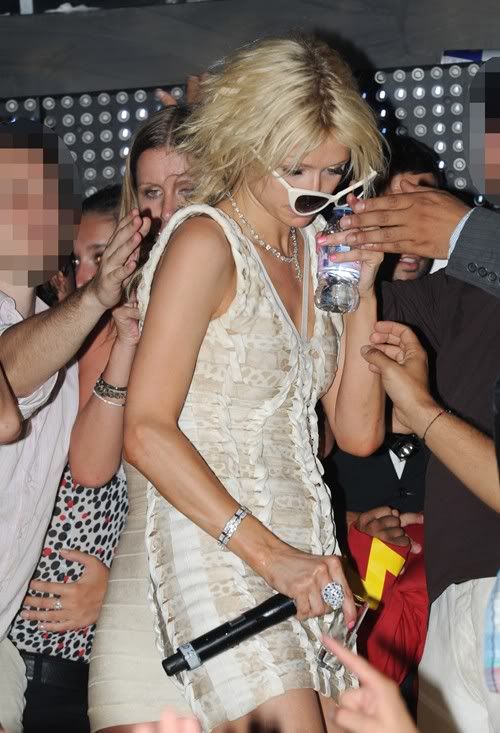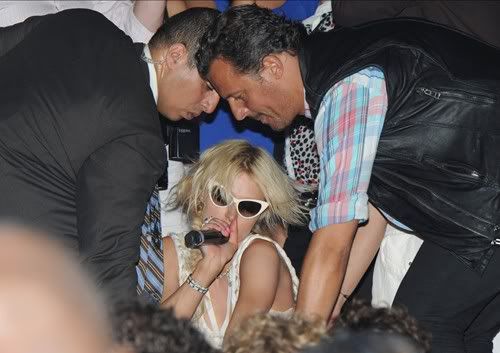 Fame Pictures
Paris Hilton got wasted in Saint Tropez, France and made the poor patrons at the club not only listen to her sing but she also showed them her underwear. As you can see in these pictures everything about her is a big mess from her hair all the way down to where the sun don't shine.
BTW I feel bad for Taylor Momsen because Paris copied her look and made it look even trashier than the 17 year old birthday girl already does.

---
Moon over Cannes
May 21st, 2010 under Paris Hilton. [ Comments: 1 ]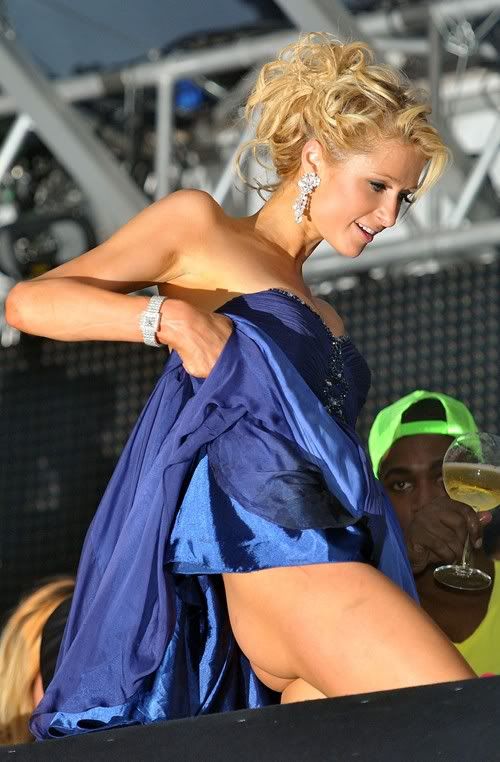 Bauer-Griffin Online
The stars at this year's Cannes has been kind of lame this year, and in one feel swoop of her dress Paris Hilton shows us why. You can blame the Volcano for cancelling a lot of flights to the European city, but let's be real when the big news from the film festival is that there was an arrest warrant out for Lindsay Lohan because she was in Cannes instead of at her LA court date you have to look else where for the blame. Hopefully next year Cannes will be back to its former glory, or they will have to look forward to more pictures of Paris Hilton's a$$ to make news.
BTW Paris Hilton you are 29, can you please stop exposing your privates like a 2 year old? I really don't want to see it and I am sure a lot of people feel the same way I do.

---
I so love Supernatural!!!
October 9th, 2009 under Paris Hilton, Supernatural. [ Comments: 1 ]

So last night Paris Hilton was on The CW's Supernatural and as promised by the producers it was mega!!! If you want to see the bloody awesome way they killed her off skip forward to 5:30 in. I promise you won't be disappointed because as she would say "That's hot!!!" I totally won't spoil it for you because you so have to watch how they do it, so check it out and let me know what you think!!!

---