What city did Paris Hilton name her son after?
February 22nd, 2023 under Paris Hilton. [ Comments: 1 ]
Paris Hilton is named after a city in France, so it would make sense that she would name her 1-month-old son after a city too. And she did.
The socialite shared an excerpt from Paris: The Memoir, which is out on March 14th. In that preview, she revealed her baby's name. She said, "We plan to name him Phoenix, a name that I decided on years ago when I was searching cities, countries and states on a map looking for something to go with Paris and London.
"Phoenix has a few good pop culture reference points, but more importantly it's the bird that flames out and then rises from the ashes to fly again.
"I want my son to grow up knowing that disaster and triumph go around and come around throughout our lives. And that this should give us great hope for the future."
And what a future Phoenix Barron Hilton Reum will have.

---
Paris Hilton is a mom
January 25th, 2023 under Paris Hilton. [ Comments: none ]
Paris Hilton has been open about her struggles to get pregnant. But her struggles are over because she and her husband, Carter Reum, welcomed their first child together via surrogate.
"It's always been my dream to be a mother, and I'm so happy that Carter and I found each other," Hilton told People, "We are so excited to start our family together and our hearts are exploding with love for our baby boy."
They haven't released his name, but I wonder if they will go with a European city like London or Madrid.

---
This is even too cruel for Paris Hilton
June 28th, 2015 under Paris Hilton, Pranks. [ Comments: none ]

Some Egyptian television show thought it would be funny to prank Paris Hilton. I am all for pranks, but even I have my limits. For example, taking someone on a 15 minute plane ride and pretending like the plane is going to crash. That is not funny. How do you laugh at someone who thinks they are going to die? Even someone like Paris Hilton.

---
Does Paris Hilton even have a spine?
September 27th, 2012 under Paris Hilton. [ Comments: 1 ]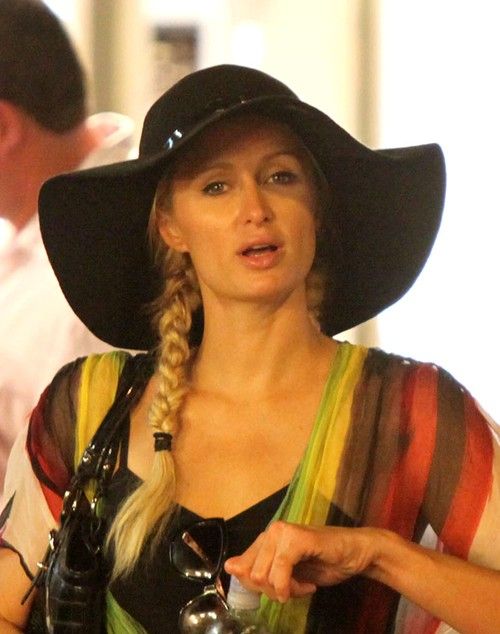 Fame Flynet
Paris Hilton was seen window shopping and all I could notice was how she was standing. Why is she standing with her back bent back the way it is. Not only does it make her look 9 months pregnant, it also makes her look extremely flat chested.
Oh and when it comes to that big black floppy hat, doesn't it make her look a witch. At least that is something positive.

---
Paris Hilton can't handle the truth
July 20th, 2011 under Paris Hilton. [ Comments: none ]

ABC News' Dan Harris was interviewing Paris Hilton and she appearantly didn't like what he asked her so she got up, ran over to her publicist and paused the interview. What got her so upset that she walked away from her interview? Well he asked her if she thinks her moment has passed because the people that have come after her like Kim Kardashian are bigger than her and he also pointed out that her new reality show bombed. I didn't even know she had one on the air right now. Did you?
Now back to her, I guess she can't handle the truth that her 15 minutes are almost up. I for one am glad that they are because what has she done to be all over magazine and such. Well you know a few years ago when she was hot, unlike now because she is a not and doesn't get the press she used to.
Paris if you are doing an interview with a major news outlet, don't get up and walk out on the interview. Because you know what they will walk out on you and you need them much more than they need you. Just saying.
Oh an never walk out on an interview when the cameras are rolling because as you just learned, they will air it! Good for ABC News for actually having the balls to show it!

---