Is Catherine Zeta-Jones really 50?
November 1st, 2019 under Catherine Zeta-Jones, Michael Douglas. [ Comments: none ]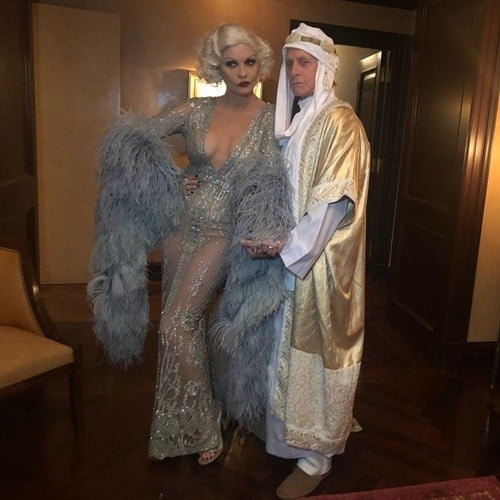 Catherine Zeta-Jones wents as a sex siren from the Golden Age of the Silver Screen and you have to wonder if she is really 50 in that body-hugging dress that leaves very little the imagination. Doesn't she look like she is ready to dazzle a red carpet in the '50s instead of her being 50?
The actress and Michael Dou1glas brought back old school Hollywood glamor on Halloween. Which makes you wonder what type of throwback movie they could make together. Something that would make the Oscars voters vote for them again.

---
Chuck Lorre gets serious with Michael Douglas and Alan Arkin
October 12th, 2018 under Chuck Lorre, Michael Douglas, Netflix. [ Comments: none ]

Chuck Lorre has given us some of the biggest comedies over the last 30 years: Dharma & Greg, Grace Under Fire, Cybill, Two and a Half Men, The Big Bang Theory, Mike & Molly, Mom and Young Sheldon. That is a lot of funny television.
Now he is teaming up with Netflix to give us a dramedy starring two huge movie legends. Michael Douglas and Alan Arkin are partnering up in The Kominsky Method. The show is being described as, "On November 16, meet Sandy (Michael Douglas) and Norman (Alan Arkin), two lifelong friends who are navigating the ups and downs of life with humor, dignity, and some prostate trouble – reminding us that some friendships never get old."
I think all of Lorre's sitcoms have been leading up to this one show. The show that will finally change the perception that so many people have of him and realize he is one of the greatest executive producers to ever work in television.
Now the only thing I want to is will he do Vanity Cards for it?

---
Val Kilmers responds to Michael Douglas' claims he has cancer.
November 2nd, 2016 under Michael Douglas, Val Kilmer. [ Comments: none ]

For almost two years, it has been reported that Val Kilmer has cancer and he has denied it time and time again. Then on Sunday, out of nowhere, Michael Douglas told Jonathan Ross during a Q&A that his former co-star has the same cancer as him and it doesn't look good.
Yesterday the Real Genius took to Facebook to once again deny it:
I love Michael Douglas but he is misinformed. The last time I spoke to him was almost two years ago, when I asked him for a referral for a specialist to get a diagnosis for a lump in my throat, which prevented me from continuing a tour of my play CITIZEN TWAIN. I ended up using a team at UCLA and have no cancer whatsoever. I still have a swollen tongue and am rehabbing steadily. I've made 3 films in the last year, one of which I directed and am presenting as a personal appearance introducing it and then answering questions after. Come see me live and happy and in person in Westwood next week if you think I'm fibbing!! I've done 3 Q and A's so far and am having the best time. The film is called CINEMA TWAIN and is a recording of my play. I'm right proud of the performance and the writing, altho editing Mark Twain is pure joy! What a lover of life and humanity.
Naturally I'm also drawn to him because of his unlikely devotion to Mrs. Eddy, the genius discoverer and founder of my faith,
Christian Science.
Some fans have mistakenly thought my silence about my personal issues meant that somehow I wasn't being responsible to my health, because of my reliance on prayer and Love. Nothing could be further from the truth. Altho I am very grateful for all the support from around the world, when people found out I had a physical challenge. I hope this puts to rest any further concerns about my health by publications that have no respect for the truth. Whatever led Michael Douglas to speculate about my health, he's a loving and devoted friend to a privileged group of talent people around the world, and I'm sure he meant no harm.
Being healthy and having the respect of my peers and love from my family, friends, peers and fans is a DAILY source of inspiration, for which I am so grateful, you have no idea. I work VERY hard at my craft, and being appreciated since I was a little boy for being able to give this gift, has literally made my life. Thank you all. And I've only just begun, now that I'm finally telling stories that I've written and produced the way my vision intends them. God bless you all and I hope to see you in Westwood on the 10th and 17th at the Landmark. Yahoo! "Apparently there is nothing that cannot happen today…" Mark Twain
Will this be the last time we hear lies about his health, probably not. But I think it will be the last time we hear it from the man who blamed his cancer on oral sex and then it took it back.

---
Michael Douglas strikes the Basic Instinct pose!
August 31st, 2015 under Michael Douglas. [ Comments: none ]

Catherine Zeta-Jones shared a photo of her husband, Michael Douglas, reading the newspaper on a lazy Sunday. It wasn't the newspaper I was looking at, but his pose. It was like his co-star Sharon Stone's in Basic Instinct, but at least he had his swimming trunks on. That is not an image, I want to see. Granted, I can't stop looking at his crotch, so it is kind of like the same thing. Right?

---
Michael Douglas says he has a big d!ck!
July 15th, 2015 under Michael Douglas. [ Comments: 2 ]

Michael Douglas might be starring in Ant-Man, but that doesn't mean his man is ant-sized. When Page Six's George Wayne asked him, "Your father had his cleft chin. Omar Sharif had the gap in his teeth…," the Fatal Attraction star told him, "I have a big d!ck!"
I have never heard that about him, have you? If it is true, then they showed they wrong crotch in Basic Instinct.

---