Jim Parsons says that a Big Bang Theory reunion won't happen in his lifetime
June 25th, 2019 under Chuck Lorre. [ Comments:

none

]

It has barely been a month since The Big Bang Theory ended, and many fans already want a reunion. Therefore, Variety's Marc Malkin asked him about it on the red carpet yesterday.
The first thing Sheldon Cooper said was, "Not in my lifetime." Then he explained, "You don't know us. We seem. We are very nice people. And we were good with each other and very professional. Because of that, we were like [motions washed his hands of], we did our jobs." Considering that Johnny Galecki appeared on Roseanna and The Conners, and Mayim Bialik has talked about a Blosson reboot, I don't think they all feel the same way as he does.
I get that he is done with the job, but he needs to remember without TBBT he would be nothing. He would not be getting the jobs he is getting had he not played this role first. He needs to be more grateful because this show has made and will continue to make him truckloads of money. Get off your high horse and appreciate what you have because of it.
When it comes to a reboot? He takes the Matt LeBlanc approach. As in he is too old to play the part again. Imagine if Sean Hayes or his TV mother Lauri Metcalf said that? Then we would not have reboots of Will & Grace and The Conners.
Seriously, it pisses me off when actors thinks they are too good for their television roles that made them stars and gave them amazing oppurtunities. If you don't want all that comes with being a television star, then don't audition.
Just remember, it can all be taken away from you in an instant. Be grateful people like you because as Michael Richards can tell you that can change in a blink of an eye.
Talking about change, he made sure to quickly shed that Sheldon look. He looks like a different person. Sounds the same with his high-pitched voice, but is unrecognizable.
---
Has Chuck Lorre hit hard times?
June 11th, 2019 under Chuck Lorre. [ Comments:

none

]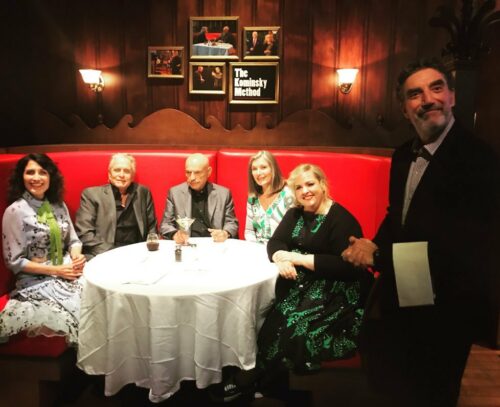 Now that The Big Bang Theory is over, Chuck Lorre is no longer getting the big money for original episodes from that sitcom even though he is still getting it from Young Sheldon, Mom, The Kominsky Method and Bob Hearts Abishola. Therefore, he needs more money. How is he going to get it?
Well, he was seen the other day waiting on the cast of his Golden Globe Award-winning show? Has he hit hard times? Far from it, Michael Douglas, Alan Arkin, the other cast members and the EP were hosting a For Your Consideration event. Thus, he waiting on the wrong set of people, he should be serving the Emmy voters whatever they want and lots of alcohol.
---
Imagine The Big Bang Theory without Kaley Cuoco
May 16th, 2019 under Chuck Lorre, Kaley Cuoco. [ Comments:

none

]
https://twitter.com/i/status/1129164122699051008
When you think of The Big Bang Theory, you think of Kaley Cuoco as Penny. However, she told Entertainment Tonight it almost did not happen. That is because the show's creator Chuck Lorre thought she was too young for the part.
Whoever they hired was not the right fit, so they brought her back in and the rest is Hollywood history. Good thing it did not work out for the other Penny because I cannot imagine anyone else in the role who is as perfect as her.
---
The Big Bang Theory set is already be taken down
May 6th, 2019 under Chuck Lorre. [ Comments:

none

]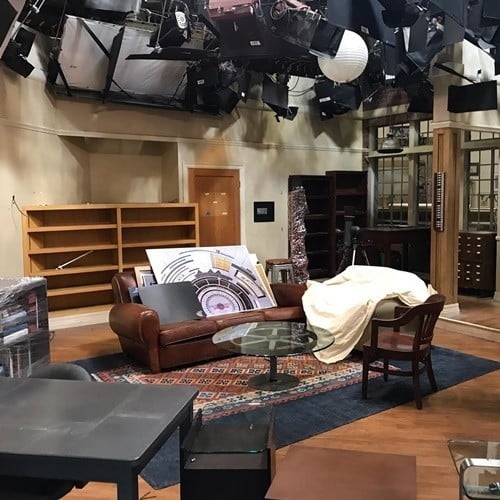 Last week, The Big Bang Theory taped their last episode ever. This week, they are already taking down the set.
Rick Redick, who does visual effects on the sitcom, shared a photo of the Leonard and Penny's apartment being packed up. Seeing it so empty brings a tear to my eye. Not as many as Kaley Cuoco, but it is still sad to see this show end.
The series finale airs on May 16th. Get the tissues ready.
---
The Big Bang Theory broke Cheers' record
March 27th, 2019 under Chuck Lorre. [ Comments:

none

]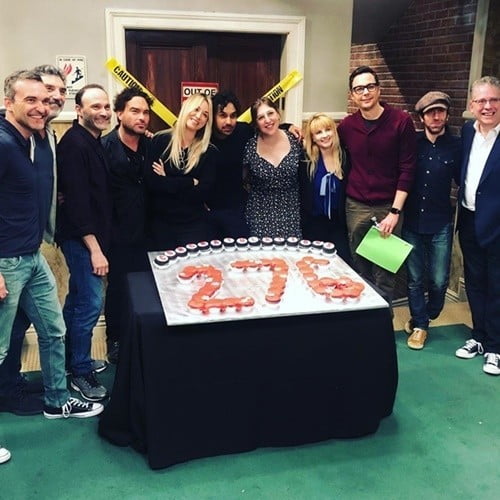 via Johnny Galecki
Up until now, Cheers held the record for the longest-running multicamera (live audience) sitcom in history. Today, The Big Bang Theory began working in its 276th episode and they are now the title holder. A title I am sure they will be holding for as long as Cheers did, which is 26 years, or maybe longer.
I wonder if Jim Parsons knew they would be in the record books when he gave his notice in August?
Either way, congrats to TBBT!
---