Bob Hearts Abishola demotes all but two of their actors
April 27th, 2023 under Chuck Lorre. [ Comments: none ]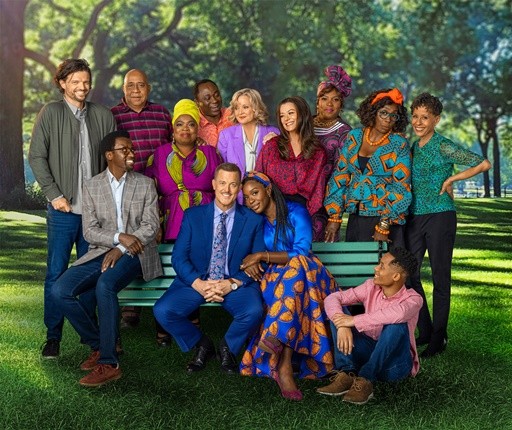 Back in January, CBS picked up Bob Hearts Abishola for a 5th season, and everyone was happy about it. That is until a few days ago. Because 11 out of the 13 cast members found out they were being demoted from series regular to recurring.
According to Deadline, Billy Gardell as Bob and Folake Olowafoyeku as Abishola will appear in all 13 episodes. However, Matt Jones as Douglas, Tony Okengbowa as Kofo, Barry Shabaka Henley as Uncle Tunde, Shola Adewusi as Auntie Olu, Bayo Akinfemi as Goodwin, Christine Ebersole as Dottie, Maribeth Monroe as Christina, Saidah Afrika Ekulona as Edunoluwa, Gina Yashere as Kemi, Travis Wolfe, Jr. as Dele, and Vernee Watson as Gloria will appear in a minimum of five episodes. That is, if they decided to sign on. They are not being held to exclusivity and can find other work if they opt to do that.
Deadline says that they are not sure if the series will go past the 13 episodes. The 13th episode could be the series finale.
While I would hate for this Chuck Lorre sitcom to end, I can understand their decision.
But I hope they consider that the show has been so positive for the Nigerian community. And we need more shows that highlight other cultures and not less.

---
Charlie Sheen and Chuck Lorre kiss and made up
April 18th, 2023 under Charlie Sheen, Chuck Lorre. [ Comments: none ]
Remember when Charlie Sheen and EP Chuck Lorre worked together on Two and a Half Men? And then, the actor was fired because he was reportedly struggling with drugs and alcohol, along with having a public meltdown and going off on his boss.
Well, that boss is a masochist because Deadline is reporting that Sheen and Lorre are going to be working together again.
Lorre has a comedy called How To Be a Bookie coming to Max, and he hired Sheen for a recurring role. The show is described as a veteran bookie (Sebastian Maniscalco) struggles to survive the impending legalization of sports gambling, increasingly unstable clients, family, co-workers, and a lifestyle that bounces him around every corner of Los Angeles high and low.
We don't know what Sheen will be doing on the series, but I am hoping he is one of the unstable clients. He won't even have to act if that is the case. Maybe that is why Lorre opted to work with Sheen again.
Who knows, maybe Lorre will also want to work with some of his other troublesome stars like Roseanne Barr, Brett Butler, and/or Cybill Shepherd on Bookie? So yeah, he is a masochist, but is he that much of one?

---
Bob Hearts Abishola goes to a Nigerian funeral
March 20th, 2023 under Chuck Lorre. [ Comments: none ]
Bob Hearts Abishola has shown us several different Nigerian customs throughout the years, like a wedding, and tonight at 8:30p on CBS, they will take us to a funeral. And after you watch the episode, you will want to have one. At least, I do.
But I got ahead of myself. Abishola's (Folake Olowofoyeku) aunt died, and she has to attend the funeral in Toronto because her mom (Saidah Arrika Ekulona) can't go since she is not an American citizen. Abishola doesn't want to go because her aunt was mean to her when she first came to North America. So after she left her aunt, she never spoke to her again.
Since Abishola can't handle it on her own, she will bring her friend, Kemi (Gina Yashere), with her. Because who doesn't love a good Nigerian funeral?
While they are there, Abishola will learn about herself, and it will bring her peace.
As she finds peace, Bob (Billy Gardell) is struggling to make his first socks with his new factory. But, no matter what he does, they are not turning out the right way. Will he finally make the perfect sock? Let's just say he will find a lucky charm in someone unexpected.
If you are not watching Bob Hearts Abishola, you are missing out on a funny and educational comedy. I have known several Nigerians in my life, and this show gets it right. So if you want to learn more about a culture we don't know a lot about, then watch this sitcom. And if you don't want to learn anything, then you can watch for the laughs!

---
CBS still hearts Bob Hearts Abishola
January 25th, 2023 under Chuck Lorre. [ Comments: none ]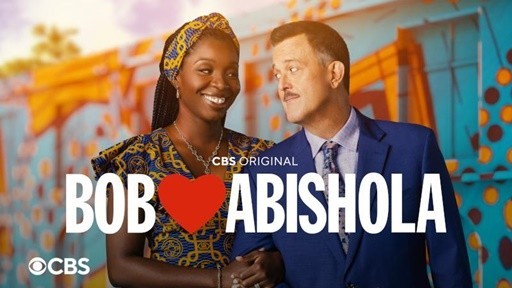 CBS announced today that it picked up Bob Hearts Abishola for a fifth season. The Chuck Lorre comedy joins Ghosts, The Neighborhood, Young Sheldon, The FBIs, The Equalizer, and Fire Country on the 2023-2024 schedule.
The thing I love most about this show is how accurate it is to Nigerians. My dad had Nigerian aides, and I see so much of them in the characters in the series. I respect it when a show gets it right.

---
When will your favorite CBS shows be back?
June 23rd, 2022 under CBS, Chuck Lorre, Dick Wolf, Ghosts. [ Comments: none ]
We are less than three months away from the start of the Fall TV season But we don't have to wait that long to find out when our favorite CBS shows will be back with all-new episodes. That is because the Eye network released their premiere dates today, and I don't want to wait until September 29th to find out what my favorite Ghosts have been up to. That is too long of a hiatus, and they might be reincarnated by then.
MONDAY, SEPT. 19
8:00-8:30 PM THE NEIGHBORHOOD (fifth season premiere)
8:30-9:00 PM BOB ♥ ABISHOLA (fourth season premiere)
9:00-10:00 PM NCIS (20th season premiere)
10:00-11:00 PM NCIS: HAWAI'I (second season premiere)
TUESDAY, SEPT. 20
8:00-9:00 PM FBI (fifth season premiere)
9:00-10:00 PM FBI: INTERNATIONAL (second season premiere)
10:00-11:00 PM FBI: MOST WANTED (fourth season premiere)
WEDNESDAY, SEPT. 21
8:00-10:00 PM SURVIVOR (two-hour 43rd season premiere)
10:00-11:00 PM THE AMAZING RACE (34th season premiere, NTP)
SUNDAY, SEPT. 25
8:00-10:00 PM BIG BROTHER (24th season finale)
WEDNESDAY, SEPT. 28
8:00-9:30 PM SURVIVOR (90-minute episode)
9:30-11:00 PM THE AMAZING RACE (90-minute episode)
THURSDAY, SEPT. 29
8:00-8:30 PM YOUNG SHELDON (sixth season premiere)
8:30-9:00 PM GHOSTS (second season premiere, NTP)
9:00-10:00 PM SO HELP ME TODD (SERIES DEBUT)
10:00-11:00 PM CSI: VEGAS (second season premiere, NTP)
SUNDAY, OCT. 2 (Football Doubleheader)*
7:30-8:30 PM 60 MINUTES
8:30-9:30 PM THE EQUALIZER (third season premiere)
9:30-10:30 PM EAST NEW YORK (SERIES DEBUT)
WEDNESDAY, OCT. 5
8:00-9:00 PM SURVIVOR (RTP)
9:00-10:00 PM THE REAL LOVE BOAT (SERIES DEBUT, NTP)
10:00-11:00 PM THE AMAZING RACE
FRIDAY, OCT. 7
8:00-9:00 PM S.W.A.T. (sixth season premiere, NTP)
9:00-10:00 PM FIRE COUNTRY (SERIES DEBUT)
10:00-11:00 PM BLUE BLOODS (13th season premiere)
SUNDAY, OCT. 9
7:00-8:00 PM 60 MINUTES
8:00-9:00 PM THE EQUALIZER (RTP)
9:00-10:00 PM EAST NEW YORK (RTP)
10:00-11:00 PM NCIS: LOS ANGELES (14th season premiere, NTP)

---