Kirk Douglas' secret to a long marriage
November 18th, 2019 under Catherine Zeta-Jones, Michael Douglas. [ Comments: none ]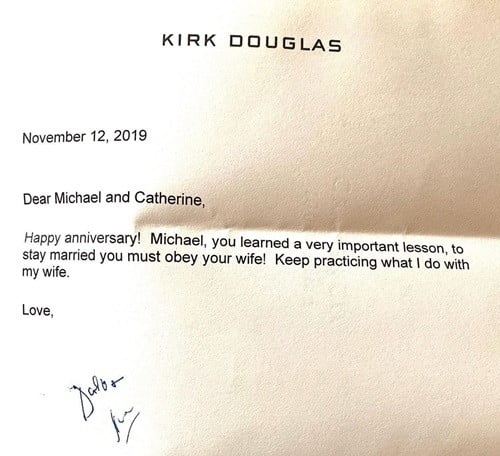 Today is Catherine Zeta Jones and Michael Douglas' 20th wedding anniversary and his father had some words of advice to make their marriage last another 20.
Kirk Douglas wrote, "Michael, you learned a very important lesson, to stay married you must obey your wife." Then he added, "Keep practicing what I do with my wife." Considering he has been married to Anne Buydens for 65 years, it works.
Both men's womanizing ways were tamed by their wives, so they learned to honor that part of the vows. I think they are too afraid to find out what happens if they do not.

---
Is Catherine Zeta-Jones really 50?
November 1st, 2019 under Catherine Zeta-Jones, Michael Douglas. [ Comments: none ]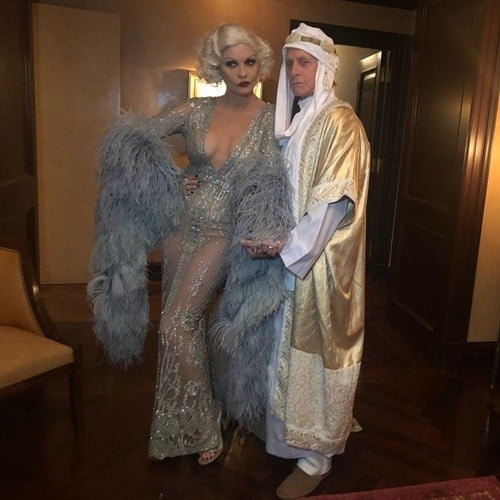 Catherine Zeta-Jones wents as a sex siren from the Golden Age of the Silver Screen and you have to wonder if she is really 50 in that body-hugging dress that leaves very little the imagination. Doesn't she look like she is ready to dazzle a red carpet in the '50s instead of her being 50?
The actress and Michael Dou1glas brought back old school Hollywood glamor on Halloween. Which makes you wonder what type of throwback movie they could make together. Something that would make the Oscars voters vote for them again.

---
BTWF: Catherine Zeta-Jones in The Sound of Music
October 3rd, 2019 under Before They Were Famous, Catherine Zeta-Jones. [ Comments: none ]
https://www.instagram.com/p/B3LNausHVGl/?igshid=312rfq8f4ihw
Before Catherine Zeta-Jones was starring in big screen musicals like Chicago and Rock of Ages, she starred in The Sound of Music in the Grand Theatre, Swansea. Even when she was 8 back in 1977, you could tell she was going to grow up to become an Oscar winner for a movie musical.

---
Is Catherine Zeta-Jones really 48?
January 8th, 2018 under Are they really their age?, Catherine Zeta-Jones. [ Comments: none ]

Catherine Zeta-Jones walked the red carpet at the Golden Globes and she could stop traffic in that revealing black Zuhair Murad gown. That dress made her look so sexy that women half her age could not work it as well as she did. Which makes you wonder if she really is 48 because she did not look it yesterday.

She looked so hot, the man behind her looks like he was doing everything in his power not to check out her behind.

---
Oy, the Kosher way that Michael Douglas pulled his groin!
July 11th, 2014 under Catherine Zeta-Jones, David Letterman. [ Comments: none ]

Michael Douglas' crotch and Judaism just don't get along. First, when he was 8 days old, he had a circumcision and then being Jewish came back to haunt that area recently according to what he told David Letterman on The Late Show. Last year, at his son Dylan's Bar Mitzvah, he was lifted up in a chair as part of the festivities. Well, the guys in the back were stronger than the ones in the front, and he fell forward. Bracing himself for the fall, he pulled his groin. If I were him, I would avoid anything Jewish for the rest of his life, for his crotch's sake at least.

---