Kathleen Turner 'is f*cking' with Michael Douglas again
April 29th, 2021 under Michael Douglas. [ Comments: none ]
On May 28th, The Kominsky Method is back for its final act on Netflix. Today, the streaming service released a trailer for the third season.
We know that Adam Arkin is not coming back for a final bow. Now, we know how the dramedy is getting rid of Norman Newlander. They are killing him off. There will be repercussions because of his death, and they will all fall on Sandy Kominsky (Michael Douglas).
Since Arkin is gone, they needed a new lead. They went with Kathleen Turner as Sandy's ex-wife. This casting reunites the two actors who shared the big screen three times in the '80s. Even though it has been over 30 years since they acted together, you can tell they still have chemistry.
Because of that, I cannot wait to see them romancing the stone again. I just wish it didn't have to end.

---
The Kominsky Method will go on without one of its stars
September 24th, 2020 under Michael Douglas, Netflix. [ Comments: none ]

The Kominsky Method is coming back for a third season. However, Alan Arkin won't be joining Michael Douglas for the final season.

According to Deadline, the 86-year-old Oscar-winner only planned on doing two seasons. His departure will be written into the show.

Arkin is the second lead actor to depart a Chuck Lorre before the new season. Anna Faris is leaving Mom to "pursue new opputunities." This is a rarity for Lorre who never sees stars leave his shows unless their names are Charlie Sheen or Agnus T. Jones.

---
The third season will be the charm for The Kominsky Method
July 2nd, 2020 under Chuck Lorre, Michael Douglas, Netflix. [ Comments: none ]

Netflix announced today that they picked up the critically acclaimed The Kominsky Method for a third season. That is the good news, but the sad news is that it will be its' last season.
The dramedy stars Michael Douglas and Alan Arkin as two friends who are adjusting to life as they get older. Towards the end of the second season, Douglas was diagnosed with cancer. I bet you the series will end with him dying from it. It is a good way to go out.
Chuck Lorre, who created the show, has this to say about his Golden Globe winning show ending, "'The Kominsky Method' has been a true passion project for me and it's been an incredible experience to see the warm response from both audiences and critics. I'm excited to wrap up the story with this final chapter."
Are you sad that we are only getting one more season?

---
BTWF: Krik Douglas in The Strange Love of Martha Ivers
February 5th, 2020 under Before They Were Famous, Michael Douglas. [ Comments: none ]

Before Kirk Douglas was one of the biggest actors of the 20th Century, he got his start in The Strange Love of Martha Ivers. Even when he was 29 in that 1946 movie, you can tell he has such star potential.

---
Kirk Douglas' secret to a long marriage
November 18th, 2019 under Catherine Zeta-Jones, Michael Douglas. [ Comments: none ]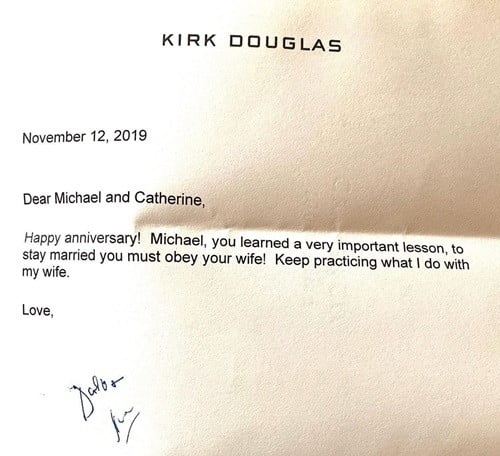 Today is Catherine Zeta Jones and Michael Douglas' 20th wedding anniversary and his father had some words of advice to make their marriage last another 20.
Kirk Douglas wrote, "Michael, you learned a very important lesson, to stay married you must obey your wife." Then he added, "Keep practicing what I do with my wife." Considering he has been married to Anne Buydens for 65 years, it works.
Both men's womanizing ways were tamed by their wives, so they learned to honor that part of the vows. I think they are too afraid to find out what happens if they do not.

---