[ # ] Kirk Douglas' secret to a long marriage
November 18th, 2019 under Catherine Zeta-Jones, Michael Douglas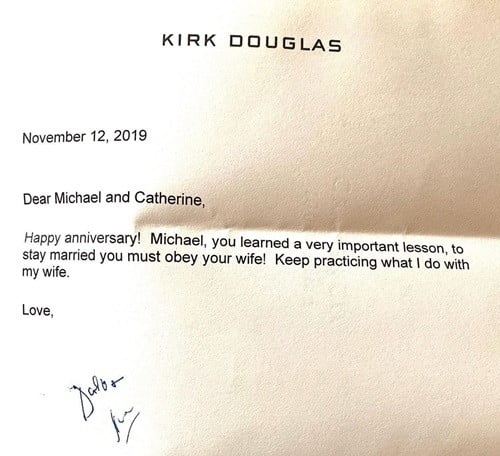 Today is Catherine Zeta Jones and Michael Douglas' 20th wedding anniversary and his father had some words of advice to make their marriage last another 20.
Kirk Douglas wrote, "Michael, you learned a very important lesson, to stay married you must obey your wife." Then he added, "Keep practicing what I do with my wife." Considering he has been married to Anne Buydens for 65 years, it works.
Both men's womanizing ways were tamed by their wives, so they learned to honor that part of the vows. I think they are too afraid to find out what happens if they do not.

---