That is a lot of Stablers and Bensons
April 8th, 2021 under Chris Meloni, Dick Wolf, Mandy Moore, Mariska Hargitay. [ Comments: none ]
Mariska Hargitay and Chris Meloni are once again paired up together, and they are enjoying being side by side. So much so they each got masks with their mugs on them. Therefore that is six Bensons and six Stables in one photo. Then if you include their Thursday night NBC procedurals Law & Order: SVU that airs at 9p and Law & Order: Organized Crime that starts at 10p, that is eight of them. Oy!
I have to admit, as much as I live this photo, Cagney & Lacey, aka Sharon Gless and Tyne Daly did it better.

---
Didn't Mandy Moore just have a baby?
March 26th, 2021 under Mandy Moore. [ Comments: none ]
On February 20th, Mandy Moore welcomed her first child with her husband, Taylor Goldsmith. Yesterday, the actress was already back at work on This Is Us.
However, looking at her in this photo, it is hard to believe that she welcomed her, August Harrison, just over a month ago. She looks like Rebecca did before she had triplets. In other words, she looks fabulous. Don't you agree?
Moore is not alone on the set; she brought her husband and her son along for company. Nothing will wipe the tears away from her face after one of those emotional scenes faster than seeing her baby's smile.

---
The sentimental reason why Mandy Moore named her son August
February 25th, 2021 under Mandy Moore. [ Comments: none ]

The other day, Mandy Moore welcomed her first baby with her husband, Taylor Goldsmith. While they didn't tell us when their son was born, they did share his name with us. They named him August, and now we know why they did.

"It was last August when @taylordawesgoldsmith and I found out we were having a boy (it's also Taylor's birth month) and we always loved the name… so it was settled very early on in our book," Moore wrote. "Then for our anniversary in November, T gifted me with this blanket with the 'A' (for Amanda) made from extra material from my wedding dress and 'T' (for Taylor) from his wedding shirt. Felt like a very fitting amalgamation of our whole story. I can't wait to pass this on to our sweet August one day. 💙💙💙💙"

I hope they call him Ugus for short. This way, they can say that nothing can come between them except him. I hope they continue the tradition with their other children. They can have a TinA, a TabithA, and an ArT, to name a few.

---
Mandy Moore is a mom!
February 23rd, 2021 under Mandy Moore. [ Comments: none ]

Mandy Moore and her husband, Taylor Goldsmith, welcomed their first child together.

"Gus is here 💙💙💙💙. Our sweet boy, August Harrison Goldsmith. He was punctual and arrived right on his due date, much to the delight of his parents," Moore wrote. "We were prepared to fall in love in all sorts of brand new ways, but it goes beyond anything we could have ever imagined."

Wouldn't it be funny if her son dated her ex Wilmer Valderrama's daughter, who is a few days older than her, when they grow up?

---
Mandy Moore got really old looking
April 3rd, 2019 under Mandy Moore, This Is Us. [ Comments: none ]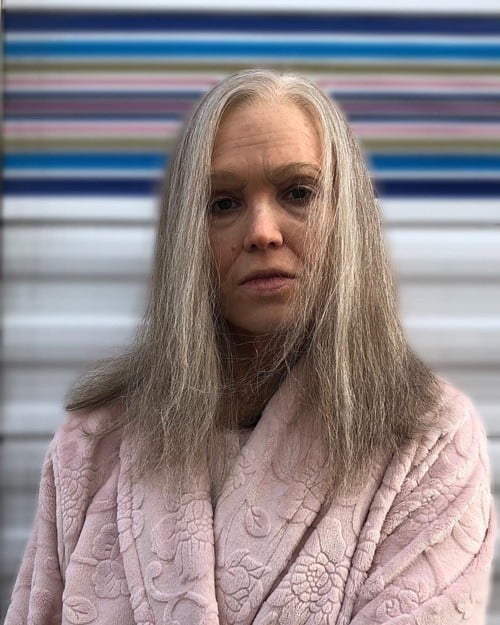 If you watched the third season finale of This Is Us, then you know that they flash forwarded to the cast to being older and grayer. It is one thing to do it for the triplets, Beth and Toby. However, when it comes to Mandy Moore, they had to do a lot more to age the 34-year-old actress around 50 years.
She shared a photo of her old self on the set after her transformation and she is unrecognizable. The makeup department did such a great job you would think she was her own grandmother.
What do you think of very old Rebecca Pearson?
UPDATE: To see the transformation, then click here!

---