Milo Ventimiglia reveals who cries the first on the This Is Us set
May 24th, 2022 under Milo Ventimiglia. [ Comments: none ]
Tonight at 9p on NBC, we say goodbye to This Is Us. We don't know what is going to happen, but we know there will be tears.
The other night there was a screening of the finale, and Extra's Rachel Lindsay asked Milo Ventimiglia who cries the most of the cast. The actor didn't answer her question, but he did reveal that Chrissy Metz is the first one to shed the tears, followed by Mandy Moore, and then the rest of them turn on the waterworks.
Now that we know who starts the crying chain let's find out what Ventimiglia took home from the set. The patriarch of the drama said he took Jack Pearson's watch and wedding ring, along with a crew chair. Why a crew chair? He said, "For me, we have our names on our stuff, but that's what the crew sat in. That's what I hang on to remember, the crew chair."
However, he doesn't really need the chair because he is taking the crew with him to shoot his pilot for ABC called The Company You Keep. And we all need someone like him to be in the company we keep. When you are loyal to the people you work with, they will be loyal and grateful to you. Kindness is an amazing thing.

---
Milo Ventimiglia and Mandy Moore are immortalized together in Hollywood
January 10th, 2022 under Mandy Moore, Milo Ventimiglia, This Is Us. [ Comments: none ]
Milo Ventimiglia and Mandy Moore spent six years playing one of television's greatest couples of all time. Therefore, it seems like they are really together. While the actors will part ways in a few weeks when This Is Us concludes its run, they will be together forever.
Or at least until the big one hits. That is because their stars are next to each other on the Hollywood Walk of Fame. That is love, even if it is only for the cameras. But in our minds, it is real.
So congrats to the two of them as they spend an eternity together as people walk all over them.

---
How does Milo Ventimiglia think Jack will react to Rebecca moving on?
November 9th, 2020 under Jimmy Fallon, Milo Ventimiglia, This Is Us. [ Comments: none ]

On this season of This Is Us, we are going to see how Rebecca (Mandy Moore) and Miguel (Jon Huertas) got together. This past Friday, when Milo Ventimiglia was a guest on The Tonight Show, Jimmy Fallon asked him how he thinks Jack will react to their relationship.
"Jack's dead! So it really doesn't matter what Jack thinks," Ventimiglia said. The actor did go on to say that Jack loved his family so much that he would want his wife and children to be happy.
Ventimiglia also said that sometimes it is hard to live up to what a good a person his character is. Therefore, if you ever hear Milo talking about Jack's flaws. That is him trying to let himself off the hook for not being as good of a person as Jack.
I set up an interview with Ventimiglia back when he was on Gilmore Girls. Let me tell you, there is a lot of Jack in him. You can't play that good of a guy without being one. The audience can tell when someone is not as nice as their character. That is why some people are always the bitch or the villain.
The This Is Us patriarch also revealed how Mandy Moore told the cast that she is going to be a mother. They were all on Zoom call, catching up. When they got to her, she timidly told them she is pregnant. They were all so happy for her. Ventimiglia says he is so thrilled that someone as great and amazing as her is going to be mom influencing a child. That gives him hope for Earth.
Hopefully, he will be next!

---
BTWF: Milo Ventimiglia on Saved By the Bell: The New Class
August 21st, 2019 under Before They Were Famous, Milo Ventimiglia, Saved by the Bell/City Guys. [ Comments: none ]

Before Milo Ventimiglia was a paramedic on Heroes, he was a candy stripper on Saved By the Bell: The New Class. He looks the same now as he did when he was 18 in that 1996 episode.

---
Milo Ventimiglia is giving off Popeye vibes
August 7th, 2019 under Lisa Rinna, Milo Ventimiglia, Ryan Seacrest. [ Comments: none ]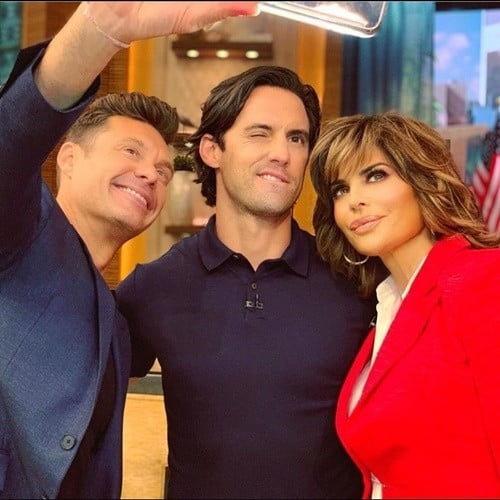 Milo Ventimiglia was on Live with Kelly and Ryan this morning. While he was there, he posed for a photo with Ryan Seacrest and Lisa Rinna. Deciding to be cute, he gave the camera a little wink. However, I don't see the caring dad from This Is Us here, I see a younger version of Popeye without his pipe, sailor's cap and spinach.
Therefore, if they ever think of bringing back the cartoon for a second time as a live-action movie, then he would be perfect for the lead role.
Am I the only one who sees Popeye here?

---