How does Milo Ventimiglia think Jack will react to Rebecca moving on?
November 9th, 2020 under Jimmy Fallon, Milo Ventimiglia, This Is Us. [ Comments:

none

]

On this season of This Is Us, we are going to see how Rebecca (Mandy Moore) and Miguel (Jon Huertas) got together. This past Friday, when Milo Ventimiglia was a guest on The Tonight Show, Jimmy Fallon asked him how he thinks Jack will react to their relationship.
"Jack's dead! So it really doesn't matter what Jack thinks," Ventimiglia said. The actor did go on to say that Jack loved his family so much that he would want his wife and children to be happy.
Ventimiglia also said that sometimes it is hard to live up to what a good a person his character is. Therefore, if you ever hear Milo talking about Jack's flaws. That is him trying to let himself off the hook for not being as good of a person as Jack.
I set up an interview with Ventimiglia back when he was on Gilmore Girls. Let me tell you, there is a lot of Jack in him. You can't play that good of a guy without being one. The audience can tell when someone is not as nice as their character. That is why some people are always the bitch or the villain.
The This Is Us patriarch also revealed how Mandy Moore told the cast that she is going to be a mother. They were all on Zoom call, catching up. When they got to her, she timidly told them she is pregnant. They were all so happy for her. Ventimiglia says he is so thrilled that someone as great and amazing as her is going to be mom influencing a child. That gives him hope for Earth.
Hopefully, he will be next!

---
BTWF: Milo Ventimiglia on Saved By the Bell: The New Class
August 21st, 2019 under Before They Were Famous, Milo Ventimiglia, Saved by the Bell/City Guys. [ Comments:

none

]

Before Milo Ventimiglia was a paramedic on Heroes, he was a candy stripper on Saved By the Bell: The New Class. He looks the same now as he did when he was 18 in that 1996 episode.

---
Milo Ventimiglia is giving off Popeye vibes
August 7th, 2019 under Lisa Rinna, Milo Ventimiglia, Ryan Seacrest. [ Comments:

none

]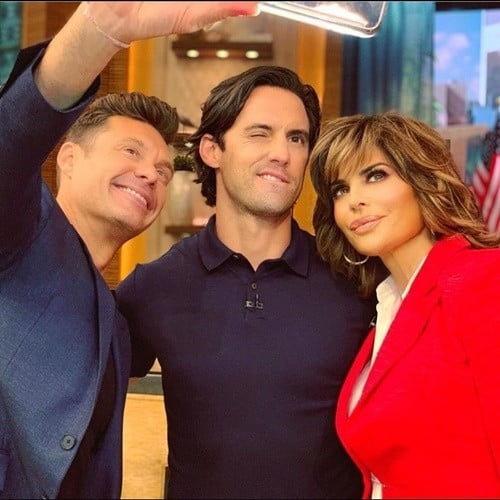 Milo Ventimiglia was on Live with Kelly and Ryan this morning. While he was there, he posed for a photo with Ryan Seacrest and Lisa Rinna. Deciding to be cute, he gave the camera a little wink. However, I don't see the caring dad from This Is Us here, I see a younger version of Popeye without his pipe, sailor's cap and spinach.
Therefore, if they ever think of bringing back the cartoon for a second time as a live-action movie, then he would be perfect for the lead role.
Am I the only one who sees Popeye here?

---
BTWF: Milo Ventimiglia on Fresh Prince of Bel Air
February 21st, 2019 under Before They Were Famous, Milo Ventimiglia, This Is Us, Will Smith. [ Comments:

none

]

Before Milo Ventimiglia was the bad boy on American Dreams, he realized his American dream of being an actor on Fresh Prince of Bel Air. How cute was the 18-year-old making his acting debut back in 1997?
Want to hear him not only talk about the role but also sing the sitcom's theme song on Ellen, then click here!

---
Is Milo Ventimiglia afraid of Crock pots?
April 10th, 2018 under Andy Cohen, Milo Ventimiglia, Ricky Martin, This Is Us. [ Comments:

none

]

In case you have been hiding under a rock, then you might not have known that a Crock-Pot killed Jack on This Is Us. Yesterday, when he was on Watch What Happens Live, an audience member wanted to know, "Since the slow cooker incident, are you brave enough to use one?"
His TV death did not scare him away from slow cooking. He has a slow cooker and a Crock-Pot at home and uses it all the time. He likes to make Lentil soup and vegetables with it. Although, he did not mention the show killer's dish chili.
Then Andy Cohen wanted to know if he would run from a slow cooker and the actor said he would run towards one. Which exactly what Jack did, but that story did not have a happy ending.
We also learned in that post-show Q&A that Ricky Martin is a member of the mile high club. I can totally see that he bangs, he bangs, someone one in a private plane's bathroom! Surprisingly, he did not get all flush when he admitted that!

---