Mandy Moore is a mom!
February 23rd, 2021 under Mandy Moore. [ Comments: none ]

Mandy Moore and her husband, Taylor Goldsmith, welcomed their first child together.

"Gus is here 💙💙💙💙. Our sweet boy, August Harrison Goldsmith. He was punctual and arrived right on his due date, much to the delight of his parents," Moore wrote. "We were prepared to fall in love in all sorts of brand new ways, but it goes beyond anything we could have ever imagined."

Wouldn't it be funny if her son dated her ex Wilmer Valderrama's daughter, who is a few days older than her, when they grow up?

---
Mandy Moore got really old looking
April 3rd, 2019 under Mandy Moore, This Is Us. [ Comments: none ]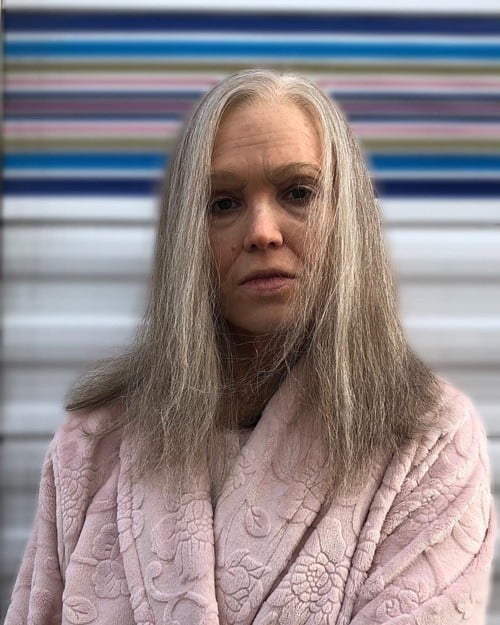 If you watched the third season finale of This Is Us, then you know that they flash forwarded to the cast to being older and grayer. It is one thing to do it for the triplets, Beth and Toby. However, when it comes to Mandy Moore, they had to do a lot more to age the 34-year-old actress around 50 years.
She shared a photo of her old self on the set after her transformation and she is unrecognizable. The makeup department did such a great job you would think she was her own grandmother.
What do you think of very old Rebecca Pearson?
UPDATE: To see the transformation, then click here!

---
I don't think the This Is Us producers will like Mandy Moore's new look
March 8th, 2019 under Mandy Moore. [ Comments: none ]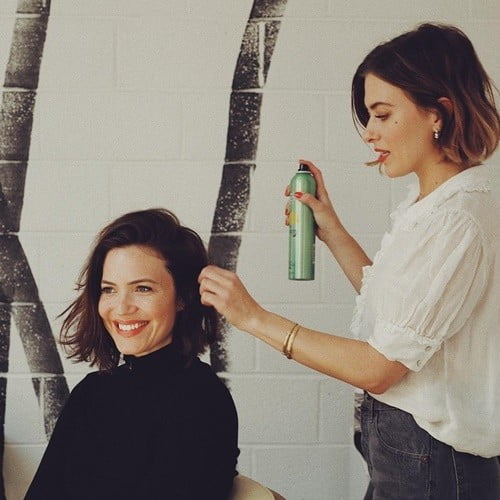 Ever since Mandy Moore signed on to do This Is Us, her brown hair went halfway down her back. Yesterday, she changed it up and got a bob. Not only that, she darkened her locks.
She looks great, but I am sure the This Is Us producers are thinking we are going to need another wig for younger Rebecca.

---
This Is Mandy Moore and Taylor Goldsmith's wedding photo!
November 19th, 2018 under Mandy Moore. [ Comments: none ]

Mandy Moore and Taylor Goldsmith tied the knot yesterday in an intimate wedding that included their friends, family and her This Is Us co-stars. The blushing bride was pretty in pink in a Rodarte flowing gown.

The couple met in 2015 and got engaged two years later. This is her second marriage, she was previously married to Ryan Adams.

It was a bittersweet weekend for the couple, Moore's cat Madeline passed away suddenly on Saturday night.

Minka Kelly shared a photo of the newlyweds in color, to see it then click here!

---
Did Mandy Moore really give this clue?
October 11th, 2017 under Jimmy Fallon, Mandy Moore, Michael Strahan, Shaquille O'Neal. [ Comments: none ]

When you think of Mandy Moore, you think of the sweet actress we watch ever week on This Is Us. Turns out, she is not that innocent.
Yesterday, on The Tonight Show she played Password against Jimmy Fallon and Shaquille O'Neal. When it came time for the second clue, Shaq gave the NBC host the clue, "hump," and he did not get it. Then Moore said to Noah Cyrus, "toe." and she got it immediately. Did you get it?
Who would have thought she would go there, but she did and it was freaking brilliant. As brilliant as her performances each week as Rebecca Pearson. I do not care what anyone says, she is the best one on the show and they are all really excellent.
Talking about being great on show, they need to book on her Michael Strahan's Pyramid because she is really good at these type of game shows.

---