Cozi TV gives Leslie Jordan his own week!
June 9th, 2020 under COZI TV, Leslie Jordan. [ Comments: none ]

Some of us have known about Leslie Jordan's greatness for a while. However, there are a bunch of people who are just discovering him now. Cozi TV found a way to give his new and old fans something they needed and didn't know. A week full Beverly Leslie on Will & Grace. He was so good on the show, they gave him an Emmy for his supporting role.
Starting on June 15th at 1a, we will get twice the Leslie, or two episodes each night featuring Karen Walker's archenemies. What more could you ask for? Well, well, well, maybe they could also show his Boston Legal episodes.
To see which episodes of his they are airing, then click here!

---
BTWF: Leslie Jordan on Pee Wee's Playhouse
May 20th, 2020 under Before They Were Famous, Leslie Jordan, Pee Wee Herman. [ Comments: none ]

Before Leslie Jordan was killing people with a frying pan on Boston Legal, he was a thief on Pee Wee's Playhouse. He looks the same now as he did when he was 35 in taht 1990 episode.

---
Leslie Jordan and Robert Downey, Jr. shared a bed in prison
May 20th, 2020 under Andy Cohen, Leslie Jordan, Robert Downey Jr.. [ Comments: none ]

Back in 1997, Leslie Jordan was sentenced to 120 days in prison for things he did not want to get into on Watch What Happens Live with Andy Cohen yesterday.
When he got there, his lawyer told him to ask for the gay section. They told the actor that it is too tough for him, so they put him in the softy section. On the 10th day, the guards told him that they were letting him out the next day because they were giving Robert Downey, Jr. his bed.
The two men did not swap the bed in the cell, instead, they were in a holding area together. Sadly, they never talked. I wonder what they would say to each other now. Jordan owes him a huge thanks for getting him out of prison early.
The '90s was a much different time for both actors.
Talking about much different, the Bravo host confused Jordan for another Leslie. That person was Leslie Jones because they look so much alike. Jordan is a short white man, and she is a tall black woman. I can see how he can confuse them.

---
Caption Leslie Jordan!
July 9th, 2019 under Caption the Celeb, Leslie Jordan. [ Comments: none ]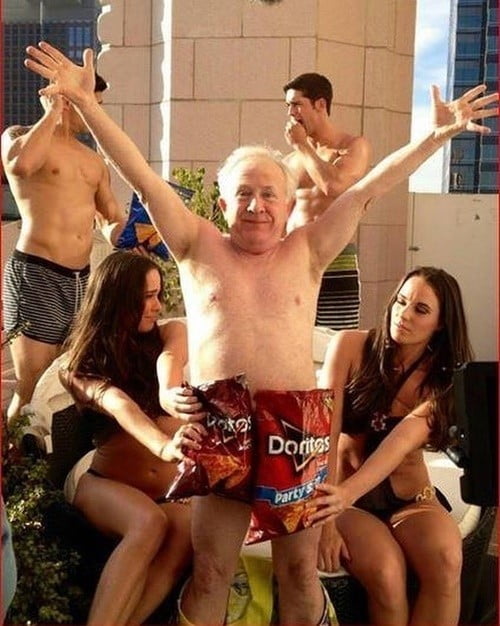 This photo of Leslie Jordan has Caption Me written all over it, so go ahead and do it.

---
The Cool Kids ends its run with its funniest episode
May 10th, 2019 under David Alan Grier, Fox, Leslie Jordan, Vicki Lawrence. [ Comments: none ]

Vicki Lawrence announced today that Fox cancelled her highlarious show The Cool Kids. She wrote, "One last new episode of Cool Kids tonight. End of season 1, end of @thecoolkidsfox 😟 We have been cancelled. I've had a good #cry I'll probably have another. I will miss #myboys" I will miss the four of them too. Even though, they had a crappy pilot, every episode after that got better and better.
Case in point, on tonight's series finale at 8:30p. Hank (David Alan Grier), Charlie (Martin Mull) and Sid (Leslie Jordan) are going to celebrate their friendiversary and decide not to include Margaret (Lawrence). When she finds out that Sid was not their first choice, she decides to tell him. He gets all catty with his BFFs and joins the cat lady group with Margaret. She realizes he is better with their old friends and comes up with a plan to reunite them all. That is when it gets really funny. So funny, I scared my cat when I laughed out loud. And she did not even mind all the cats they had on the show. Oh and I don't want to spoil anything but Jamie Farr has the most outrageously hysterical moment of the night.
I am sad this show is ending because it really made me happy every week. Unlike Last Man Standing which has not been as good on Fox. Could be because I hate the new Mandy, She is not as endearing as the original one. Like tonight's episode, she is not ready to move out and her parents are doing everything in their power to get her to move. It is not like she is moving that far away. She can visit all the time.
The Cool Kids was not the only show to get the dreaded axe on Fox. They also pulled the plug on The Passage. I had to look up what show that was because I could not remember what it was. Do you?

---