The Nirvana Nevermind baby is suing the band for child pornography
August 25th, 2021 under Lawsuits. [ Comments: none ]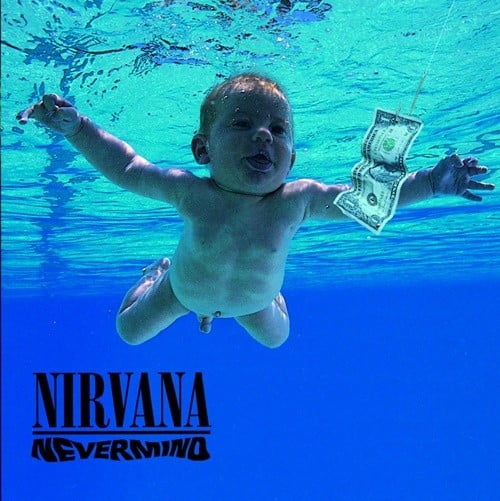 Spencer Elden has been famous for almost all of his life, and now he is seeking compensation for it. You might not know his name or his face now, but you have known him since he was a baby. That is because we saw all of him on the cover of Nirvana's Nevermind album.
Even though he has talked positively about it and recreated the photograph, he is now changing his tune.
His lawyers filed a lawsuit in Los Angeles claiming that the defendants involved "knowingly produced, possessed, and advertised commercial child pornography," that they "failed to take reasonable steps to protect Spencer and prevent his widespread sexual exploitation," that they've continued "to benefit from their participation in Spencer's commercial sexual exploitation," and that Spencer "has suffered and will continue to suffer lifelong damages."
According to Rolling Stone, the defendants are surviving band members Dave Grohl and Krist Novoselic, the three people who oversee Kurt Cobain's estate (Courtney Love, Guy Oseary, and Heather Parry), photographer Kirk Weddle, art director Robert Fisher, and various record companies and distributors. In addition, the band's former drummer Chad Channing is also being sued, even though he was not involved with the album.
How much compensation does Elden want? He wants court fees plus $150,000 per defendant.
I think he would have a better case if he didn't so many positive interviews about it throughout the years.

---
Did Paris Hilton copy UB40?
June 2nd, 2007 under Lawsuits, Paris Hilton. [ Comments: none ]
The people behind UB40's Kingston Town are suing Paris Hilton's record label saying her song Stars are Blind sounds a lot like their's. They have brought a £250,000 lawsuit ito the High Court in London, claiming breach of copyright over the song according to Daily Mail. What took them so long to realize that the songs sounded alike? I never really noticed it until I listened to both songs together, but then again I am not of fan of UB40. I prefer Paris's song! Below are the songs what do you think?


---
Carol Burnett not laughing with Family Guy
March 16th, 2007 under Carol Burnett, Lawsuits, Seth MacFarlane. [ Comments: none ]
Carol Burnett is suing Family Guy for $2 million for using her image and name without her permission according to Reuters. Burnett says the show committed copyright infringement by using her cartoon likeness from her variety show, The Carol Burnett Show. Burnett says she has exclusive rights to her name and image and the show did ask her to use either. She asked the show to edit her out of the scene and they have declined which is probably why she went ahead with the lawsuit?
A spokesman for 20th Century Fox Television, which produces "Family Guy," said on Friday the suit was without merit and that references to Burnett and her show in an 18-second sequence of the cartoon amounted to parody. "'Family Guy,' like the 'Carol Burnett Show,' is famous for its pop culture parodies and satirical jabs at celebrities," the studio said in a statement. "We are surprised that Ms. Burnett, who has made a career of spoofing others on television, would go so far as to sue 'Family Guy' for a simple bit of comedy."
As a fan of both shows I think I am going to side with Family Guy on this one. You know that expression "what comes around, goes around" well as the spokesperson said she did the same thing all the time 40 years ago so what is the difference now?
BTW you can read the lawsuit at The Smoking Gun for more details.

---
Is this why Mario Vasquez quit American Idol?
March 12th, 2007 under American Idol 6, Lawsuits. [ Comments: 6 ]
Remember Mario Vasquez who quit American Idol and never gave a good reason, well looks like we might finally know why? But the person making the claim was fired from American Idol and waited two years to sue Vasquez, Fox and Fremantle. Having said that here is what came out today, a man who used to work as an assistant accountant for Freemantle claims that Vasquez sexually harassed him before he quit the show.
TMZ obtained the lawsuit that was filed in Los Angeles County Superior Court today. In the lawsuit, Magdaleno Olmos claims "Vazquez stared lasciviously, smiled lasciviously … and on one occasion followed him into a bathroom … knocked on the door of the plaintiff's stall and made eye contact through the space in the stall door." The lawsuit alleges that Vazquez "started to rub his genitals over his pants. Attempting to leave the bathroom, Olmos opened the door of the stall and saw Vazquez standing in front of him with his pants down masturbating." According to the documents, Vazquez pushed Olmos "further into the stall and continued masturbating with one hand and trying to pull down Olmos' pants with another hand." Olmos claims that he tried to "cover his body with his hands" but Vazquez touched his "chest and stomach underneath his shirt, and Olmos' "genitals" as Vazquez "attempted to unzip" Olmos' pants. Vazquez then allegedly asked Olmos "if he wanted oral sex." In the lawsuit, Olmos claims that as he "managed to get out of the stall, and attempted to leave the bathroom," Vazquez, grabbed his arm "in an effort to stop him." Vazquez continued to call Olmos to come back as Vazquez "stood in the bathroom with his pants still down." In the suit, Olmos claims that he tried to report the incident to a superior named Eric LaPointe, who allegedly responded by telling Olmos that "he was crazy" and "repeatedly threatening to fire" him. A few months after the incident, Olmos claims he was "terminated." Olmos is also suing for wrongful termination.
It just seems so weird for this guy to come forward now two years later, 6 months after Vasquez's album came out and failed. The timing just seems so weird don't you think?
And I can't resist making this joke, but does anyone know if Vasquez's idol was George Michael?

---
Pete Burns sues over botched lip job
February 19th, 2007 under Lawsuits. [ Comments: 2 ]
Pop star Pete Burns revealed today he is suing his plastic surgeon for "wrecking his career and life". Burns, singer with 1980s pop band Dead or Alive, has had several cosmetic procedures on his face and is suing a Harley Street surgeon for an estimated £1million over a botched attempt to remove lip implants. In an exclusive interview he told the Standard he looked like he had been "mutilated with a Stanley knife" after surgery to correct the original problems left his top lip hanging off. The singer, who re-surfaced in last year's Celebrity Big Brother, has had more than 100 operations by specialists in Italy to try to correct the damage but fears he will always be disfigured. Speaking from Italy, where surgeon Giovanni Ferrando is due to operate again on his lips, Burns said: "It has taken away my life and my career. I saw doctors in London who said the only option was to amputate my lips. I was suicidal. "Eventually I found a doctor in Italy who knew the product and said he could remove it. I had 17 months of procedures and now I am back again having more." Meanwhile Burns has lost his Notting Hill home and his singing career is in tatters, he said. In 2000 Burns went to Dr Maurizio Viel at the London Centre for Aesthetic Surgery to have a lip implant removed. But instead of having the original implant taken out, he was injected with a filler called Evolution and then later with another called Outline. Despite complications, Dr Viel persisted and injected more of the substance – only for the problems to escalate, causing swelling, blisters, discharge and lumps. Eventually the singer was left so disfigured he could not eat normally, could only drink through a straw and did not leave his house for months. He said his career would have been at its peak if it were not for the botched surgery, as he was about to record with the Pet Shop Boys and pursue a number of solo projects as well as launch a greatest hits album. Any settlement could top £1 million and forensic accountants are calculating how much he has missed out on in lost earnings. "As a result of the damage caused by the treatment, Pete has been unable to fully pursue his career in music and in the media. "Today we have issued court proceedings against Dr Viel." Allegations of negligence against Dr Viel are that he failed to warn adequately of the possible side effects, failed to observe warning signs on the product relating to its use in conjunction with other products and administered an excessive number of follow-up injections, which was contrary to the guidance given on the use of Outline Original. Burns said: "What happened to me after a series of injections was far worse than any nightmare I could have envisaged. Not only was it agonisingly painful but it was physically repulsive in the extreme. It was impossible to lead any life whatsoever. I was unable to leave my house as I was so distorted with swelling. "At times it leaves me seriously suicidal and depressed and I could have
problems for the rest of my life." Lawyers for Dr Viel failed to respond.
I would sue too if someone did that to me.

---