Larry King is back hosting his talk show
October 10th, 2019 under Larry King. [ Comments: none ]

Back in late April, Larry King had heart issues and was hospitalized after receiving a scheduled angioplasty. Since then he has not hosted his OraTV talk show Larry King Now.
However on September 28th, five months after his hospitalization, he secretly went back to taping new episodes of his talk show. The 85-year-old returned to interviewing by chatting it up with fellow heart attack survivor Kevin Smith. Yet, the host did not mention anything about his heart, at all, in that episode. In fact, he made no mention that it was his first episode back since his heart scare and divorce filing.
Even though he is back, he still has guest hosts, like Dennis Miller and Tom Green, filling in for him. Since his return, Miller has continued to host some of the shows, but King did sit down with Superstore's Nico Santos.
I reached out to his reps to confirm his return and if he is back full time. As of now, I have not heard back from anyone.

---
Who wants to be Larry King's next wife?
August 20th, 2019 under Larry King. [ Comments: none ]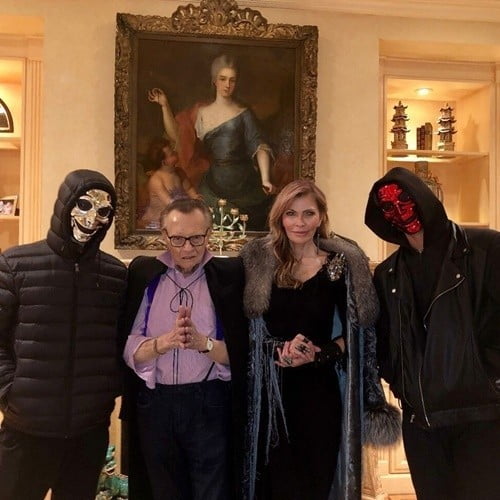 Larry King is 85, alive and getting a divorce. The Blast reports that he filed for divorce from Shawn King after nearly 22 years of marriage. No reason was given for his filing, but it is not the first time they tried to divorce. Back in 2010, they both handed in the papers to the court. However, after some time apart, they decided to reconcile. A reconciliation that lasted until now.
This was his 8th marriage. However, his first one ended in an annulment, and he married his second wife twice. So ladies, who wants to be his 8th Mrs? After all, he is known as Larry the Lip Technique. Use your imagination for that one. This was Shawn's fourth marriage.
2019 has not been a good year for the host. Back in April, he suffered a health setback with his heart. Since then he has not been back to host his show Larry King Now. Hopefully, 2020 will be better for him.

---
Larry King hospitalized for heart issues
April 29th, 2019 under Larry King. [ Comments: none ]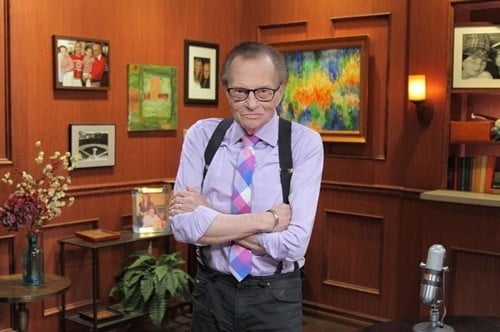 Larry King suffered a heart attack on Thursday and has been recuperating in the hospital ever since. According to TMZ, he was on the way to check himself to the hospital for a scheduled heart exam called angiogram because he has had difficulty breathing for the last six months. He suffered the incident as he was packing his bags to check in.
The 85-year-old host was taken to the hospital by ambulance and doctors performed a successful angioplasty on him. He is expected to be released today.
King had his first heart attack back in 1987 and has been very vocal about his heart disease. He has even written two books about it. I am sure he is working on his third book as you read this.
Talking about work, no word when he will return to his Ora TV show Larry King Now.
UPDATE: Ora TV tells The Blast he did not suffer a heart attack. They said, "On the morning of Thursday, April 23, Larry King was scheduled for an angioplasty. Before his scheduled procedure, he experienced angina and went to the hospital early to be examined. His doctor successfully performed the angioplasty and inserted stents to reopen the previous bypass from 1987."

---
Danny DeVito reveals how he nailed the audition for Taxi!
March 25th, 2019 under Danny DeVito, Larry King, Taxi. [ Comments: none ]

Before Taxi, Danny DeVito only had small roles on television. Therefore, he did not know the big named producers who were attached to the sitcom.
When the actor got the script, he told Larry King on his Ora TV show that he "loved it". Thus, he really wanted to make sure he left an impression with them.
He walked in, the casting director introduced him to producers so now it was time for him to sit down and audition in the hot seat. Before he sat down, he said them. "There is one thing I want to know before I start, 'Who wrote this 💩,'" as he threw the script down on the table. With that Louis De Palma, one of television's all-time greatest characters on television's all-time greatest show, was born.
If you have never seen the brilliance of Taxi, watch it on Hulu or Tubi TV, the latter for free. You will understand why this will always be my favorite program. To get a glimpse of what it made it so wonderful, then click here!

---
Brigitte Nielsen really hated being married to Sylvester Stallone
February 20th, 2019 under Brigitte Nielsen, Larry King, Sylvester Stallone. [ Comments: none ]

On December 15, 1985, Brigitte Nielsen married Sylvester Stallone. By July 1987, they were divorced. Their 19-month marriage was not a good one and the actress had no qualms admitting that to Larry King on his Ora TV show.
She told him, "You know what, you can say about Sylvester, a lot of good things about Sylvester." Then she added, "He's a horrible husband. At least he was with me."
The new mom also told the host that the worst piece of advice she was ever given was to marry Stallone. As soon as she said that to him, he asked her "Was it that bad?" Without hesitation, she declared, "Yes."
Therefore, he wanted to know what it was like on the set of Creed II when the two of them were working together again. She said that they are professionals. Not only that, it was a long time ago and they buried the hatchet. She thinks more exes should do that.
She is right, they show. However, it does not really sound like she has. I cannot wait for her eventual Lifetime biopic because you know it will be so juicy. We have not even talked about the Flavor Flav years.

---