Larry King hospitalized for heart issues
April 29th, 2019 under Larry King. [ Comments:

2

]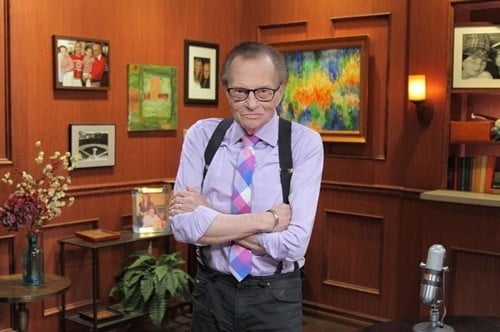 Larry King suffered a heart attack on Thursday and has been recuperating in the hospital ever since. According to TMZ, he was on the way to check himself to the hospital for a scheduled heart exam called angiogram because he has had difficulty breathing for the last six months. He suffered the incident as he was packing his bags to check in.
The 85-year-old host was taken to the hospital by ambulance and doctors performed a successful angioplasty on him. He is expected to be released today.
King had his first heart attack back in 1987 and has been very vocal about his heart disease. He has even written two books about it. I am sure he is working on his third book as you read this.
Talking about work, no word when he will return to his Ora TV show Larry King Now.
UPDATE: Ora TV tells The Blast he did not suffer a heart attack. They said, "On the morning of Thursday, April 23, Larry King was scheduled for an angioplasty. Before his scheduled procedure, he experienced angina and went to the hospital early to be examined. His doctor successfully performed the angioplasty and inserted stents to reopen the previous bypass from 1987."

---
Danny DeVito reveals how he nailed the audition for Taxi!
March 25th, 2019 under Danny DeVito, Larry King, Taxi. [ Comments:

none

]

Before Taxi, Danny DeVito only had small roles on television. Therefore, he did not know the big named producers who were attached to the sitcom.
When the actor got the script, he told Larry King on his Ora TV show that he "loved it". Thus, he really wanted to make sure he left an impression with them.
He walked in, the casting director introduced him to producers so now it was time for him to sit down and audition in the hot seat. Before he sat down, he said them. "There is one thing I want to know before I start, 'Who wrote this 💩,'" as he threw the script down on the table. With that Louis De Palma, one of television's all-time greatest characters on television's all-time greatest show, was born.
If you have never seen the brilliance of Taxi, watch it on Hulu or Tubi TV, the latter for free. You will understand why this will always be my favorite program. To get a glimpse of what it made it so wonderful, then click here!

---
Brigitte Nielsen really hated being married to Sylvester Stallone
February 20th, 2019 under Brigitte Nielsen, Larry King, Sylvester Stallone. [ Comments:

none

]

On December 15, 1985, Brigitte Nielsen married Sylvester Stallone. By July 1987, they were divorced. Their 19-month marriage was not a good one and the actress had no qualms admitting that to Larry King on his Ora TV show.
She told him, "You know what, you can say about Sylvester, a lot of good things about Sylvester." Then she added, "He's a horrible husband. At least he was with me."
The new mom also told the host that the worst piece of advice she was ever given was to marry Stallone. As soon as she said that to him, he asked her "Was it that bad?" Without hesitation, she declared, "Yes."
Therefore, he wanted to know what it was like on the set of Creed II when the two of them were working together again. She said that they are professionals. Not only that, it was a long time ago and they buried the hatchet. She thinks more exes should do that.
She is right, they show. However, it does not really sound like she has. I cannot wait for her eventual Lifetime biopic because you know it will be so juicy. We have not even talked about the Flavor Flav years.

---
Matt LeBlanc was not ready for Friends to end
February 4th, 2019 under Friends (cast), Larry King. [ Comments:

none

]

Back in 1994, when Friends announced they were ending? We were all shocked. Sounds like you were not alone. Today on Larry King Now, the host asked Matt LeBlanc if it "was time to go?"
Joey said, "Who knows? I didn't feel like we were jumping the shark." Then why did he agree to ending the sitcom? He added, "That was the general consensus, that it was time. Let's go. Let's get while the getting's good. So we ended."
Sounds like we know now why he was the one who got the spinoff. The rest were ready to move on and he was not. They needed someone for the spinoff, so it was him. Talking about jumping the shark, Joey was really bad.
To me, the show had jumped the shark a few years earlier, but I know not many people agree with me. When were you over Friends? Or are you over it?

---
Is Angela Lansbury ever going to retire?
December 17th, 2018 under Larry King. [ Comments:

none

]

Angela Lansbury is 93 years young, and has two movies, The Grinch and Mary Poppins Returns, out this year. Larry King wanted to know from her on his Ora TV show if she ever plans to retire.
She told him, "No, I don't think so. I will probably pass away, you know, with one hand on my script." That is probably the second best way an actor can go. The first is while doing a scene. Although the former is so much more graceful like the Dame.
Can you believe she is in her 90's because she looks at least 20 years younger than that?
When it comes to picking out roles, she said, "I never turn down a good offer." Kind of like hiring her is good for the production. Who does not love the woman who played Jessica Fletcher?

---