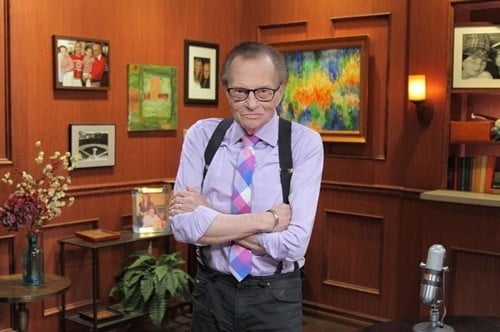 Larry King suffered a heart attack on Thursday and has been recuperating in the hospital ever since. According to TMZ, he was on the way to check himself to the hospital for a scheduled heart exam called angiogram because he has had difficulty breathing for the last six months. He suffered the incident as he was packing his bags to check in.
The 85-year-old host was taken to the hospital by ambulance and doctors performed a successful angioplasty on him. He is expected to be released today.
King had his first heart attack back in 1987 and has been very vocal about his heart disease. He has even written two books about it. I am sure he is working on his third book as you read this.
Talking about work, no word when he will return to his Ora TV show Larry King Now.
UPDATE: Ora TV tells The Blast he did not suffer a heart attack. They said, "On the morning of Thursday, April 23, Larry King was scheduled for an angioplasty. Before his scheduled procedure, he experienced angina and went to the hospital early to be examined. His doctor successfully performed the angioplasty and inserted stents to reopen the previous bypass from 1987."

---