The thing KJ Apa can do with his tongue
September 18th, 2020 under KJ Apa. [ Comments: none ]

KJ Apa loves tea so much; he is not going to let any of it go to waste. That includes the tea bag.
However, he has an interesting way to get it into his mouth. He puts the label on his tongue and then pulls the string up with it until he gets to the bag.
If he can do all of that with his tongue, I wonder what else the Riverdale star can do with it?

---
K.J. Apa is a Merman
August 24th, 2020 under Archie Comics, KJ Apa. [ Comments: none ]

K.J. Apa has sprouted a new look. The Riverdale actor goes from the comic book icon Archie to a mythological creature, the Mermaid, or should I say, Merman.

Forget Channing Tatum starring in that horrendous remake of Splash, Apa should land the role because he looks so good with a fishtail.

If this is what they mean about there being plenty of fish in the sea, then I am going for a swim.

---
KJ Apa is so awwwwdorable when he gets scared!
February 18th, 2020 under Archie Comics, Ellen DeGeneres, KJ Apa. [ Comments: none ]

KJ Apa finally had his cherry popped when he got to appear on The Ellen DeGeneres Show for the first time today. Why now? He got cheeky with her when he showed her his peach during a birthday message he recorded for the talk show host. He knew that Ellen was going to see his a$$ in the reflection of the window on his balcony. It did not bother him because he was sure he had the best video of the bunch. He did.
Good thing, he is going to get Ellen underwear for being on the show. He is definitely going to need a pair. Not because he likes to send naked videos. It is because she scared the crap out of the New Zealand actor who was making fun of her wife's country/continent Australia.
The Riverdale star got so frightened he jumped out of his chair and ran around it. Then when his heart returned to a normal rhythm, he laughed about it in a way that is so endearing. It left a huge smile on my face as big as his buttcrack.
I bet he is so happy he finally got to be on the show after that.

---
BTWF: K.J. Apa on Shortland Street
October 9th, 2019 under Archie Comics, Before They Were Famous, Ed Sheeran, KJ Apa. [ Comments: none ]

Before K.J. Apa was jamming with Josie and the Pussycats on Riverdale, he was getting a guitar lesson from Ed Sheeran on Shortland Street. How cute was the 16-year-old playing with the musical genius back in 2007?

---
Molly Ringwald and KJ Apa's gut wrenching hug on Riverdale's season premiere
September 4th, 2019 under Archie Comics, KJ Apa. [ Comments: none ]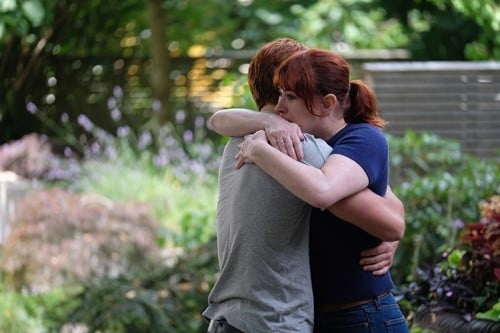 As we know, the season premiere of Riverdale is going to deal with the death of Fred Andrews. Luke Perry, who played the beloved character, passed away in March after suffering a stroke.
That tribute episode is going to air October 9th and now we are getting out first look from In Memoriam. The CW released three photos and the above one with Molly Ringwald and KJ Apa just breaks your heart. You feel as though it is a real mother consoling her son on the toughest day of his life. The moment he finds out his father is dead. With just one frame, you know this episode is going to be very emotional and make us cry. Just like we did when he heard that Perry passed away.
To see the other two photos, then click here!

---