Katherine McPhee and David Foster had a smashing wedding
June 28th, 2019 under Katharine McPhee. [ Comments: 1 ]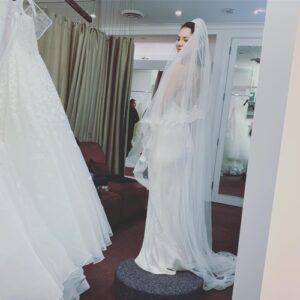 Katherine McPhee and David Foster met on American Idol back in 2006, but she was married at the time. Since then, they both got divorced (he married and split from Yolanda Hadid in that time) and started dating two years ago. Then last July, the two of them got engaged in Italy.
Today, according to People, the two of them got married in London in front of 150 friends and family including his five daughters. Each child represents how many times he has been married including his current one.
The above photo is of the actress dress shopping back in January and that is not the wedding gown she walked down the aisle in. Today, the 35-year-old actress wore Zac Posen and the 69-year-old record producer's tux was by Stefano Ricci.
If they would have waited until December to get married, then she will be exactly half his age. C'mon admit it, we are all weirded out by their age difference. However, they are in love and that is all that matters.

---
A mini-Smash reunion!
August 8th, 2018 under Katharine McPhee. [ Comments: none ]

I don't know about you, but I still miss Smash. Even though the second season was not as good as the first one, it still was a good campy show.

While it may be over, the friendship between Katharine McPhee and Megan Hilty is not. But on the show, they hated each other. Remember TV is make believe and they made believe not to like each other.

Now that we know that they are friends in real life and neither one is attached to a show, maybe it is time to bring back Smash? Would you watch?

In case you are wondering what brought these two Broadway Divas together? The answer is a Broadway show. Hilty went to see the soon-to-be Mrs. David Foster in Waitress. How fitting.

---
Did Katharine McPhee confirm her engagement with this GIF?
July 3rd, 2018 under Katharine McPhee. [ Comments: none ]

Several sites are reporting that Katharine McPhee and David Foster got engaged during their trip to Capri, Italy, but all the American Idol runnerup did was post an engagament ring emoji with a GIF of Ariana Grande asking, "What about it?" Which pretty much confirms it, right?
I say that because the couple never really confirmed their relationship even though they have been seen looking cozy at several events together for around year now. The betrothed couple have known each other since she was on the singing competition back in 2006.
This is her second marriage and his fifth. If I were the Smash star, I would not sign a prenup!

---
Katharine McPhee eats a cheeseburger in a bikini!
January 2nd, 2017 under Katharine McPhee. [ Comments: none ]

Katherine McPhee is starting off the New Year off by breaking her New Year's Resolution. The Scorpion actress was seen eating a cheeseburger and fries and by the looks of her abs she can afford a few extra calories. Not that she is too skinny, it's just that her abs are perfect.
Now we know her secret, eating real food.

---
What to watch tonight Supergirl, The Big Bang Theory, Scorpion and Timeless.
October 10th, 2016 under CBS, Chuck Lorre, DC Comics, Katharine McPhee, NBC. [ Comments: none ]

Supergirl flies over from CBS to The CW tonight at 8p and it feels right at home.
When National City is impending danger, Supergirl gets some help from her cousin Superman and the two enjoy working together. Shortly after they save the day, Lex Luthor's sister, who has relocated there, finds her life in danger. Now the two of them have to work together to save her life.
If that is not for Kara (Melissa Benoist) to have to deal with, Cat Grant (Calista Flockhart) wants her to make a decision on whether she will stay as her assistant or become reporter. Not only that, she is about to go on her first date with Jimmy Olsen (Mechad Brooks). That is a lot for a normal person, but it is tougher for someone who is from Krypton.
I have to say, I sincerely found myself enjoying Supergirl more on The CW than CBS. it just feels right.
Talking about moving, also at 8p but over on CBS, Amy (Mayim Bialik) is moving in with Sheldon (Jim Parsons) on The Big Bang Theory after her apartment is flooded and needs to be fixed up for 5 whole weeks. What can go wrong? Let me rephrase that, what can go right? The laughs because it is very funny episode.
Then at 10p, Scorpion is out of this World. Walter is asked to perfect the rocket he came up with; but when lightening strikes the rocket takes off with him on it. Now it us up for the team to save him before he runs out of oxygen. The lack of oxygen causes him to hallucinate and he imagines Paige (Katharine McPhee) up there with him. What he says and does might make him want to stay up there. Is the last we see of him? You will have to tune into this exciting episode to find out.
Talk about exciting, how about Timeless going back to 1865 to the day that Abraham Lincoln was assassinated. That is what the NBC time traveling drama does tonight at 10p. Do you rewrite history and save the beloved President or do you let him die as it has been written? It is a tough decision they have to make, but watching the incredible episode is anything but tough.

---