Katharine McPhee has a message to the haters who question her marriage
July 8th, 2019 under Katharine McPhee. [ Comments:

none

]

Katharine McPhee is 35 and her husband, David Foster, is 69. Needless to say, people are going to question their age difference. The actress is not here for them.
Over the weekend, she posted a video of a KABC reporter who was not going to let a man walk in between her and her cameraman during a liveshot, and wrote, "me hitting that block button REAL quick when someone comments the same tired, negative thing about my marriage."
As long as they are happy, what should matter? It is not like she cheated on her spouse with a porn star and a Playboy model a few months after she gave birth. Now, that is a marriage you have to question.
---
Katherine McPhee was a vision in white on her wedding day
July 3rd, 2019 under Katharine McPhee. [ Comments:

6

]


On Friday, Katherine McPhee married her Prince Charming in London and she wore a Zac Posen gown that made her look like a princess. No wonder David Foster could stop looking so lovingly at his new bride.
She has been living the dream ever since she auditioned for American Idol. I bet she never thought her life would turn out as wonderful as it has since she belted out that first note. But it has.
---
Katherine McPhee and David Foster had a smashing wedding
June 28th, 2019 under Katharine McPhee. [ Comments:

1

]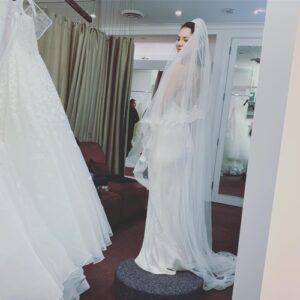 Katherine McPhee and David Foster met on American Idol back in 2006, but she was married at the time. Since then, they both got divorced (he married and split from Yolanda Hadid in that time) and started dating two years ago. Then last July, the two of them got engaged in Italy.
Today, according to People, the two of them got married in London in front of 150 friends and family including his five daughters. Each child represents how many times he has been married including his current one.
The above photo is of the actress dress shopping back in January and that is not the wedding gown she walked down the aisle in. Today, the 35-year-old actress wore Zac Posen and the 69-year-old record producer's tux was by Stefano Ricci.
If they would have waited until December to get married, then she will be exactly half his age. C'mon admit it, we are all weirded out by their age difference. However, they are in love and that is all that matters.
---
A mini-Smash reunion!
August 8th, 2018 under Katharine McPhee. [ Comments:

none

]

I don't know about you, but I still miss Smash. Even though the second season was not as good as the first one, it still was a good campy show.

While it may be over, the friendship between Katharine McPhee and Megan Hilty is not. But on the show, they hated each other. Remember TV is make believe and they made believe not to like each other.

Now that we know that they are friends in real life and neither one is attached to a show, maybe it is time to bring back Smash? Would you watch?

In case you are wondering what brought these two Broadway Divas together? The answer is a Broadway show. Hilty went to see the soon-to-be Mrs. David Foster in Waitress. How fitting.
---
Did Katharine McPhee confirm her engagement with this GIF?
July 3rd, 2018 under Katharine McPhee. [ Comments:

none

]

Several sites are reporting that Katharine McPhee and David Foster got engaged during their trip to Capri, Italy, but all the American Idol runnerup did was post an engagament ring emoji with a GIF of Ariana Grande asking, "What about it?" Which pretty much confirms it, right?
I say that because the couple never really confirmed their relationship even though they have been seen looking cozy at several events together for around year now. The betrothed couple have known each other since she was on the singing competition back in 2006.
This is her second marriage and his fifth. If I were the Smash star, I would not sign a prenup!
---