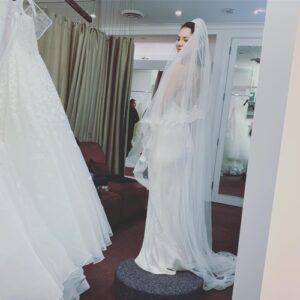 Katherine McPhee and David Foster met on American Idol back in 2006, but she was married at the time. Since then, they both got divorced (he married and split from Yolanda Hadid in that time) and started dating two years ago. Then last July, the two of them got engaged in Italy.
Today, according to People, the two of them got married in London in front of 150 friends and family including his five daughters. Each child represents how many times he has been married including his current one.
The above photo is of the actress dress shopping back in January and that is not the wedding gown she walked down the aisle in. Today, the 35-year-old actress wore Zac Posen and the 69-year-old record producer's tux was by Stefano Ricci.
If they would have waited until December to get married, then she will be exactly half his age. C'mon admit it, we are all weirded out by their age difference. However, they are in love and that is all that matters.

---