Patty Jenkins responds to Ryan Murphy copying 1984 for AHS's title
April 12th, 2019 under American Horror Story, DC Comics, Van Halen. [ Comments:

none

]

Earlier this week, Ryan Murphy announced that the latest installment of American Horror Story will be called 1984. However, we also heard that year being used in a title for one of the most anticipated movies of next year. Wonder Woman 2 is also already taking place in the same year that Footloose, Gremlins, Nightmare on Elm Street, Revenge of the Nerds, Karate Kid, Ghostbusters, Beverly Hills Cop, Splash, Spinal Tap, Children of the Corn, Streets of Fire and Police Academy came out.
How does director Patty Jenkins feel about Murphy stealing her thunder? She wrote, "Dear @MrRPMurphy #AHS1984. Wow, what a great title!!! Oh… wait a minute. Uh… Love, #WW1984"
Say, say, say, forget Deniece Williams' Let's Hear It For the Boy because this time it is all about let's hear it for the girl. I am sure you might think that is a diss, but I think we can all agree girls just want to have fun.
Hello, let's go crazy and admit that 1984 was a thriller, therefore you cannot blame them for having an infatuation with it. Therefore, I'm so excited and head over heels for both projects, so let's jump, get footloose, raise 99 luft balloons and cum on feel the noize for both 1984s.
UPDATE: Ryan Murphy was like you think you can take on me, you can't. Therefore, he responded to her by writing, "Dear @PattyJenks #WW1984. Wow, what a great title!!! Oh… wait a minute. Uh… Love, #GeorgeOrwell's1984 ;)"
Now, it is up to George Orwell to respond. Oh…wait a minute. Since he is dead, maybe Van Halen will weigh in cause they have has an album with the same name since, well, 1984. The band can show both directors a house of pain.
---
When are we going to get a Shazam and Aquaman buddy movie?
March 28th, 2019 under DC Comics, Jason Momoa, Zachary Levi. [ Comments:

none

]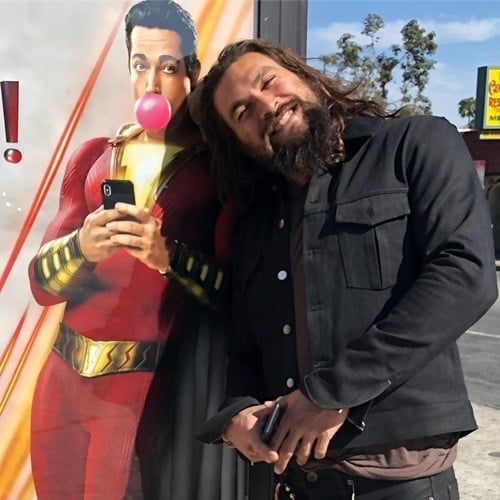 Jason Momoa was walking around town when he saw a poster for Shazam. He is so proud of his friends', Peter Safran and Zachary Levi, work that he had to pose with it. Then he wanted to remind you to go see the movie on April 5th, just like you saw his film Aquaman.
Which makes you wonder when are they going to do a feature together. I want to see the lighter side of DC Universe working together instead of the darker versions. Who is with me?
BTW how awwwwwdorable is Momoa when he smiles big like that?
---
What to watch today: Doom Patrol, Last Man Standing and The Cool Kids!
March 22nd, 2019 under DC Comics. [ Comments:

none

]

The 6th episode of Doom Patrol is streaming on DC Universe now and what an episode it is. Tonight members of our Doom Patrol meet the original members who took on Mr. Nobody (Alan Tudyk) before them.
Crazy Jane (Diane Guerrero), Rita Farr (April Bowlby) and Mr. Negative (Matt Bomer) go to talk to the original members of Doom Patrol to see if they know more about where Niles (Timothy Dalton) might be. They learn more about him and what the original members went through when they took on Mr. Nobody.
While they learn about that, we learn more about what Farr's life was like after she fell into some toxic water and made her a freak. She has a connection to one of the original members, so what will seeing him again mean to her and how will it change her?
Meanwhile, Cliff Steele (Brendan Fraser) does not go with his friends, and yet he has a revelation of his own. One that is going to have major repercussions.
Each week, this show gets better and better. Whether you love comic book heroes or not (like me), then you are going to love this show.

Then at 8p on Fox, Mike Baxter is asked to teach Sunday school at church on Last Man Standing and he does not want to do it. He gets someone else to do it and what that person says convinces Reverend Paul (Bill Engvall) to quit. What happens next is very surprising.
Eve (Kaitlyn Dever) is back and she feels that her older sisters (Molly McCook and Amanda Fuller) are taking advantage of Jen (Krista Marie Yu), so she tries to get them to stop. However, the exchange student is OK with helping them out.
Did I mention there is a very funny Toy Story line? You want to tune in to see that and another funny episode.

Then at 8:30p, Margeret (Vicki Lawrence) goes on a bad blind date (Stephen Tobolowsky) on The Cool Kids. That causes her to realize she is only going out without losers.
Therefore, she decides to date better men, so she goes after the hot guy (Patrick Duffy). She makes a fool of herself, but will it work? Meanwhile, the other guy wants her back.
Who will she choose? If you want to choose laughter, then make sure to watch it tonight!
---
Doom Patrol tells us Crazy Jane's story and how she has a part in the Rapture!
March 15th, 2019 under Brendan Fraser, DC Comics, Matt Bomer. [ Comments:

none

]

Last week, when we left off of Doom Patrol it was literally the end of the World. Today, the episode, streaming now on DC Universe, picks up with Rapture making people disappear.
That is not the only story in the fifth episode. We also learn more about Crazy Jane (Diane Guerrero) and her time in the institution. They tortured her, but they could not break her. While they tried their hardest to do just that, they wound up creating a new personality for her. One that plays a part in the current apocalypse.
I cannot tell you much more, but I can tell you Disco also plays a part in it too. Who knew that was the Devil's music and not heavy metal?
Another big part of this episode is The Captain (Timothy Dalton) is back. How will Doom Patrol react to his reappearance? One of them will walk out and another will turn on him.
However, they have a much bigger problem. You know, like the end of the World. Can these dysfunctional superheroes save the day?
A fun feature integrated into this episode is that the writers are starting to have a lot more fun and referencing the show itself. That is what makes this series so enjoyable to watch, they understand you cannot take a show with superheroes who are misfits too seriously. If you do, then it would be like almost all the other comic book movies and shows. Those are boring, DP is exciting. Plus, they use the S and F words! What more do you need to watch? Therefore, go to the streaming site and subscribe. Did I mention Matt Bomer and Brendan Fraser are also part of the patrol?
---
Watch Matt Bomer transform into his Doom Patrol unwrapped persona
March 8th, 2019 under DC Comics, Matt Bomer. [ Comments:

none

]

Matt Bomer plays Mr. Negative on DC Universe's Doom Patrol. His character flew into negative energy and that caused him to crash his plane. The plane caught fire with him in it and he was left with burns on his body from his head down to his toes.
On last Friday's episode, we got to see what he looked like shortly after the crash and before he covered his whole body up with bandages like a mummy or the Invisible Man. Let's just say it was not a pretty site for the pretty actor.
How do you make such an attractive man, unattractive? He showed us in a time-lapse video what the makeup department had to do to achieve that transformation. It looks easy in a short video, but in reality, it was not.
Bomer wrote this message with the video, "Wanted to give a special shoutout to the incredible effects makeup team on @doompatroldcu. This takes anywhere from 4 to 5 hours and I actually look forward to spending the time with this team- they're that fun. Thank you #travispates #billjohnson #toddwatson #derekgarcia #donanddebra and everyone else who helped out this season."
Then the actor wanted to let us know that there is a new episode of the show up now on the streaming site. There is a reason why they are called Doom Patrol and this episode sets that up with when two new people crash their compound.
If you are not watching Doom Patrol, then you are missing out on the best new superhero show since Smallville. It is for us adults who want superheroes to do adult things if you know what I mean.
I have seen a lot of critics compare this to Umbrella Academy, and Doom Patrol is so much better. I did not even make it to episode four of the Netflix show. When it comes to the latter, I cannot wait to watch the next episode. Why do we have to wait a week?
---