Swamp Thing is suspenseful horror series we need
May 31st, 2019 under DC Comics. [ Comments:

none

]

Once again the Swamp Thing comes to life and this time he is streaming on DC Universe.
Abby (Crystal Reed) is a doctor who works for the CDC. She is called back to her hometown, Houma, Louisiana, to investigate a mysterious illness that has left a little girl unconscious. No one knows what is plaguing Susie (Elle Graham) and no one can find her father who fishes in the swamp.
Abby has not been home since she was 17 and people don't want her back. Something happened right before she graduated high school and she was chased out of town. Even though she is unwelcome, they will let her stay as long as she can prevent this illness from spreading.
Along the way, she meets Alex Holland (Andy Bean), a scientist, who has seen people dump in the swamp. Together he and Abby will see if what was dumped in the water could be causing the illness.
After a long day of working she stays behind, while he takes a ride in a boat at night to check something out in the swamp. Out of nowhere, he is shot several in the chest, falls into the water and his boat blows up. Something gets a hold of him, and he becomes the Swamp Thing.
Now he is protecting the town from the bad people, but they think he is a monster. His presence has upset the light and dark, and now the swamp is alive again.
There is so much mystery going on in this small town, that you will want to know everything that is happening in this interpretation of the DC comic series.
My only negative about this show is that it is way too dark. Sometimes I found it hard to see what was going on. Other than it is the perfect summer show.
---
It is Doom Patrol vs a gigantic rat and a colossal cockroach!
May 24th, 2019 under DC Comics. [ Comments:

none

]

The season finale of Doom Patrol is streaming on DC Universe now and everything has been leading up to this moment.
Last week, when we left off, The Doom Patrol left the Chief (Timothy Dalton) after he told them that he created them. Since then they have gone their separate ways. Rita (April Bowlby) and Negative Man (Matt Bomer) are living together. She is teaching acting to students. While he is seeing how long he can handle having the negative energy outside of his body. Jane (Diane Guerrero) is on her own, but she is secretly getting help from Robotman (Brendan Fraser), who is watching over her. Finally, Cyborg (Joivan Wade) is back with his dad.
While we watch them survive by themselves, we see how The Chief created them in flashbacks. It is not going to be easy to watch Vic become Cyborg.
Then they are all going to hear a song nonstop (not going to tell you which one it is, but it is an earworm) that is going to bring them back together. The Chief asks them for a favor, but why would they help him? After all, he destroyed all of their lives. Eventually, they will have to give in because Mr. Nobody (Alan Tudyk) is planning to destroy them all. He will have a little help from a gigantic rat and a colossal cockroach (Curtis Armstrong)! Which is my nightmare so I will not be sleeping tonight.
It is going to be an epic battle and maybe not every one of our heroes is going to make it to season 2. Which they better get because this is the best superhero show on television. Tell me what other show has a mass orgasm, an openly gay character, lots of sex and cursing, and doing other things no show in the genre would dream of doing, Well they dream of doing it, they just can't.
That is what makes DC Universe a must have app, they can be as bad as they want to be. Next week, they introduce us to Swamp Thing. I am one episode in and I am already loving it.
I just want to add, it was nice that Tudyk finally got an episode of his own. You can tell he has been having fun all season, but in this episode, he really went for it. Which is why he is a hidden comedic treasure.
---
There is a mass orgasm in the latest Doom Patrol!
May 17th, 2019 under DC Comics. [ Comments:

none

]

For weeks, I have been telling you that Doom Patrol on DC Universe is not your normal superhero show. It is not PG-13, far from it. The latest episode raised the bar, or should I say lowered it to a whole new level.
The Doom Patrol find a way to get to the Cheif (Timothy Dalton), but they need the help of Flex Mentallo (Devan Chandler Long). All he needs them to do is concentrate as he flexes a muscle and that will transport them to the white space. Unfortunately for them and fortunately for us, he flexes the wrong muscle. The one he flexes gets the whole town to have the best orgasms of their lives. Well, everyone but Robotman (Brendan Fraser) who cannot feel a thing. Unlucky him while all the others get lucky all by themselves.
Once Negative Man (Matt Bomer), Rita (April Bowlby) and Jane (Diane Guerrero) have cooled down, it is now time for Flex to flex again. This time it works and they are all brought back to the day they became monsters they are today. Will they choose to change their pasts or will they choose to relive it?
You just have to watch this episode that is oh, oh, oh yes, oh yes, oh, oh yes, oh so good to find out. This show is worth every penny you pay to subscribe to the streaming service. Plus, Swamp Thing is coming on May 31st and you do not want to miss that. Not only that they have almost every DC Universe TV show and movie made including Wonder Woman, Superboy, The Flash and so on. I am going to get to lost on there reliving my childhood.
---
Patty Jenkins responds to Ryan Murphy copying 1984 for AHS's title
April 12th, 2019 under American Horror Story, DC Comics, Van Halen. [ Comments:

none

]

Earlier this week, Ryan Murphy announced that the latest installment of American Horror Story will be called 1984. However, we also heard that year being used in a title for one of the most anticipated movies of next year. Wonder Woman 2 is also already taking place in the same year that Footloose, Gremlins, Nightmare on Elm Street, Revenge of the Nerds, Karate Kid, Ghostbusters, Beverly Hills Cop, Splash, Spinal Tap, Children of the Corn, Streets of Fire and Police Academy came out.
How does director Patty Jenkins feel about Murphy stealing her thunder? She wrote, "Dear @MrRPMurphy #AHS1984. Wow, what a great title!!! Oh… wait a minute. Uh… Love, #WW1984"
Say, say, say, forget Deniece Williams' Let's Hear It For the Boy because this time it is all about let's hear it for the girl. I am sure you might think that is a diss, but I think we can all agree girls just want to have fun.
Hello, let's go crazy and admit that 1984 was a thriller, therefore you cannot blame them for having an infatuation with it. Therefore, I'm so excited and head over heels for both projects, so let's jump, get footloose, raise 99 luft balloons and cum on feel the noize for both 1984s.
UPDATE: Ryan Murphy was like you think you can take on me, you can't. Therefore, he responded to her by writing, "Dear @PattyJenks #WW1984. Wow, what a great title!!! Oh… wait a minute. Uh… Love, #GeorgeOrwell's1984 ;)"
Now, it is up to George Orwell to respond. Oh…wait a minute. Since he is dead, maybe Van Halen will weigh in cause they have has an album with the same name since, well, 1984. The band can show both directors a house of pain.
---
When are we going to get a Shazam and Aquaman buddy movie?
March 28th, 2019 under DC Comics, Jason Momoa, Zachary Levi. [ Comments:

none

]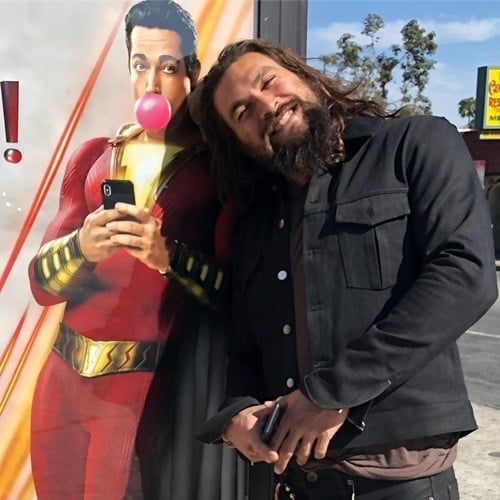 Jason Momoa was walking around town when he saw a poster for Shazam. He is so proud of his friends', Peter Safran and Zachary Levi, work that he had to pose with it. Then he wanted to remind you to go see the movie on April 5th, just like you saw his film Aquaman.
Which makes you wonder when are they going to do a feature together. I want to see the lighter side of DC Universe working together instead of the darker versions. Who is with me?
BTW how awwwwwdorable is Momoa when he smiles big like that?
---