Jorge Garcia is bananas about his new wife!
June 23rd, 2019 under Jorge Garcia. [ Comments: none ]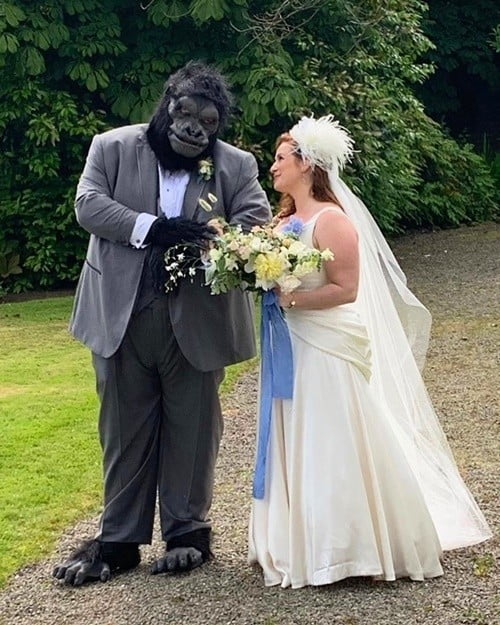 Jorge Garcia and Rebecca Birdsall tied the knot on Friday in Ireland. In typical Garcia style, he made sure to wear a costume for part of their big day. However, during the ceremony, he wore the costume he was born with a grey suit over it. Any woman that is willing to love both looks on her wedding day is a keeper. Therefore, I think this couple, who both appeared on Hawaii Five-0 will celebrate a Five-0 wedding anniversary.

---
Jorge Garcia cuts off his curls
October 2nd, 2017 under Haircut, Jorge Garcia, Lost. [ Comments: none ]

Ever since we have known Jorge Garcia, he has had long curly hair. From Becker to Lost and now finally Hawaii Five-0. I say finally because the CBS drama did not only cut two of their actors from the show, they also got Jorge Garcia to cut his long locks into a short early Elvis Presley do. With the new hairstyle, he is completely unrecognizable and even sexier than before. Now if only they could get him to shave that beard off, hubba hubba!

---
Hawaii Five-0 celebrates Halloween early!
August 29th, 2017 under CBS, Jorge Garcia. [ Comments: none ]

Even though Halloween is still two months away, Hawaii Five-0 is taping their spooky episode now. Here is Jorge Garcia wearing his costume, and I am not sure who is going as. The attire says late 1800's, but the shoes say Pilgrim and the badge says today. No matter who is for the holiday, he looks very dignified in the get up.

---
Has Jorge Garcia hit rough times?
November 10th, 2014 under Jorge Garcia, Lost. [ Comments: none ]

Even though Jorge Garcia is always working, he shared this photo of himself looking down and out. So is the Lost star lost? Nope, he was just filming a scene for Hawaii Five-0.

---
Do Jorge Garcia and Carol Burnett have something to tell us?
September 24th, 2014 under Carol Burnett, Do they have something to tell us?, Jorge Garcia. [ Comments: none ]
Jorge Garcia Instragrammed this photo of himself with Carol Burnett looking like they were at a casual wedding, maybe their own; so I have to wonder if they have something to tell us? Nope, it was just the two of them posing together during a break while they were filming Hawaii Five-0. Which is kind of a bummer because they look sweet together. Don't you agree? BTW Hawaii Five-O is back on CBS this Friday at 9p.

---