Do you accept Scott Stapp's haircut With Arms Wide Open?
February 28th, 2019 under Haircut. [ Comments:

none

]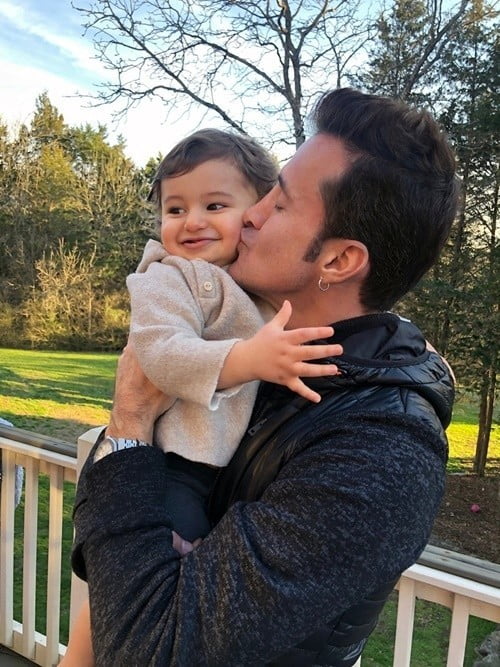 Scott Stapp's signature shoulder lenghth hair is gone because he got a short haircut. A look that is approved by his 14-month-old son, Anthony.
Why did he chop off his long locks? According to People, he did it to honor being sober for 5 years. Since being released from his own prison he has become a new man, so time for a new look. You know what I am with Anthony, his dad looks so sexy with his new hairdo.
---
Nick Offerman shaves his head in 5 stages
August 10th, 2018 under Haircut, Megan Mullally and Nick Offerman. [ Comments:

none

]

We have seen those photos of people shaving off their beards in stages. They try out different looks as the beard becomes a goatee then the Chaplin and finally there are clean shaven.
Well, Nick Offerman did the same thing. But he did it with the top of his head and kept the facial locks with the help of his wife Megan Mullally. Why? We don't know, but I think stage 4 was his best style. Which one was yours?
---
Jessica Chastain gets the bob
June 20th, 2018 under Haircut, Jessica Chastain. [ Comments:

1

]

Jessica Chastain has had the same hairstyle ever since we got to know her, but not anymore. Gone are the waves just past her shoulder and hello is a layered bob.

Now you can tell her apart from Amy Adams, Isla Fisher and Bryce Howard Dallas. Which makes the ginger as hot as her fiery red hair.

What do you think of her new look?

UPDATE: The "summer cut" is for It: Chapter 2 that comes out next September.
---
Fresh Off the Boat's Constance Wu is pretty in pink
February 21st, 2018 under Constance Wu, Haircut. [ Comments:

none

]

Now that Fresh Off the Boat is on filming hiatus, Constance Wu is fresh out of the salon with a new do. The strict TV mama has gone from black to pink hair, and she no longer looks like she could be a mother to teenagers because he looks like a teenager herself. Are you tickled pink over her new look?
---
Jorge Garcia cuts off his curls
October 2nd, 2017 under Haircut, Jorge Garcia, Lost. [ Comments:

none

]

Ever since we have known Jorge Garcia, he has had long curly hair. From Becker to Lost and now finally Hawaii Five-0. I say finally because the CBS drama did not only cut two of their actors from the show, they also got Jorge Garcia to cut his long locks into a short early Elvis Presley do. With the new hairstyle, he is completely unrecognizable and even sexier than before. Now if only they could get him to shave that beard off, hubba hubba!
---