The teen with the longest hair in Guinness World Records gets a bob
April 14th, 2021 under Guinness World Records, Haircut. [ Comments: none ]
Nilanshi Patel has had the longest hair on a teenager in the Guinness World Records since 2018, but that is no longer the case. That is because the 18-year-old got her first haircut in 12 years.
And what a haircut it was. They cut off nearly 6'6″ that weighed 9.4 ounces.
What is going to happen to her locks? They will be displayed at Ripley's Believe it or Not Hollywood before moving to its permanent residence at Guinness World Records Museum, also in Hollywood.
How does the girl, who called herself Rapunzel, feel about her new look? "OMG! It's beautiful! It's amazing," she said. "I'm like a little princess!" And she looks like one too with her hairdo.

---
Watch Carson Daly cut his own hair on live TV
April 8th, 2020 under Haircut, TV News. [ Comments: none ]
https://twitter.com/i/status/1247873884159967233
Now that we have been home for so long, our hair is getting long. You want to go to your hairdresser, but they are closed down. What are you going to do?
If you are Carson Daly, then you are going to cut your own hair on live on the Today show while being guided on how to do so by a celebrity hairstylist.
Daly was following all of Chris Appleton's instructions, but he was working faster than his teacher was instructing him. Therefore, he was messing up. When he was done with the sides, it was time for his 11-year-old son to do the back. Jack was having a lot of fun taking off as much as possible.
Sadly, they ran out of time when it got to on how to handle the top part. However, he was warned not brush your hair all the way forward and cut along your forehead seconds before he did it.
All in all, he did a good job. He might not need to go back to the barber again.
Want to see the final look, then click here!

---
Jim Parsons looks different without his Sheldon do
March 30th, 2020 under Haircut, Jim Parsons. [ Comments: none ]

It has been almost a year since The Big Bang Theory ended its sucessful run on CBS. In all of that time, Jim Parsons was able to finally grow out his characters short hair.

Now, for the first time, I do not see Sheldon when I look at him. He was geek to on fleek. Who knew he could make me go bazinga when I looked at him, but bazinga! I will stop now!

---
Do you accept Scott Stapp's haircut With Arms Wide Open?
February 28th, 2019 under Haircut. [ Comments: none ]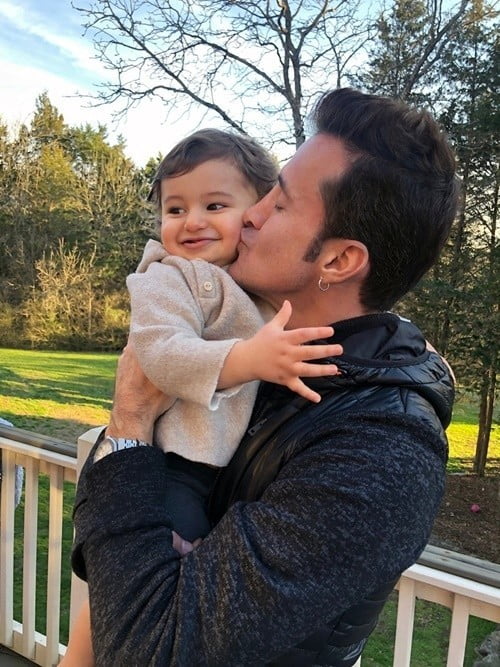 Scott Stapp's signature shoulder lenghth hair is gone because he got a short haircut. A look that is approved by his 14-month-old son, Anthony.
Why did he chop off his long locks? According to People, he did it to honor being sober for 5 years. Since being released from his own prison he has become a new man, so time for a new look. You know what I am with Anthony, his dad looks so sexy with his new hairdo.

---
Nick Offerman shaves his head in 5 stages
August 10th, 2018 under Haircut, Megan Mullally and Nick Offerman. [ Comments: none ]

We have seen those photos of people shaving off their beards in stages. They try out different looks as the beard becomes a goatee then the Chaplin and finally there are clean shaven.
Well, Nick Offerman did the same thing. But he did it with the top of his head and kept the facial locks with the help of his wife Megan Mullally. Why? We don't know, but I think stage 4 was his best style. Which one was yours?

---