How do Jonas Brothers fans react to band ending before the encore?
August 24th, 2019 under Jonas Brothers. [ Comments:

none

]

The Jonas Brothers played a concert in Canada last night but they had to end it early. They explained the reason as, "Toronto we're so sorry we didn't get to play our last two songs. Unfortunately there was an unforeseen technical difficulty and our production team advised we end the show. Thank you all for coming out tonight! We love you all so much! #HappinessBeginsTour"
Since Canadians are such nice people, they were not upset about it. In fact, as they were leaving the arena, the fans sang Burnin' Up in unison since the band didn't. What can you say? They are suckers for their music and the brothers.
Hopefully, the technical is fixed before their concert their tonight. If not, the fans won't be singing Bunin' Up, they will be burning up.
---
Can this Jonas Brothers' music video look any cheaper?
August 14th, 2019 under Jonas Brothers. [ Comments:

none

]

The Jonas Brothers released the music video for their latest song Almost Human, and it looks like they spent almost nothing on it. It is '80s Public Access in New Jersey (I went to high school in NJ so I can say that) cheap looking. I am sure that was what they were going for, but they are better than that. Then again, they might not have any money left because Nick Jonas is probably paying for his many many many weddings to Priyanka Chopra.
I will say something nice about the song. However, my mom told me if you do not have anything to say, don't say anything at all.
---
Our first look at Mr. & Mrs. Joe Jonas!
July 4th, 2019 under Jonas Brothers. [ Comments:

none

]

On Saturday, Joe Jonas and Sophie Turner said I do in Paris, France. Now, we are getting to see what they looked like when they walked down the aisle after their first kiss as Mr. & Mrs. at their second wedding.
The bride looks stunning in her Louis Vuitton wedding gown while the groom was decked out in an all black suit. Personally, I am surprised she went with a more traditional fuller dress. I expected the Game of Thrones actress to wear a silk slip dress for the big moment.
What do you think of her lace dress? To see it from behind and in color, then click here!
---
Joe Jonas takes a bath
June 26th, 2019 under Jonas Brothers, Taking a bath. [ Comments:

none

]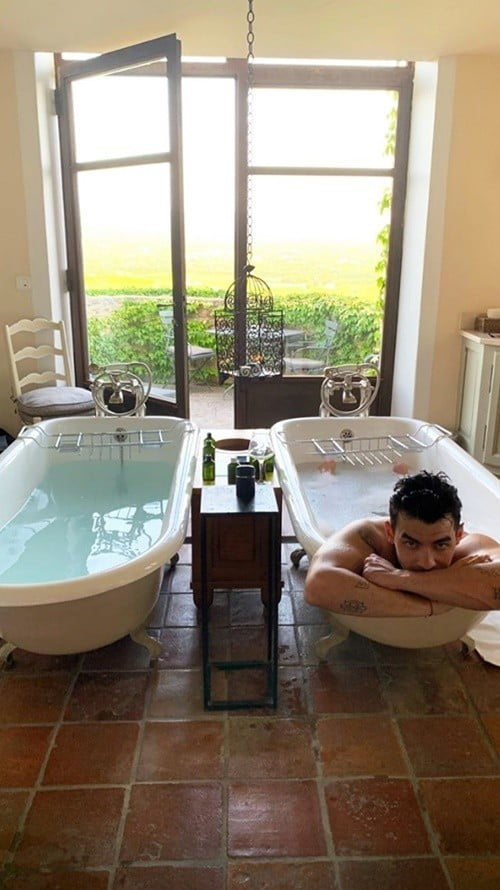 via Us Weekly
Joe Jonas is days away from his second wedding to his first wife and I guess he wants to clean up his act. Sophie Turner photographed her husband taking a bubble bath while looking lovingly as her. While we are looking at him the same way.
I wonder if the newlyweds took his & her baths. Imagine sitting in the warm water, holding hands with the love of your life and looking at that view. That is a baby making setting if I ever saw one. Well, at least practicing making a baby.
---
Are you a sucker for this version of the Jonas Brothers' song?
June 11th, 2019 under Jimmy Fallon, Jonas Brothers. [ Comments:

none

]

We are all becoming suckers again for the Jonas Brothers thanks to their first new album in a decade. The first song off their album, Happiness Begins, is already climbing the charts.
Jimmy Fallon decided to give it a new sound with some classroom instruments and The Roots yesterday on The Tonight Show. When they were done, I was even more of a sucker for Sucker. You can say I am no longer chasing happiness because I found it.
---