Are John Stamos and Marilyn Manson the Jonas Brothers biggest fans?
June 5th, 2019 under John Stamos, Jonas Brothers, Marilyn Manson. [ Comments:

none

]

When I think of who might be the Jonas Brothers' biggest fans, I think it is girls in their 20's. Turns out it is men in their 50's. Actually, it is just John Stamos and Marilyn Manson. They are the founding members of Jonatics. Now we know what sweet dreams are made of for these two men and they are Kevin, Joe and Nick Jonas.
---
Sophie Turner is bananas for Joe Jonas' banana
May 20th, 2019 under Captioned By Me, Jonas Brothers. [ Comments:

none

]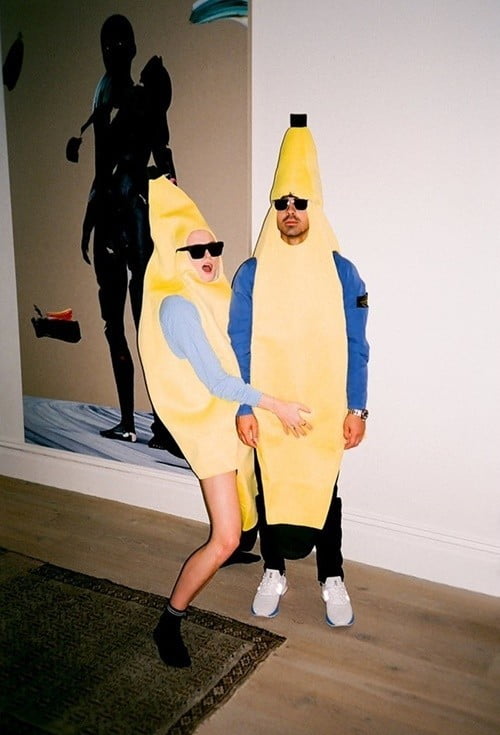 Joe Jonas posted the above photo and told us to caption it, so I did.
He did not tell us why they are dressed as bananas. However, I am sure the reason is just as bananas as how they look. I guess you can say it is a-peal-ing to them.
---
The Jonas Brothers gets their Sears photos on!
May 15th, 2019 under Jonas Brothers. [ Comments:

none

]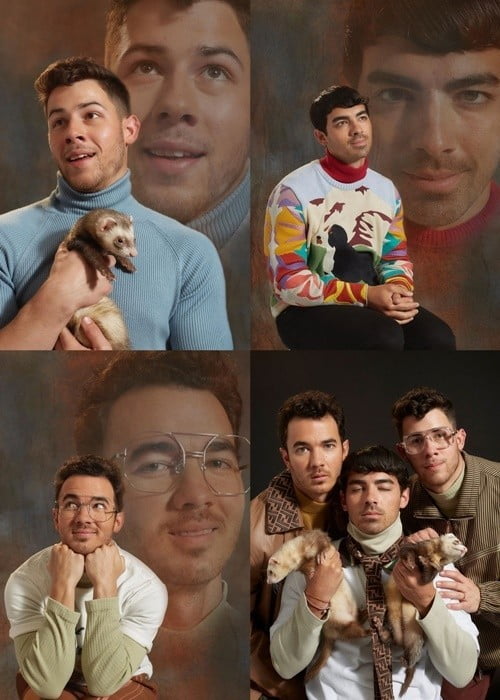 Paper Magazine gave us Kim Kardashian completely naked and John Stamos' bare butt and now they are giving us the Jonas Brothers completely clothed. However, the images are just as frightening because it looks like Kevin, Joe and Nick Jonas went to Sears to do the photoshoot. And yet, I am a sucker for these photos!
BTW Is just or does Joe Jonasj look like Spock?
---
The fourth is strong with the Jonas Brothers
May 4th, 2019 under Jonas Brothers, Star Wars. [ Comments:

none

]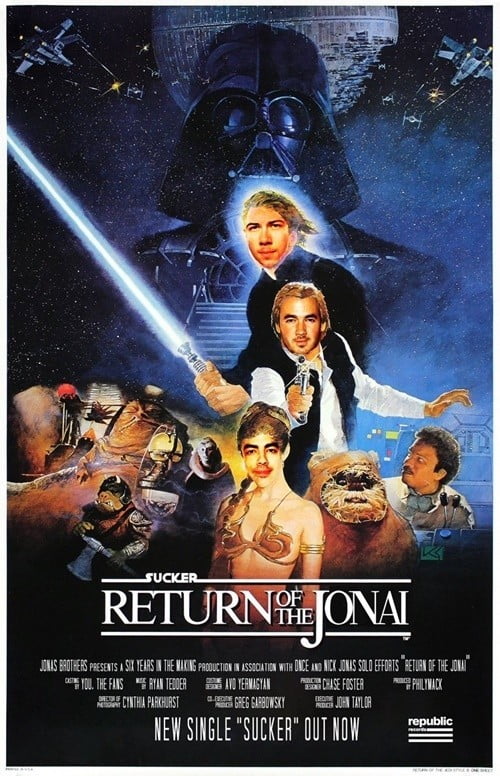 I guess the Jonas Brothers are Star Wars fans because they created a fun poster to celebrate May the Fourth. They took the Return of the Jedi poster and placed their faces over Han Solo, Luke Skywalker and Princess Leia. I wonder who decided to make newly married Joe Jonas' face should replace Carrie Fisher's? Not that I am disagreeing with the decision, but I am just curious how that placement came about.
I also love that the three of them are not cool off to pull off Lando. None of them are as suave as Billy Dee Williams.
---
Joe Jonas swaps out his purity ring for a wedding ring
May 2nd, 2019 under Jonas Brothers. [ Comments:

none

]

While Nick Jonas and Priyanka Chopra spent millions of dollars on their wedding, Joe Jonas and Sophie Turner spent just hundreds of dollars on theirs. The two of them said I do in quickie Las Vegas wedding that was presided over by an Elvis impersonator.
The couple surprised everyone when they suddenly tied the knot after the Billboard Music Awards. Something that would have stayed in Vegas had Diplo not posted their nuptials on Instagram Live. So let's all thank Diplo for that.
The newlyweds got engaged in October 2017 and always said they wanted a small wedding. Something I am sure his younger brother wishes he did after seeing the bill.
---