Should we call Call Me Kat, Blossom?
November 15th, 2021 under Fox, Joey Lawrence, Mayim Bialik. [ Comments: 1 ]
Mayim Bialik has a new show on Fox. However, she is going to be reunited with cast members from one of her old shows on the second season premiere of Call Me Kat. Blossom's Joey Lawrence, Jenna von Oÿ, and Michael Stoyanov will guest star as themselves on the episode that airs on January 9th.
So set your DVRs because you are not going to want to miss that episode.

---
Joey Lawrence's kids are embarrassed by him
July 21st, 2021 under Joey Lawrence. [ Comments: none ]
Back when Joey Lawrence was his daughters' ages, he was one of the coolest dudes in Hollywood. However, now, he is 45, and he is no longer cool. At least when he is dancing around his offspring. Then again, all kids are embarrassed by their dad's moves. Even Michael Jackson's children would've rolled their eyes at him.
Do you think that his kids are right, or they should be proud that he can still move like that? I think if there is anything for them to be like, "no way, dad," it would totally be those pants.

---
Joey Lawrence goes for a Swim on Tubi
July 6th, 2021 under Joey Lawrence, Tubi TV. [ Comments: 2 ]
Tubi is the leader of streaming Horror movies with hundreds to choose from in all genres, from action to comedy to cult classics to scary as all f*ck.
In August, they are sinking their teeth into the original Horror movie business with Swim during their month-long BiteFest, aka Shark Month.
The movie is about a family vacation that goes from bad to worse to nightmarish. Joey Lawrence and his family get trapped in their vacation rental after a storm floods the place. They quickly find out they are not alone. There is a shark who decided to share the space with them. In order to escape the killer fish, they have to go to the upper floors. As the water rises, the beast rises with it. Will they be able to make out of their getaway alive, or will they run out of floors to hide from it on? We will just have to see with a movie that will make us want to holiday inland.
Swim is from director Jared Cohn (Shark Season) and the producers of Sharknado. The film also stars Jennifer Field (Artificial), Andy Lauer (Caroline in the City), and Rib Hillis (Extreme Makeover: Home Addition).
Since one shark flick is never enough, Tubi is streaming over 70 of them, including all four Jaws movies next month. Who needs the real thing when the make-believe is so much better?
To see more photos from Swim, then click here!

---
Tubi TV one ups Shark Week with a whole month of shark movies
July 1st, 2021 under Joey Lawrence, Tubi TV. [ Comments: none ]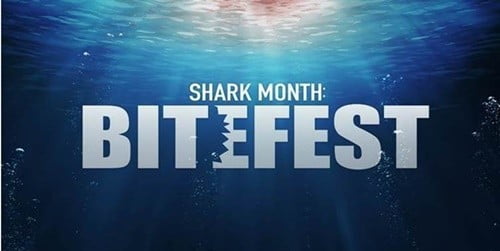 While Discovery and those other networks are only doing one week, Tubi TV is doing a whole month.
Beginning on August 1st, you can stream 70 shark-related programs, including all four Jaws movies. They even have a film where a shark has sex with a woman on the beach. What comes from intercourse with one? Baby Shark, and there is plenty of him to enjoy too.
If that is not enough, how about an original film starring Joey Lawrence. SWIM follows a family trapped in their storm-flooded vacation rental who must keep going further and further up to higher floors as they seek to escape a hungry shark that's made its way into the house.
Can't wait until August? There is plenty to choose from now on the free streaming service. How do you think I know about that sex scene?
To see some of the features that are coming to Tubi for Bitefest, then click here!

---
Joey Lawrence still looks good nearly naked
December 16th, 2020 under Joey Lawrence. [ Comments: none ]

Some of us have gained the pandemic 15; others of us have not. Joey Lawrence is part of the latter. The actor showed off his body, and he is looking good, really good.

It is hard to believe he is 44 because his body is looking as good as it did when he was 22.

I would still hang his poster on my wall. If I still did that sort of thing. What about you?

---