Tubi gives us a movie on the Depp/Heard trial!
September 30th, 2022 under Johnny Depp, Tubi TV. [ Comments: none ]
On June 1st, the jury sided with Johnny Depp in the defamation case he had against his ex-wife, Amber Heard. Less than 4 months later, Tubi brought that trial to their streaming service in the movie Hot Take: The Depp/Heard Trial.
The film, which stars Mark Hapka as Johnny Depp and Megan Davis as Amber Heard, goes back and forth between the case and flashbacks of their turbulent relationship. It begins with them meeting on the set of The Rum Diary and ends with the verdict.
Even though it was a rushed production, it didn't turn out to be as awful as finding a piece shit on the bed.
Hot Take reminds me of the movies of the week that the networks used to do. It is not Emmy worthy, but it is an enjoyable watch. Plus, the price is right, free. However, I could've done without the TikTok recaps. But they were part of what made the trial go viral.
There was one more problem I had with it. To me, the production felt like they were pro-Amber, and I am pro-Depp.
Other than that, it hurt less than stepping on a bee.
And because of that, I hope Tubi gives us more Hot Takes! What do you think they should do next?

---
10 Truths About Love is the perfect RomCom for Valentine's Day
February 12th, 2022 under Tubi TV. [ Comments: none ]
Tubi is getting into the RomCom business with 10 Truths About Love, and it is the perfect movie for date nights. If you don't have a date, it is just as perfect because you will feel like you are on one.
Carina (Camilla Belle) writes a love and romance column. She knows a lot about love because she has the perfect boyfriend, Tom (Karn Kalra), and she thinks he is going to propose to her. Instead, he breaks up with her.
To make matters worse, her boss just assigned her a co-worker who doesn't have the same perspective about love and romance as she does. Liam (David Lafontaine) is the opposite of her. She likes lists, and he doesn't. She believes in order, and he doesn't. She believes in love, and he doesn't.
However, when Liam finds out that Carina's boyfriend dumped her, he says he will help her get him back. So together, they decided to write a column about that.
The more Liam tries to get Carina back with her ex, the more they realize that opposites do attract. However, neither one has told the other one that. Things get even more complicated when her ex tells her he wants her back.
Who is she going to choose? You are just going to have to watch this movie that is as sweet as the sweetest box of chocolates and as beautiful as the prettiest roses.
If this is what the RomComs on Tubi are going to be like, Hallmark and Lifetime have some serious competition, and I am all for it. Especially because they have so many other romantic comedies spend Valentine's Day and any day with.

---
Tubi is getting into the Halloween business
September 24th, 2021 under Tubi TV. [ Comments: none ]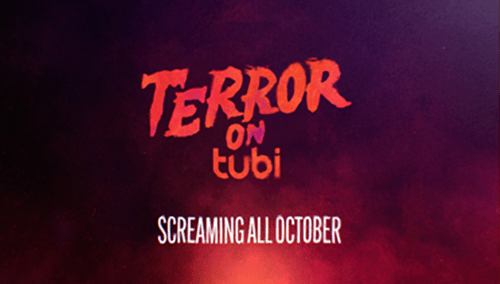 We are a week away from the start of Spooktober, and Tubi is going to give us a month of Halloween treats on top of all of the Horror content they already have.
Something, I am very familiar with it because I have been sleeping with their frightful collection of thousands of movies for the last two years. They have movies like Killer Sofa, Monsturd, Killer Pinata, Cicada, Attack of the Killer Tomatoes, The Stuff, Brain Damage, Death Bed, Thankskilling, Chopping Mall, Zombeavers, Caroushell, Attack of the Killer Donuts, Hellitosis: The Legend of Stankmouth, Hell's Kitty, and so many more.
"Tubi viewers devour horror titles all year long so we've made 'Terror on Tubi' extra enticing," said Adam Lewinson, Chief Content Officer, Tubi. "With more than 5,000 horror and paranormal titles and four bone-chilling originals, Tubi ramps up its position as a formidable force in horror."
If you love Horror, then you have to download Tubi for free. Because not only do they have thousands of free Horror films, but they also have several paranormal shows in their collection. And they will be adding four original titles to their list next month. To see what they are, then click here!

---
Tales of a Fifth Grade Robin Hood is a fun film the whole family can enjoy together
August 27th, 2021 under Jon Lovitz, Tubi TV. [ Comments: none ]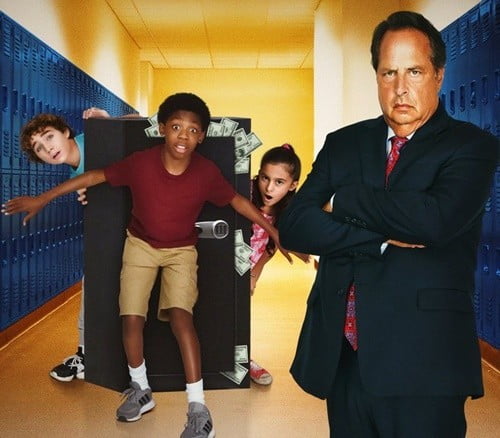 There are so many films out there these days, but there are very few the whole family can sit and watch together. Tales of a Fifth Grade Robin Hood is just that movie. And the best part is that you can stream it at home for free on Tubi TV.
Robin Hood (Chase Brown) is a fifth-grader who loves his school. So much so, he and his friends are raising money so that they can get the supplies they need for their classrooms.
Everyone is all for it, including their teacher Ms. Tuck (Jacquelin Arroyo), but Vice Principal Prince (Jon Lovitz). He wants the money for himself so that he can bribe the school board to make him the President.
When Robin finds out about his plan, he and his friends, Maria Fox (Iliana Isabella Perez) and John Little (Jayden Scala) are going to use their wits to catch Prince in the act.
They just have to outsmart Prince and his goons, including the school's bumbling security guard (Stephen Kramer Glickman).
Think of it like Home Alone with a lot of hijinx, but it takes place at a school. Are the bad guys smarter than a fifth grader? You will just have to watch this movie where you root for the good guys and hope they torture the bad guys as much as possible.
Lovitz plays the baddest guy, and he is so good at it. This is a role he was born to play. As a critic, I will say the star of The Critic and the movie don't stink.
Whether you have a family or not, you are going to love this film. Because we all had that one teacher that we wish we could have busted for being the awful person that they are. Since we couldn't, we can just imagine what it would've been like via Tales of a Fifth Grade Robin Hood.
Then when you are done, you can stream these back to school movies, the Monster High franchise, Zapped starring Zendaya, Karate Kid, Help I Shrunk My Teacher, Wheels on the Bus, Teen Star Academy, Jurassic School, Mr. Frog, Leo the Wildlife Ranger, and many more for free on Tubi TV.
In honor of kids finally getting back into the classroom, Tubi has teamed up with the Kids in Need Foundation, to provide vital school supplies and learning tools to under-resourced teachers and students nationwide. So not only are you watching kids go back to school, but you are helping them get the supplies they need.

---
Men at Work: Miami is what Magic Mike should have been
August 9th, 2021 under Tubi TV. [ Comments: none ]
Did you watch Magic Mike and wish it didn't take itself so seriously because it was a Steven Soderbergh film? Well, you are not alone. There is a stripper movie streaming on Tubi now called Men at Work: Miami, and it is as campy as you want it to be. Since it is an import, it makes things even better. It is not a pompous American film.
Jorrit (Jim Bakkum) and his best friend, Bas (Martijn Fischer), are having a hard time making money as construction workers in the Netherlands. So they decide to leave their country and move to Miami, where they can work as strippers again. Jorrit is hoping that this change will make his son, Gijs (Matheu Hinzen), proud of him again.
As soon as they arrive in Miami, they find out that the place they are going to turn into a strip club needs a lot of work. Therefore, they hire a bunch of construction workers by day who can also be strippers at night. So get ready for the eye candy.
If the dump on Miami Beach is not enough of a problem, Pablo (Jason Cerda), the owner of the property, is even more of a nightmare. He wants his money, and he also thinks he should be the King of the strippers. Every King has a Queen, and his is Lola (Eva van de Wijdeven).
As soon as Jorrit sees her, a fellow Dutch, he falls head over heels for her. However, she has rules, and commitment to any man is not one of them. Will their affair make things even more difficult for Jorrit when he has to deal with Pablo? All of this will lead to a stripping battle between Jorrit's men and Pablo's boys.
There will only be one winner, and it is us because this movie has everything we desire. Well, not everything. There is no full frontal nudity. This woman has needs!
So what does it have? It has several stripping scenes, including one on the streets of South Miami Beach. It also has a choreographed sex scene. It wasn't erotic as much as it was titillating to watch. The whole movie is just campy fun that was brought to us by director Johan Nijenhuis.
To make it even more fun for us Americans, Tubi has two versions of the Dutch film. One is with subtitles, while the other is dubbed into English. It is so awesomely bad that it was just what this feature needed. That and more stripper scenes, but no picture can ever have enough of those. Well, Showgirls had too many, but you know what I meant.
Basically, with everything going on in the world, we all need something to enjoy. Men at Work: Miami is just what we all need to take our minds off of everything. So download Tubi, if you haven't already, and watch it now for free. If you haven't downloaded it, then you are missing out on thousands of free movies and television shows going back to the start of Hollywood.
Just one note, if strip clubs were as sexy as this one when I lived in Miami, I would still be living there.

---