Tales of a Fifth Grade Robin Hood is a fun film the whole family can enjoy together
August 27th, 2021 under Jon Lovitz, Tubi TV. [ Comments:

none

]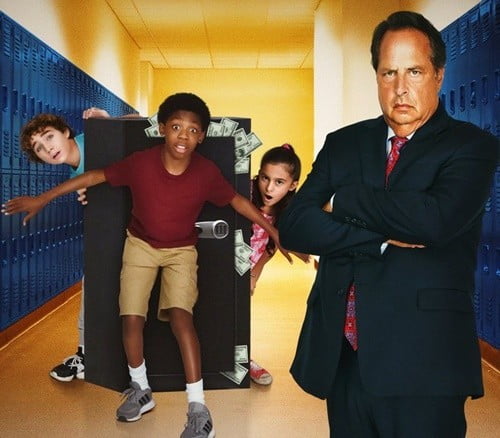 There are so many films out there these days, but there are very few the whole family can sit and watch together. Tales of a Fifth Grade Robin Hood is just that movie. And the best part is that you can stream it at home for free on Tubi TV.
Robin Hood (Chase Brown) is a fifth-grader who loves his school. So much so, he and his friends are raising money so that they can get the supplies they need for their classrooms.
Everyone is all for it, including their teacher Ms. Tuck (Jacquelin Arroyo), but Vice Principal Prince (Jon Lovitz). He wants the money for himself so that he can bribe the school board to make him the President.
When Robin finds out about his plan, he and his friends, Maria Fox (Iliana Isabella Perez) and John Little (Jayden Scala) are going to use their wits to catch Prince in the act.
They just have to outsmart Prince and his goons, including the school's bumbling security guard (Stephen Kramer Glickman).
Think of it like Home Alone with a lot of hijinx, but it takes place at a school. Are the bad guys smarter than a fifth grader? You will just have to watch this movie where you root for the good guys and hope they torture the bad guys as much as possible.
Lovitz plays the baddest guy, and he is so good at it. This is a role he was born to play. As a critic, I will say the star of The Critic and the movie don't stink.
Whether you have a family or not, you are going to love this film. Because we all had that one teacher that we wish we could have busted for being the awful person that they are. Since we couldn't, we can just imagine what it would've been like via Tales of a Fifth Grade Robin Hood.
Then when you are done, you can stream these back to school movies, the Monster High franchise, Zapped starring Zendaya, Karate Kid, Help I Shrunk My Teacher, Wheels on the Bus, Teen Star Academy, Jurassic School, Mr. Frog, Leo the Wildlife Ranger, and many more for free on Tubi TV.
In honor of kids finally getting back into the classroom, Tubi has teamed up with the Kids in Need Foundation, to provide vital school supplies and learning tools to under-resourced teachers and students nationwide. So not only are you watching kids go back to school, but you are helping them get the supplies they need.

---
Men at Work: Miami is what Magic Mike should have been
August 9th, 2021 under Tubi TV. [ Comments:

none

]
Did you watch Magic Mike and wish it didn't take itself so seriously because it was a Steven Soderbergh film? Well, you are not alone. There is a stripper movie streaming on Tubi now called Men at Work: Miami, and it is as campy as you want it to be. Since it is an import, it makes things even better. It is not a pompous American film.
Jorrit (Jim Bakkum) and his best friend, Bas (Martijn Fischer), are having a hard time making money as construction workers in the Netherlands. So they decide to leave their country and move to Miami, where they can work as strippers again. Jorrit is hoping that this change will make his son, Gijs (Matheu Hinzen), proud of him again.
As soon as they arrive in Miami, they find out that the place they are going to turn into a strip club needs a lot of work. Therefore, they hire a bunch of construction workers by day who can also be strippers at night. So get ready for the eye candy.
If the dump on Miami Beach is not enough of a problem, Pablo (Jason Cerda), the owner of the property, is even more of a nightmare. He wants his money, and he also thinks he should be the King of the strippers. Every King has a Queen, and his is Lola (Eva van de Wijdeven).
As soon as Jorrit sees her, a fellow Dutch, he falls head over heels for her. However, she has rules, and commitment to any man is not one of them. Will their affair make things even more difficult for Jorrit when he has to deal with Pablo? All of this will lead to a stripping battle between Jorrit's men and Pablo's boys.
There will only be one winner, and it is us because this movie has everything we desire. Well, not everything. There is no full frontal nudity. This woman has needs!
So what does it have? It has several stripping scenes, including one on the streets of South Miami Beach. It also has a choreographed sex scene. It wasn't erotic as much as it was titillating to watch. The whole movie is just campy fun that was brought to us by director Johan Nijenhuis.
To make it even more fun for us Americans, Tubi has two versions of the Dutch film. One is with subtitles, while the other is dubbed into English. It is so awesomely bad that it was just what this feature needed. That and more stripper scenes, but no picture can ever have enough of those. Well, Showgirls had too many, but you know what I meant.
Basically, with everything going on in the world, we all need something to enjoy. Men at Work: Miami is just what we all need to take our minds off of everything. So download Tubi, if you haven't already, and watch it now for free. If you haven't downloaded it, then you are missing out on thousands of free movies and television shows going back to the start of Hollywood.
Just one note, if strip clubs were as sexy as this one when I lived in Miami, I would still be living there.

---
Joey Lawrence goes for a Swim on Tubi
July 6th, 2021 under Joey Lawrence, Tubi TV. [ Comments:

2

]
Tubi is the leader of streaming Horror movies with hundreds to choose from in all genres, from action to comedy to cult classics to scary as all f*ck.
In August, they are sinking their teeth into the original Horror movie business with Swim during their month-long BiteFest, aka Shark Month.
The movie is about a family vacation that goes from bad to worse to nightmarish. Joey Lawrence and his family get trapped in their vacation rental after a storm floods the place. They quickly find out they are not alone. There is a shark who decided to share the space with them. In order to escape the killer fish, they have to go to the upper floors. As the water rises, the beast rises with it. Will they be able to make out of their getaway alive, or will they run out of floors to hide from it on? We will just have to see with a movie that will make us want to holiday inland.
Swim is from director Jared Cohn (Shark Season) and the producers of Sharknado. The film also stars Jennifer Field (Artificial), Andy Lauer (Caroline in the City), and Rib Hillis (Extreme Makeover: Home Addition).
Since one shark flick is never enough, Tubi is streaming over 70 of them, including all four Jaws movies next month. Who needs the real thing when the make-believe is so much better?
To see more photos from Swim, then click here!

---
Tubi TV one ups Shark Week with a whole month of shark movies
July 1st, 2021 under Joey Lawrence, Tubi TV. [ Comments:

1

]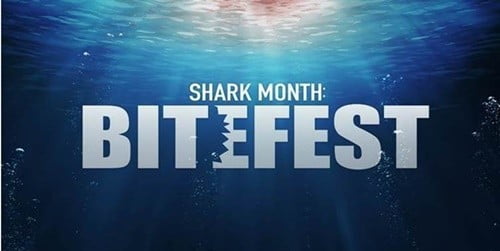 While Discovery and those other networks are only doing one week, Tubi TV is doing a whole month.
Beginning on August 1st, you can stream 70 shark-related programs, including all four Jaws movies. They even have a film where a shark has sex with a woman on the beach. What comes from intercourse with one? Baby Shark, and there is plenty of him to enjoy too.
If that is not enough, how about an original film starring Joey Lawrence. SWIM follows a family trapped in their storm-flooded vacation rental who must keep going further and further up to higher floors as they seek to escape a hungry shark that's made its way into the house.
Can't wait until August? There is plenty to choose from now on the free streaming service. How do you think I know about that sex scene?
To see some of the features that are coming to Tubi for Bitefest, then click here!

---
The Bachelor and The Bachelorette are coming to Tubi TV
March 17th, 2019 under The Bachelor, Tubi TV. [ Comments:

none

]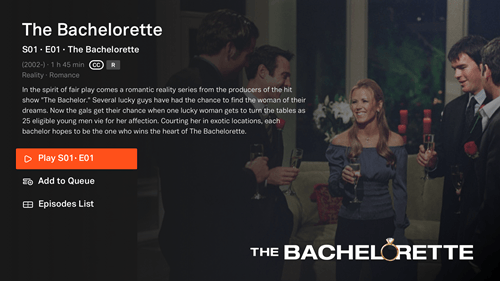 About a year ago, my friend Paulette told me about a streaming site called Tubi TV. Since then, I have watched a movie or a TV show on it every day since, and there are still many more options for me to choose from. I have rarely ever watched anything twice. I have cried, laughed screamed several times thanks to their vast supply of movies. And did I mention it is FREE?
There are 1,000s of movies: horror, action, comedy, classics, cult classic, award-winning, faith, African-American cinema and so on. They also have shows and films to occupy babies and toddlers' attention with. There is something for everyone. Even during Christmas, they had a wide selection of features to choose from. After I watched around a dozen horror movies about the holiday, I got my share of Lifetime, Hallmark and faith-based telemovies in.
Since I need to sleep with the television on, I sleep with Tubi TV on my aging iPad. After a program finishes, they automatically go to another one on their library. I never know what I am going to wake up to, and I look forward to the surprise.
Another surprise I love about Tubi TV is that they have rare standup specials, concert performances and exercise videos. Like I said there is something for everyone.
For example, on April 1st (my birthday) they are adding the first seasons of The Bachelor and The Bachelorette to their lineup along with The Bachelorette: Trista & Ryan's Wedding
and season 5 of Bachelor in Paradise. If that is not enough, they will also be streaming Donnie Darko, Down to Earth, The Virgin Suicide, Species II, Indecent Proposal, Bill & Ted's Bogus Journey.
Those are just a few of the many, many, many titles. Another thing I use Tubi for is when someone dies, like Luke Perry, I search to see if they have anything by that person. Which they will and then I will watch it.
You can never get bored with Tubi TV. Plus, you can't beat the price, FREE!

---