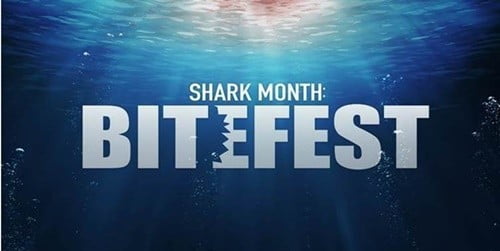 While Discovery and those other networks are only doing one week, Tubi TV is doing a whole month.
Beginning on August 1st, you can stream 70 shark-related programs, including all four Jaws movies. They even have a film where a shark has sex with a woman on the beach. What comes from intercourse with one? Baby Shark, and there is plenty of him to enjoy too.
If that is not enough, how about an original film starring Joey Lawrence. SWIM follows a family trapped in their storm-flooded vacation rental who must keep going further and further up to higher floors as they seek to escape a hungry shark that's made its way into the house.
Can't wait until August? There is plenty to choose from now on the free streaming service. How do you think I know about that sex scene?
To see some of the features that are coming to Tubi for Bitefest, then
SHARK MONTH: BITEFEST TITLES INCLUDE
JAWS
JAWS 2
JAWS 3
JAWS: THE REVENGE
BAIT 3D
DARK TIDE (2011)
OPEN WATER 3: CAGE DIVE
USS INDIANAPOLIS: MEN OF COURAGE
THE REEF
SWIM
GORDON RAMSAY: SHARK BAIT
SAND SHARKS
DINOSHARK
SEA LEVEL
SHARKTOPUS
SUPER SHARK
SWAMP SHARK
SHARK LAKE
JURRASIC SHARK
CATCHING A KILLER: THE MYSTERY OF SABLE ISLAND
OF SHARK AND MAN
PSYCHO SHARK
ISLAND OF SHARK ATTACKS
THE LAST SHARK
DARK WATERS
RAGING SHARKS
SHARK ATTACK
SHARK ATTACK 3: MEGALODON
SHARK HUNTER
SHARK IN VENICE
SHARK LAND
THE DEEP END
SAVING JAWS
SHARKS: SCAVENGERS OF THE SEA
SURFING & SHARKS
THE SHARK CON
BABY SHARK & MORE KIDS SONGS (LITTLE TREEHOUSE)
BABY SHARK & MORE KIDS SONGS: SUPER SIMPLE SONGS
BABY SHARK: NURSERY RHYMES & KIDS SONGS
FINNY THE SHARK 1
FINNY THE SHARK 2
FINNY THE SHARK 3
BLOOD SURF
DAM SHARKS
BAD CGI SHARKS
HOUSE SHARK
RAIDERS OF THE LOST SHARK
SHARK EXORCIST
SHARK ATTACKS
SHARK SCHOOL: OCEAN MANIA
SHARK SCHOOL: SHARK MANIA
SHARK BAIT
THE OLD MAN AND THE SEA
SHARK KILLER
SHARK ENCOUNTERS OF THE THIRD KIND
2 HEADED SHARK ATTACK
MEGA SHARK VS. KOLOSSUS
MEGA SHARK VS. MECHA SHARK
SHARK WEEK
SHARKS IN THE MEDITERRANEAN: ON THE TRAIL OF GREAT WHITE SHARKS
SHARKS: MONSTER OF THE MEDIA
ZIG & SHARKO
ZIG & SHARKO AT THE BEACH
ZIG & SHARKO IN THE LAGOON
ZIG & SHARKO: THE LAUGH BOAT

---