Blacklist is still not on NBC's blacklist
February 23rd, 2022 under James Spader, Jimmy Fallon. [ Comments: none ]
James Spader was on The Tonight Show yesterday, and he had some big news to share with Jimmy Fallon. His show Blacklist was picked up for a 10th season.
The drama is proving to be the little show that could. Because I didn't know it was still on. So I guess I am in the minority because it is still on the air and will be for another season.

---
Kim Richards dated James Spader when they worked on Tuff Turf
July 9th, 2021 under Andy Cohen, James Spader. [ Comments: none ]
Back in the mid-'80s before Kim Richards was a Real Housewife and James Spader was a household name, the two of them dated when they worked on a little movie called Tuff Turf.
The actress revealed this yesterday on Watch What Happens Live with Andy Cohen. Actually, it wasn't like she outright said it as much as she showed it.
A caller asked if she hooked up with her former co-star, but before she could say yes, her bright red face said it all.
Did they have a long affair? Nope, it was just a showmance. Lucky for him, or we would be watching him on Bravo instead of NBC.
I am going to have to rewatch the movie this weekend to see if you can tell the chemistry between them was real.
If you want to see the trailer for their film, then click here!

---
BWTF: James Spader in Team-Mates
May 5th, 2020 under Before They Were Famous, James Spader. [ Comments: none ]

Before James Spader played the bad guy in several movies like Pretty In Pink, Mannequin, and Sex Lies and Videotape, and television shows, he was a bad influence in Team-Mates. He looks the same now as he did when he was 17 in that 1978 movie.
Make sure to watch the second scene because it stars a 55-year-old Estelle Getty as a teacher.

---
NBC gave Blacklist the perfect present for its 150th episode
February 20th, 2020 under James Spader, NBC, SYTYCD. [ Comments: none ]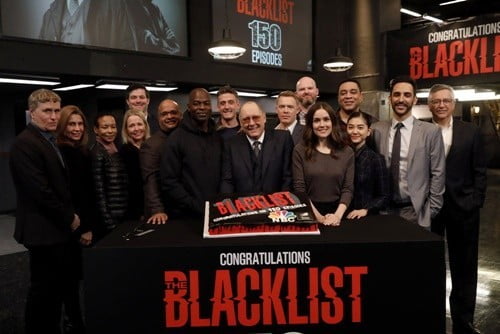 The Blacklist filmed its 150th episode today, and NBC had a little gift for them. The drama that stars James Spader will be back for an 8th season!
That was not the only show to get that news today. So You Think You Can Dance will waltz into their 17th season this summer. Cat Deely returns as the host, and the judges are Nigel Lythgoe, Mary Murphy, and Laurieann Gibson.
If you want to audition and you are between 18-30, then you can do so at one of these dates: Miami (March 19 and 20), New York (March 28 and 29) or Los Angeles (April 4 and 5). Can't make it to one of those locations, then you can post your auditions here.

---
James Spader epic story of throwing up in front of Jackie O!
March 31st, 2016 under James Spader, Jimmy Fallon. [ Comments: none ]

Yesterday on The Tonight Show, James Spader shared a story with Jimmy Fallon that is so classic, it is almost too crazy to be true.
Spader and John F Kennedy Jr went to high school together and remained friends. One time JFK Jr invited the Blacklist star to his house and they had a "festive day" together. As dinner time was approaching, Spader sat down on the couch and ate a whole bowl of pistachios. I guess that was too much for him because he wound up throwing them all up all over his dish at the dinner table when they were eating in front of his friend, his sister Caroline and their mother the former First Lady Jackie Onassis. The classy lady then told him, "Good shot, Jim!"
He then excused himself from the table to clean himself up. When he got back to the table, JFK Jr couldn't stop laughing and was leaning back on his chair. His mother told him to stop because they were expensive. He didn't and eventually the chair fell backwards, and he landed on the floor laughing. His mother was not amused and scolded him with, "Dammit John, if I told you once, I told you a dozen times, do not lean back in those chairs. Now see what's happened. Look what you've done. It's just so rude." He bounced up with a huge grin and said, "Jimmy just threw up at the table!"
What an amazing story. You can't nor would you want to make up an experience like that. But what an experience. To do something so disgusting in front of the classiest First Lady the US has ever had has to be something you can never live down. But it is an epic story you want to share with the world and I am so glad he did.

---