COVID-19 says you can't dance to So You Think You Can Dance
June 19th, 2020 under SYTYCD. [ Comments: 1 ]

Fox announced yesterday that we will not be getting a new season of So You Think You Can Dance this summer.
"Production on season 17 of So You Think You Can Dance will not be moving forward due to health and governmental restrictions in response to the COVID-19 pandemic." Then the statement continued with, "As a result, while we were looking forward to its return this summer, we cannot meet the standards we've set for viewers and contestants in light of the show's unique format, intricate production schedule and limited time."
The news is not a surprise, but it is still sad to read. It will be interesting to see how other reality competition shows, that require the acts to perform in front of judges, will go on. America's Got Talent will most likely be the guinea pig for Dancing with the Stars and The Masked Singer (although the contestants are already wearing masks.)
I wonder when CBS is going to announce that Big Brother will also be taking the summer off. Although, they could easily keep the contestants and crew quarentined on the CBS Radford lot.

---
NBC gave Blacklist the perfect present for its 150th episode
February 20th, 2020 under James Spader, NBC, SYTYCD. [ Comments: none ]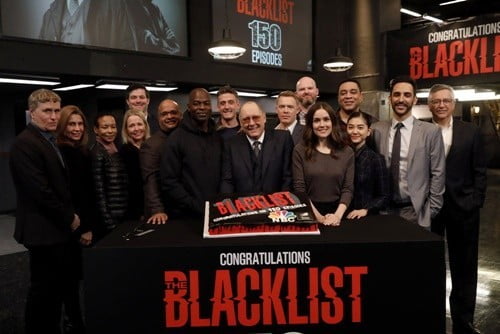 The Blacklist filmed its 150th episode today, and NBC had a little gift for them. The drama that stars James Spader will be back for an 8th season!
That was not the only show to get that news today. So You Think You Can Dance will waltz into their 17th season this summer. Cat Deely returns as the host, and the judges are Nigel Lythgoe, Mary Murphy, and Laurieann Gibson.
If you want to audition and you are between 18-30, then you can do so at one of these dates: Miami (March 19 and 20), New York (March 28 and 29) or Los Angeles (April 4 and 5). Can't make it to one of those locations, then you can post your auditions here.

---
Remember So You Think You Can Dance's Benji Schwimmer?
December 5th, 2018 under Remember?, SYTYCD. [ Comments: 2 ]

Back in 2006, Benji Schwimmer defied the odds and won the second season of So You Think You Can Dance. The scrawny little dancer was a fan favorite because we loved his geekiness.

That was then, now 12 years later he is a buff man showing off his muscular body. Who knew that by doing Swing dancing it would give you a bod like that? Now thanks to DNA Magazine we know that. So who else besides me is going to sign up for classes? Plus, am I the only one who wants him to be their teacher. He teaches Tango too, right?

---
So You Think You Can Dance just won't die
February 16th, 2018 under SYTYCD. [ Comments: none ]

It is February 16th, and there was no word if So You Think You Can Dance would be back for another season. So you were thinking it was cancelled. Not so fast because Fox announced it will be back for a 15th season with judges Nigel Lythgoe, Mary Murphy and Vanessa Hudgens and host Cat Deeley, who is pregnant with baby #2.
If you want to audition for the show, you can do so here. Unlike years in the past, they are only going to two cities, New York City and Los Angeles, for the audition phase of it.
When it comes to the renewal, I am thinking it is either really cheap to produce or Lythgoe has pictures on executives. Personally, I cannot understand why it is back. Can you?

---
A So You Think You Can Dance contestant threw up on Paula Abdul!
June 7th, 2016 under Paula Abdul, SYTYCD. [ Comments: none ]

Tahani Anderson had such a great audition on So You Think You Can Dance that when she was done all three judges had a ticket to the Academy for her. When the 12 year old went to collect the tickets, Nigel Lythgoe hugged her and so did Paula Abdul. Only problem was the Straight Up singer hugged her too tight and Tahani said, "all her happiness came out on her jacket."
Hopefully Abdul won't be Cold Hearted and vote against her during the next round which I don't think she will because she is sweet. Lythgoe I think would.

---