The odd things Jameela Jamil can do with her body
July 10th, 2020 under Conan O'Brien, Jameela Jamil. [ Comments: none ]

Conan O'Brien was talking to Jameela Jamil on his TBS show yesterday, and she showed him things we have never seen before.
The actress does not have enough collagen in her body, so it makes her skin stretchy and joints bendy. That means she can stretch her cheeks way past her ears. We can't do it. I know you are trying to do that, and you can't.
Not only can the actress make her face like rubber, but she can also move her bones in a way that makes your body hurt. In fact, she claims she can kiss her own a$$. She didn't show us that, but I believe she can do it. I wonder how long until a porn company offers her big bucks to do it for them on camera. You know there are a lot of people who will want to see her put her lips on her Good Place.
Talking about good, she also admitted she is bad at everything including sex. There goes her porn career if she needed one. Although with her trick, does she have to have sex in the movie?
Seriously, are Conan and I the only ones who want to see her kiss her a$$?

---
What happens when they make it up to The Good Place?
January 23rd, 2020 under Jameela Jamil, Kristen Bell, Ted Danson Mary Steenburgen. [ Comments: none ]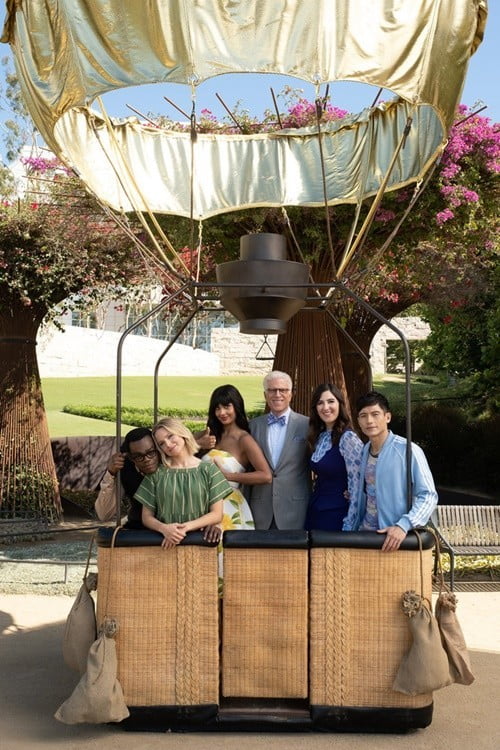 Tonight at 8:30p, it is time for the second to last episode of The Good Place on NBC. After four seasons of wondering what the real Good Place is like, we finally get to see.
Will it be everything that Michael (Ted Danson), Eleanor (Kristen Bell), Chidi (William Jackson Harper), Tahini (Jameela Jamil), Jason (Manny Jacinto) and Janet (D'Arcy Carden) thought it would be? Is it even better than that? Before they find out, it is time for them to go to a party in their honor with some the greatest through time including a pretty neat guest star.
While they are all in heaven, I am in hell because I do not want this show to end.

---
The Good Place finds another way to surprise us
January 16th, 2020 under Jameela Jamil, Kristen Bell, Ted Danson Mary Steenburgen. [ Comments: none ]

Last week on The Good Place, Michael (Ted Danson) and Sean )Marc Evan Jackson) came up with a way to save Earth. They will give humans a test to determine which place they should go to. the good one or the bad one.
Now that they are on board, they need to get all the other demons to be so too. That is a lot easier said than done. However, that is not as hard as finding out who to test. Eleanor (Kristen Bell), Chidi (William Jackson Harper), Tahani (Jameela Jamil), and Jason (Manny Jacinto) have all the files to pick the best people. Yet, they are going to look at their own files first. What will they learn about themselves and each other on NBC tonight at 8:30p?
Lots of shocking things, but not as shocking as the reveal at the end. But I have said too much.
One thing I hate to say is that we only have two more episodes after tonight. Why does this show have to end? Wwwwwwhhhhhhhhyyyyyyyyy?

---
Can the Good Place save humanity? Demi Lovato joins Will & Grace
January 9th, 2020 under Demi Lovato, Eric McCormack, Jameela Jamil, NBC. [ Comments: none ]

The Good Place is back tonight at 8:30p on NBC, but will it be the end of all humanity? When we last off the Judge (Maya Rudolph) decided that she wants to erase all that has happened on Earth and start over again. That is right, she wants to wipe us out. Will Michael (Ted Danson), Eleanor (Kristen Bell), Chidi (William Jackson Harper), Jason (Manny Jacinto), Tahani (Jameela Jamil), and the Janets (D'Arcy Carden) be able to stop her before she hits the button?
They will do everything they can to come up with a plan that will also convince the Bad Place that our World needs to be saved. Shawn (Marc Evan Jackson), the latter's Michael, will be harder to convince than the Judge because Janet has a secret weapon that might change her mind. A weapon that would be enough for me to say we need to live on. What is it? You will have to tune into the fourth last episode of the show's run to find out. Now I am sad.

Then at 9p, Will & Grace gives birth to a new character. Well, not quite yet. Will (Eric McCormack) finds Jenny (Demi Lovato), a woman who is willing to be his surrogate. That is if he can convince her to do it and not screw it up while trying to win her over.
Will needed a lift and he got one from Karen (Megan Mullally). She stays at Jenny's place and meets her brother. The two will exchange some jokes that will make you feel guilty for laughing at them.
Finally, Grace (Debra Messing) and Jack (Sean Hayes) go to a Little Orphan AnnieCon. Need I say more?
I love NBC, but why are the shows I watch ending? Actually, I watch most of their shows, but my two favorites are the ones that are saying goodbye. Maybe they can reboot them next season?

---
E! chyrons Jameela Jamil as her TV sister
January 7th, 2019 under Awards, Jameela Jamil. [ Comments: none ]

via Alyssa
E! snagged an interview with Jameela Jamil from The Good Place, and now they might be in a bad place with her. That is because they chyroned her as Kamilah Al-Jamil, the name of her sister on the show. Whoops!

Even though TGP is an NBC show with one of the star's being nominated, I guess they were not figuring the whole cast to show up on the red carpet. Therefore, when she came to the mic, and her publicist gave the producer her name, all someone heard was Al-Jamil. That person then looked up the name on IMDB and saw her sister's character name and not the actress'. Whoops.

It happens during live TV as much as you do not want it too.

---