Zoey's Extraordinary Playlist will bring out the music in us
February 16th, 2020 under NBC, Ted Danson Mary Steenburgen. [ Comments:

none

]

Ever since NBC introduced us to Zoey's Extraordinary Playlist a few weeks ago, we have been waiting for the second episode to air. Tonight at 9p (after a repeat of the series premiere), it is finally airing and you better get ready to sing and dance.
The episode starts off with Zoey (Jane Levy) waking up and having the music in her. Now, that she knows what her day has in store for her, it is time for work. Things are tough because her team is not accepting her as their boss. While she is trying to get them to focus on the job, her BFF Max (Skylar Astin) starts to sing the Jonas Brothers' Sucker to her.
She is not into him like that, so she brings her confidante and neighbor Mo (Alex Newell) to the coffee shop, which is her haunt with Max, to try and see if the barrister in interested in her good friend. While they are there, the coffee shop breaks out into song and Mo tries to see and hear what Zoey is experiencing. Mo does not, and is no closer to understanding what is happening to Zoey.
While they are at a loss for understanding what is going on, Zoey's family has a better understanding of what is going on in her dad's head. Mitch's (Peter Gallagher) new medicine is giving him some more mobility and her brother, David (Andrew Leeds), has found a way to help him communicate. David gave his dad a buzzer to buzz once for yes and twice for no. It seems like a great idea until his wife (Mary Steenburgen) needs more than a yes or no answer from, and he cannot give it to her. However, he can give it to Zoey in a song. What does that song mean, something no daughter wants to know about her parents.
In a time when shows are all dark and gloomy, Zoey's Extraordinary Playlist finds a way to bring us joy. It is an endearing show with characters you root for and sing along with. So much so, I want a Mo in my life. Everyone needs a Mo. Alex Newell is the brightest star among several shining stars. I cannot get all of the heartfelt acting and singing that is done on this show. There are plenty of surprise singers on it like Gallagher and Steenburgen. You could not ask for a better cast than the one they got for ZEP.
Fall in love with all of them tonight at every Sunday at 9p. Or every day because I cannot stop watching this show. It is that freaking amazing!
---
What happens when they make it up to The Good Place?
January 23rd, 2020 under Kristen Bell, Ted Danson Mary Steenburgen. [ Comments:

none

]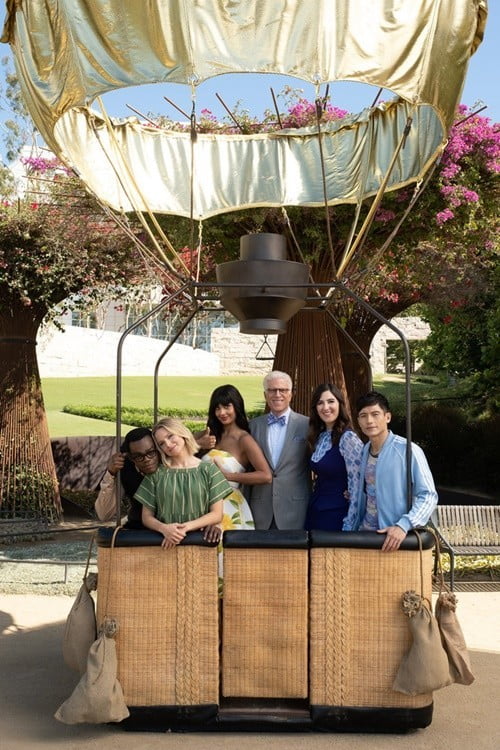 Tonight at 8:30p, it is time for the second to last episode of The Good Place on NBC. After four seasons of wondering what the real Good Place is like, we finally get to see.
Will it be everything that Michael (Ted Danson), Eleanor (Kristen Bell), Chidi (William Jackson Harper), Tahini (Jameela Jamil), Jason (Manny Jacinto) and Janet (D'Arcy Carden) thought it would be? Is it even better than that? Before they find out, it is time for them to go to a party in their honor with some the greatest through time including a pretty neat guest star.
While they are all in heaven, I am in hell because I do not want this show to end.
---
The Good Place finds another way to surprise us
January 16th, 2020 under Kristen Bell, Ted Danson Mary Steenburgen. [ Comments:

none

]

Last week on The Good Place, Michael (Ted Danson) and Sean )Marc Evan Jackson) came up with a way to save Earth. They will give humans a test to determine which place they should go to. the good one or the bad one.
Now that they are on board, they need to get all the other demons to be so too. That is a lot easier said than done. However, that is not as hard as finding out who to test. Eleanor (Kristen Bell), Chidi (William Jackson Harper), Tahani (Jameela Jamil), and Jason (Manny Jacinto) have all the files to pick the best people. Yet, they are going to look at their own files first. What will they learn about themselves and each other on NBC tonight at 8:30p?
Lots of shocking things, but not as shocking as the reveal at the end. But I have said too much.
One thing I hate to say is that we only have two more episodes after tonight. Why does this show have to end? Wwwwwwhhhhhhhhyyyyyyyyy?
---
Zoey's Extraordinary Playlist lives up to its name because it is extraordinary
January 7th, 2020 under NBC, Ted Danson Mary Steenburgen. [ Comments:

none

]

Tonight at 10p, we get a sneak peek of NBC's new show Zoey's Extraordinary Playlist, and you don't want to miss the best new show of the season. As much as I love Bob Hearts Abeshola, Carol's Second Act, Evil, and Perfect Harmony, no new show has wowed me like ZEP. Once you watch it, you will see why it is so easy to fall in love with it.
Zoey (Jane Levy) is a coder who hates music. Her next door neighbor Mo (Alex Newell) plays and sing it as loud as he can, even though Zoey tells him to turn it down. Zoey needs quiet because she up for a big promotion at work. She has an interview with her boss (Lauren Graham), and she does not want to blow it. Thankfully, she has her work friend, Max (Skylar Astin), to give her the encouragement she desperately needs. Now, if only he can encourage enough to go after Simon (John Clarence Stewart), the guy she likes at her job. If that is not enough to handle, her father (Peter Gallagher) is dying from a rare brain disease that leaves him speechless and trapped in his own body. Zoey worries how her dad's health is affecting her mom (Mary Steenburgen), who is his caretaker.
All of this stress is causing Zoey to have headaches, and she is afraid she might have what her father has. Therefore, her mom tells her to get an MRI. While she is in it, listening to some music, an earthquake rattles the city and the machine. Thus, it causes her to download all of the music that it is has to offer.
When she is out of the machine, she starts to hear people singing their thoughts to her, and she cannot make it stop. As strangers sing The Beatles' Help to her, she runs home and seeks help from her neighbor. Zoey will now depend on Mo to help her understand what is going on. Mo knows music, and Zoey cannot escape it.
When she is at work, she will hear someone sing the saddest version of Tears For Fears' Mad World, and it will give her an insight to what they are secretly dealing with, in their personal life. She will try to help them, and it makes her think maybe there is something good that can come out of this new ability. However, when the lightbulb moment comes, get the tissues ready because it will leave you with tears in your eyes.
It is a sweet moment, just like this show in general. Each week, Zoey is going to have to learn to deal with people singing their innermost feelings to her. Then she is going to have to figure out how to help them without letting them know what she can do. Sometimes she will get it right. Other times, she will get it completely wrong. Can she fix it, or will she hear another song? We will just have to keep tuning in after it returns on Sunday, February 16th, its regularly scheduled night.
When it comes to the song choices, they are songs that everyone will know. Some of the songs are even better than the original versions. There are some breakout singers in the cast like Gallagher and Steenburgen. Who knew they could sing? We already know that Astin and Newell can belt out a tune. What we didn't know about Newell, is he can act. He is the best part of this musical dramedy, and there are many bright spots.
So many you are not going to want to miss it tonight or Sundays starting on February 16th.
---
BTWF: Ted Danson on Trapper John, M.D.
October 24th, 2019 under Before They Were Famous, Ted Danson Mary Steenburgen. [ Comments:

none

]

Before Ted Danson was a doctor on Becker, he was patient on Trapper John, M.D. He looks the same now as did when he was 31 in that 1979 episode?
---