Mr. Mayor was elected for a second season
March 22nd, 2021 under NBC, Ted Danson Mary Steenburgen. [ Comments:

none

]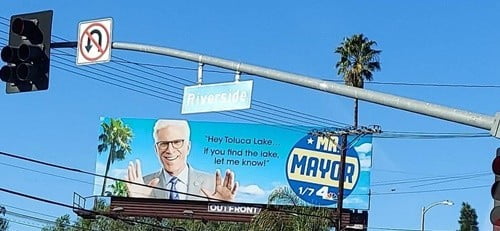 NBC has been canceling a lot of comedies recently like Superstore, and I feared that Mr. Mayor would be one of them. Thankfully, my gut was wrong because they picked it up for a second season today.
"We've loved our collaboration with NBC on the first season of 'Mr. Mayor' and are excited to continue working with our fantastic cast, led by the incomparable Ted Danson and Holly Hunter," said Erin Underhill, President, Universal Television." We can't wait to see what Tina Fey, Robert Carlock and our talented producing team have in store for Mayor Bremer and his rag-tag team of civil servants."
Danson plays a billboard mogul who runs for mayor of LA when the former one goes crazy and resigns. Since he is so likable, he gets elected job. However, he doesn't know what he is doing. He keeps screwing up, but then he saves the day with the help of his staff played by Holly Hunter, Vella Lovell, Mike Cabellon, Bobby Moynihan, and his daughter (Kyla Kennedy).
Mr. Mayor is a quick-witted show, and if you blink, you might miss a joke or two. It is the type of sitcom that you have to watch multiple times in order to catch all of the jokes. And even then, you might miss a few because some of them are so subtle. That is why it is a critical darling, as darling at Danson himself.
As excited as I am about the renewal, I still have an issue with the shoe. That billboard was hung in the town where I live, and it is a sore point for us. We have a lake in Toluca Lake, but it is not accessible to most of the residents because it is on the snooty golf course that won't let us in to see it. We hate to be reminded of that. However, it did makes us laugh, then cry.

---
Can Zoey be as happy as Zoey's Extraordinary Playlist makes us?
January 26th, 2021 under Alex Newell, Skylar Astin, Ted Danson Mary Steenburgen, Zoey's Extraordinary Playlist. [ Comments:

none

]

Tonight at 8p on NBC on Zoey's Extraordinary Playlist, Zoey (Jane Levy) is going to try to be happy after being egged on by Mo (Alex Newell) to try it. I mean, you can't blame her for being sad. In the last two months, she lost her father, her mentor/boss moved away, and she broke up with her boyfriend. That is a lot to handle.
How long can she handle being happy before something brings her down? Not too long. As soon as she gets to work, she is given her toughest challenge yet as the new boss. While that is her challenge, Max (Skylar Astin) and Mo prepare to launch their business. How will their opening night go?
Talking about openings, David (Andrew Leeds) has a big case, and his family decides to watch him give his opening statement at court. While he is talking to the judge, he starts to sing a heart song that only his sister can hear. And I am so happy to hear him sing a solo. It is about time he got one.
And when it comes to getting one, is the recently widowed Maggie (Mary Steenburgen) about to get a new boyfriend? How will she handle someone flirting with her?
All of this leads to an ending that will have Zoey flirting with danger. But I have said too much. I will say I cannot wait to see where the show goes next after that. Then again, I am always looking forward to their next episode? How can you not love this darling show that brings me and so many others happiness. It is what we all need.

---
Zoey's Extraordinary Playlist did a good, good thing
January 12th, 2021 under Alex Newell, Skylar Astin, Ted Danson Mary Steenburgen, Zoey's Extraordinary Playlist. [ Comments:

none

]

Tonight at 8p on NBC, Zoey (Jane Levy) is finally going to do the bad, bad thing with the man she chose from her love triangle on Zoey's Extraordinary Playlist. However, it won't be easy because she and Max (Skylar Astin) will not be able to get any privacy. Then when they do, she will hear his heart songs. How awkward will that make their lovemaking? That is if they can ever make love.
One of the people that interrupts them is her mom. Maggie (Mary Steenburgen) is still dealing with the loss of her husband, and she doesn't know what to do with herself. Thankfully, she will find something that will not only help her, but it will also her daughter-in-law (Alice Lee), who is adjusting to being a new mom.
Maggie is not the only thing cock blocking them, so is Mo (Alex Newell). Mo and Max are going into business together, but things sour when Max asks Mo to sign a contract. Why did this upset Mo so much?
What is really upsetting Zoey is that her company's new watches are on fire. As in, they are literally catching on fire. Now, Zoey, Leif (Michael Thomas Grant), Simon (John Clarence Stewart), and her team at SPRQ Point need to figure out what is causing the problem and how to fix it. Will they be able to find out what is wrong before it is too late?
All of that plus several song and dance numbers. What more do you need to watch last season's best new show? Especially, since it airs before This Is Us. What a perfect duo for our Tuesday nights in lockdown.

---
Ted Danson is endearing as Mr. Mayor
January 7th, 2021 under NBC, Ted Danson Mary Steenburgen. [ Comments:

none

]

Ted Danson gallantly returns to the NBC lineup tonight after almost a year away. The actor is in a good place with Mr. Mayor at 8p.
Los Angeles needs a new mayor because the old one had a mental breakdown. Mayor Neil Bremer (Danson), a retired businessman, who earned his billions in billboards, decides to run for the city's top official and wins. He has no idea what he is doing, and his staff thinks he is the wrong person for the job. They might be right.
Mikaela (Vella Lovell) used her skills to get him elected, and she is having serious doubts about him being able to do the job. Tommy (Mike Cabellon), the Mayor's aide, convinces her to stay on. She agrees to do it, as long as they can blame everything on Jayden (Bobby Moynihan), the only holdover from the last administration. He is a bumbling idiot, so their plan is brilliant. Or is it?
Almost as brilliant as Bremer's decision to hire Arpi (Holly Hunter), his political archnemesis as his Deputy Mayor. She is out to get him. He knows it, and that is why he gave her the job. She figured that out, and that is why she took the job. Can the two rivals work together for the best of the city's interests? Who will outsmart who first?
There is only one person who cannot outsmart him, and that is his teenage daughter, Orly (Kyla Kenedy). He ran for Mayor for her, and she wishes he didn't. Will he be able to win her over?
Just like he is going to win over his constituents with all of the photo ops. For example, in tonight's second episode, he goes from event to event nonstop. He hates them, but he doesn't mind them as much after he eats some special gummy bears they got at the ribbon cutting for the LA's 10,000th dispensary.
You will be laughing with Mr. Mayor like he is laughing after eating those edibles. I will warn you; you have to pay to the lines because they sneak in a lot of witty jokes. If you are not paying attention, you just might miss them.
You don't want to miss them or a single episode because Danson and the sitcom bring the much-needed humor we all need these days. Since this is an ensemble show, they each bring their own dynamic and humor to the show.
Therefore, make sure to vote for all of them tonight and every Thursday.

---
BTWF: Ted Danson for Head and Shoulders
December 30th, 2020 under Before They Were Famous, Ted Danson Mary Steenburgen. [ Comments:

none

]

Before Diane was the only blonde in Ted Danson's life on Cheers, he had another one who needed Head and Shoulders. He looks the same now as he did when he was 31 in that 1979 ad.

---