Mary Steenburgen says we are getting another Book Club
June 12th, 2019 under Andy Cohen, Candice Bergen, Diane Keaton, Jane Fonda, Ted Danson Mary Steenburgen. [ Comments:

none

]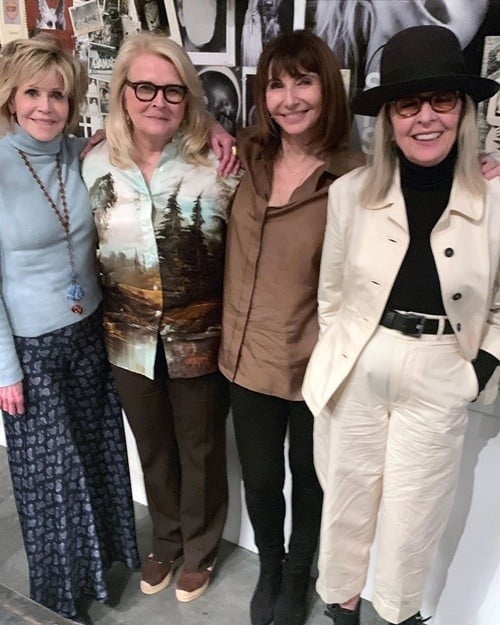 Sometimes when actors makes a movie, they become friends for life. That is exactly what happened to Mary Steenburgen, Jane Fonda, Candice Bergen and Diane Keaton when they made Book Club.
The four women have continued their friendship even off camera and met a few times since the enjoyable 2018 film came out. In fact, they even got together at Keaton's house this weekend. Andy Cohen, like me, loves seeing the ladies together, so today he asked Mrs. Ted Danson about their dinner date on his radio show. That is when she revealed they are doing a sequel to their feature.
While that is great news for fans of the movie, I would rather see it be a series. I think it would be better if they took up a new book every week for like 10 of them. Wouldn't it be fun to see how the Twilight series would inspire them? Maybe even be a little naughty and read The Art of the Deal. I don't think the actresses would allow that. However, they could have fun with Kardashian Konfidential.
No word, which of the men will be back, but I have a feeling we will be seeing them again. Which makes me so very happy. If you have not seen Book Club, you should definitely watch it. It is just a sweet movie about friends being there for you whenever you need them.
To hear what Steenburgen told Cohen on his radio show today, then click here!
---
Oh fork, this is major bullshirt, The Good Place is ending this season
June 8th, 2019 under Kristen Bell, Ted Danson Mary Steenburgen. [ Comments:

none

]

There are hundreds of television shows being produced these days and The Good Place is one of the best of the bunch. However, as they say, "All good things must come to an end." Sadly, that is the case for this comedy.
Michael Shur, who created this show, explained his decision to say goodbye the good and bad place.
After The Good Place was picked up for season two, the writing staff and I began to map out, as best we could, the trajectory of the show. Given the ideas we wanted to explore, and the pace at which we wanted to present those ideas, I began to feel like four seasons—just over 50 episodes—was the right lifespan. At times over the past few years we've been tempted to go beyond four seasons, but mostly because making this show is a rare, creatively fulfilling joy, and at the end of the day, we don't want to tread water just because the water is so warm and pleasant. As such, the upcoming fourth season will be our last.

I will be forever grateful to NBC and Universal TV for letting us make The Good Place, and for letting us end it on our own schedule. I will also be forever grateful to the creative team, both on-screen and off, for the work and decimation to a very weird idea. We ask the question very frequently, on this show, what do we owe to each other? The answer, for me, is: I owe all of you a whole lot.

We look forward to a great final season airing this fall.
I thought that watching Ted Danson flossing would bring a smile to my face after this news, but it did not work. I don't want this show to end. Can't they take something else like Grey's Anatomy or NCIS?
---
Is Book Club 2 happening?
April 12th, 2019 under Candice Bergen, Diane Keaton, Jane Fonda, Ted Danson Mary Steenburgen. [ Comments:

none

]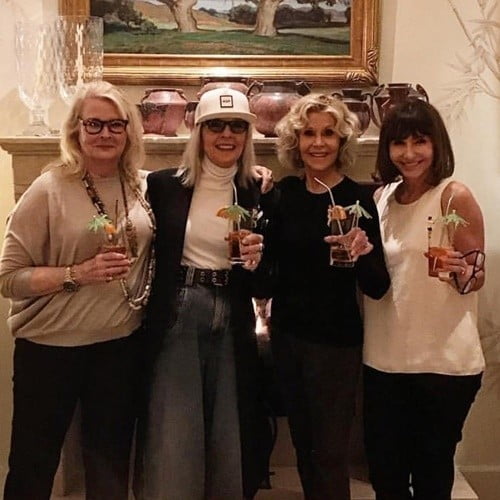 Book Club was last year's sleeper hit and yesterday the film's stars got together. Does that mean that Candice Bergin, Diane Keaton, Jane Fonda and Mary Steenburgen are letting us know that they are working on a sequel? Sadly, nope. It just means that made a friendship that lasted long after they were done filming.
Personally, I think they should do a series based on the movie and each week they take on a new book that changes their lives. Imagine if they took on a murder mystery book where four friends vow to kill one of their lovers, but they don't know which one actually do the crime. Now they are all suspicious of each other after Andy Garcia is injured by mysterious means. I would watch, wouldn't you?
---
Does Ted Danson think that The Good Place has nailed heaven?
January 16th, 2019 under Jimmy Kimmel, Ted Danson Mary Steenburgen. [ Comments:

none

]

Ted Danson was on Jimmy Kimmel Live yesterday and he started off his appearance with something heavenly. He let us know if he can still do The Floss like in that viral video. Yes, he can, but do not expect to see him doing it too often because he says it hurts. Which is a shame because he is so good at it.
Talking about good, he also told the ABC host if he thinks his show The Good Place could possibly be an accurate take on the afterlife. Danson said, "Secretly, I think, when we get up to heaven, Gd is going to say, 'You guys nailed it.'" I hope it is because I am going to the Bad Place and they make it look so much better than all those movies that depict as torture.
Does he think he is going to go to The Good Place? He says he is living his best life now. He loves his job and he loves going to work. To him, it is like a Belinda Carlisle song, Heaven is a Place on Earth.
Seriously, you can tell he is enjoying life. I say that because try watching this video and not smiling throughout it all. You cannot help but to get sucked into his happiness and that one of the many amazing traits about him. He is a truly nice man. I, for some reason, thought he would be a jerk, but I was pleasantly surprised that he is one of the nicest actors I have met in Hollywood. And it was sincere, no BS. He truly is a WYSIWYG. Totally down to earth which is probably while he is living in the now and not for the afterlife.
---
The Good Place is in a good place with NBC
December 4th, 2018 under Kristen Bell, Ted Danson Mary Steenburgen. [ Comments:

none

]

Out of all of the shows I watch on television these days, The Good Place is my favorite. Every week, I look forward to seeing how devilish Ted Danson can be. Everyone who watches it loves it. Yet, not enough of you mother forkers are watching and that is some bullshirt. Which made me wonder if NBC would renew the critical darling.
Well, I guess they are afraid of going to The Good Place, so they renewed it for a fourth season today! And the fans got an early Christmas present!
Let's celebrate like we are going to heaven, but party like we are going to hell!
BTW I wonder if Ted Danson did The Floss when he heard the good news?
---