Halle Berry woke up like this
December 28th, 2021 under Halle Berry, In Bed. [ Comments: none ]
Have you ever wondered what Halle Berry looks like when she wakes up in the morning? As perfect as she does the rest of the day, as you can see in this photo of the 55-year-old actress.
It is not so fair. The Oscar winner needs to look like crap like the rest of us in the morning who are running to bathrooms to put on our faces so that we don't scare our lovers away. I want to know her secret. And don't tell me it is Victoria.

---
Shanna Moakler went to bed like this
September 7th, 2021 under In Bed, Shanna Moakler. [ Comments: none ]
While most people post photos of themselves in bed and say, "woke up like this," Shanna Moakler changed it up. She posted a fresh-faced photo in a negligee showing her ex-husband, Travis Barker, what he is missing.
And he is missing a lot. There is a reason why she was Miss USA, and his current girlfriend is the Kardashian sister we forget about.
Back to Moakler, doesn't she look sexy as hell? Can you believe she is 45 years old? Because she looks as beautiful now as when she won her crown in 1995.

---
Bruce Campbell in bed surrounded by pussy
July 6th, 2020 under Bruce Campbell, In Bed. [ Comments: none ]

There is no denying that Bruce Campbell is a ladies' man. Therefore, it should come as no surprise that he was photographed in bed with two pussy…cats.

No matter how hot the Evil Dead star was before this picture, he definitely made my notice burn with this one. That was lame. What is not lame is a man finding joy with two kitties. There is nothing sexier to a lot of women, like me. Me-ow!

---
Cindy Crawford woke up like this!
September 9th, 2019 under Cindy Crawford, In Bed. [ Comments: none ]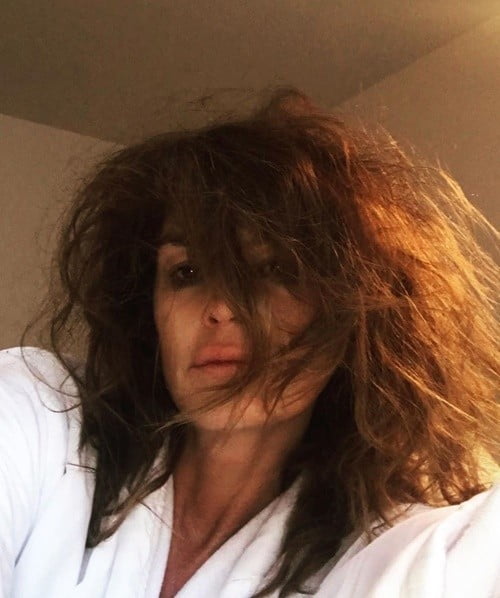 How many times have you looked at Cindy Crawford and wished you could be beautiful as she is? You wake up in the morning and you look like a dump truck dumped its whole load on you. In your mind, you think that Crawford wakes up looking like the supermodel that she is. Well, we were wrong.
She is just like all of us. Well, if she goes to sleep with wet hair and her eye makeup on.
Seeing her like this gives me some comfort that we are all perfect! However, not when we wake up in the morning. That is what coffee, showers and makeup are for.

---
Bronson Pinchot woke up this way
June 14th, 2019 under Bronson Pinchot, In Bed. [ Comments: none ]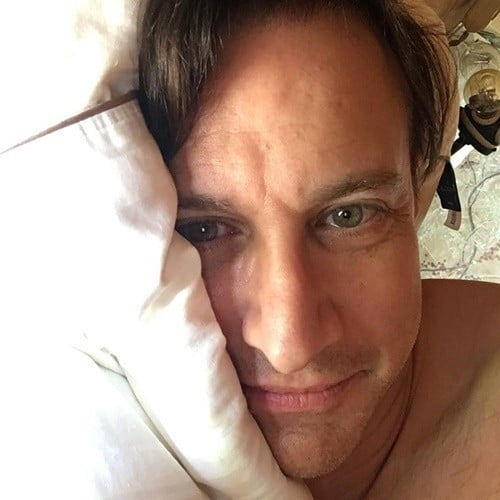 Bronson Pinchot woke up like that and he decided that today is going to be a day to just stay in bed. Seeing how comfortable he looks, can you blame him? We all need days like that.
Now let's talk how about sweet he looks in bed, when did he become so sexy? I still think of him as the goofy Balki Bartokomous. On that note, when are we going to get a Perfect Strangers revival? I think it could still work. I am sure he and Cousin Larry are up for it.

---