Bronson Pinchot woke up this way
June 14th, 2019 under Bronson Pinchot, In Bed. [ Comments:

none

]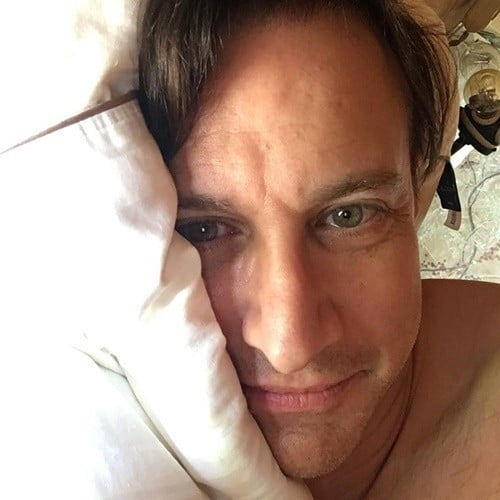 Bronson Pinchot woke up like that and he decided that today is going to be a day to just stay in bed. Seeing how comfortable he looks, can you blame him? We all need days like that.
Now let's talk how about sweet he looks in bed, when did he become so sexy? I still think of him as the goofy Balki Bartokomous. On that note, when are we going to get a Perfect Strangers revival? I think it could still work. I am sure he and Cousin Larry are up for it.
---
The many faces of Selena Gomez
May 14th, 2019 under In Bed, Selena Gomez, The Many Faces of. [ Comments:

none

]


I don't know about you, but I find Selena Gomez to be very one dimensional. However, in these three photos, she tweeted from her bed in Cannes, I see two other sides of her. She should be more playful like this more often. Being goofy works on her. Maybe she wakes up that way and then becomes boring as the day goes on? What do you think?
---
Jodie Sweetin went to bed like this
January 8th, 2019 under Full House, In Bed. [ Comments:

none

]

Celebrities love to share photos of them looking perfect when they wake up in the morning. Jodie Sweetin shared one of herself back in bed after attempting to go to Spin Class. Let's be honest, her choice is so much better than sweating on a stationary bike.

Plus, it is officially a week after New Year's Day. If you have not broken all of your resolutions by now, then you are the one in the million.
---
Do Heidi Klum and Gisele Bundchen have something to tell us?
December 13th, 2018 under Do they have something to tell us?, Heidi Klum, In Bed. [ Comments:

none

]

Heidi Klum and Gisele Bundchen were photographed looking very cozy in bed, so do the two supermodels have something to tell us and more importantly Tom Brady? Yes, they do, but not what you would want. They want you to read her book Lessons: My Path to a Meaningful Life that is out now.
---
This is what Jessica Biel looks like hungover
September 18th, 2018 under In Bed, Jessica Biel. [ Comments:

none

]

Jessica Biel might not have won the Emmy yesterday, but that does not mean that she did not celebrate with her husband Justin Timberlake after the awards show. In fact, they partied so much that the Sinner woke up hungover. What do you eat for breakfast if you drank too much? Cake of course.
While you and I would like we got hit by a truck if we partied too much and ate sugar when we finally got out of bed, Mrs. Timberlake is not us. She actually looks even better. So not fair that she looks like she went for a walk in Seventh Heaven and we look like we went to Hell and back.
---