Caption Cindy Crawford!
January 10th, 2023 under Caption the Celeb, Cindy Crawford. [ Comments: none ]
This photo of Cindy Crawford has Caption Me written all over it, so go ahead and do it.

---
Watch Cindy Crawford iron
August 11th, 2022 under Cindy Crawford. [ Comments: none ]
It is a slow news day. How slow? The most exciting video I can find is of Cindy Crawford ironing, and she is doing it slowly.
Why did the Supermodel share this video? She shared this sweet story from her youth. "My mom taught me to iron was I was about 7. I felt so grown up pressing my dad's clothes," she wrote. "When I asked my mom about it today, and said I couldn't believe she actually ironed all of dad's handkerchiefs and tshirts — she told me they only got pressed when one of us girls wanted to iron because she knew we couldn't mess them up! All these years and I never knew 😂 Today i graduated to napkins and pillow cases!"
If this modeling thing doesn't work out for her, she could be a professional ironer. Yeah, this is as good as it gets.

---
Cindy Crawford woke up like this!
September 9th, 2019 under Cindy Crawford, In Bed. [ Comments: none ]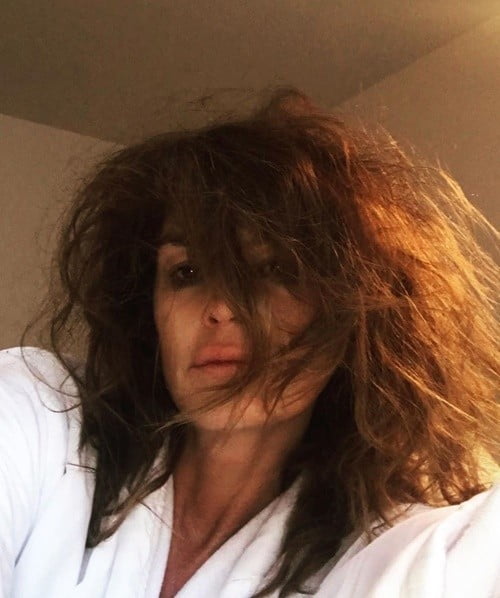 How many times have you looked at Cindy Crawford and wished you could be beautiful as she is? You wake up in the morning and you look like a dump truck dumped its whole load on you. In your mind, you think that Crawford wakes up looking like the supermodel that she is. Well, we were wrong.
She is just like all of us. Well, if she goes to sleep with wet hair and her eye makeup on.
Seeing her like this gives me some comfort that we are all perfect! However, not when we wake up in the morning. That is what coffee, showers and makeup are for.

---
Cindy Crawford woke up looking like that
July 2nd, 2018 under Cindy Crawford, In Bed. [ Comments: none ]

Cindy Crawford is a supermodel which means she can make it work in bed even with no makeup on. The 52-year-old looks better just waking up in the morning than women half her age do. It is not fair.

Now, I am going to pay attention to her Infomercials because whatever she is selling is working for her.

---
Cindy Crawford sunbathes topless
August 6th, 2008 under Celeb Oops, Cindy Crawford. [ Comments: 1 ]

Want to see her sunbathing topless then click here!

---