Why wearing masks gives Ice-T flashbacks
May 6th, 2021 under Ice-T/ Coco. [ Comments: none ]
Before Ice-T was playing a cop on Law & Order: SVU, he was trying not to get caught by them. Back then, he was robbing banks and wore masks inside of them to do so. Then in 2020, he had to do it again. Not rob banks, but wear a mask in one.
"This COVID thing, the first time I walked into my bank, and I had that mask on. I had a flashback. I was like, yo, yo, what is going on," he told EW Live's, Dalton Ross. "It was really a trip."
That had to be so weird for him. I know I feel weird wearing a mask in a bank. I always tell the teller, I am not here to rob you, but I would be more than willing to take whatever extra money you want to give me for free.

---
Ice T says that Law & Order: SVU will be back on the job next month
August 27th, 2020 under Dick Wolf, Ice-T/ Coco. [ Comments: none ]

While television scripted shows in Canada and Los Angeles are back filming, it has taken a little longer for NYC shows to be given the go-ahead. That is because the city was hit very hard by the COVID-19. New York based Law & Order: SVU sadly suffered the loss of one of their crew members, Josh Wallwork, to coronavirus back in March.

Yesterday, Ice T revealed that he got the first script for season 22, and said that he is expecting to go back to work in mid-September. As excited as he is about it, he added, "Should be interesting with all the new safety protocols."

It will also be interesting to see if they will be filming inside more this season as compared to the past. SVU defintely used the city as its backdrop in almost every episode. I hope they can still do it because NYC desperately needs the money to make up for all of its lossese of Broadway and tourism.

---
Ice T and Snoop Dogg, 2 West Coast Rappers shooting on the East Coast
March 25th, 2019 under Dick Wolf, Ice-T/ Coco, Snoop Dogg. [ Comments: none ]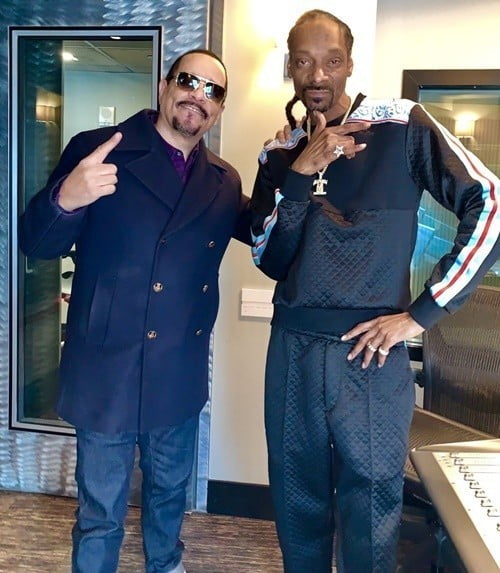 Two of the biggest West Coast Rappers are working on a project together on the East Coast. Ice T revealed today that Snoop Dogg is guest starring on an upcoming episode of Law & Order: SVU. Ice T did not say if Snoop is a good guy or a bad one on the NBC procedural, but he says it is titled Diss. I am sure it will be the shiznit and nothing to diss.
It is amazing that the two men, who have had their run-ins with the law, are working on a cop show. The irony is not lost on me. It also shows people do change.
It just dawned on me, when I was trying to figure out if they worked together before, that I interviewed both of them on the red carpet for Flavor Flav's Comedy Central Roast.

---
Ice T turned into actually Ice T
January 21st, 2019 under Ice-T/ Coco. [ Comments: none ]

It is a freezing 7 degrees in NYC today, but that did not stop Law & Order: SVU from filming outside today. Ice T shared a video of what it looked like and one of the crew members had ice on his beard. It was so cold that Jennifer Esposito's face was stuck to the actor's jacket. I am sure Coco will understand. If not, her anger will warm things up.
On a positive note, at least they were not filming a summer episode because it would have been a lot colder if they had to film those scenes in shorts and t-shirt?
Then again, they say artists suffer for their art and these actors are suffering. Stay warm. I will be thinking of you when it hits 77 degrees today in Los Angeles.

---
Ice T finally tried some coffee and a bagel
November 21st, 2018 under Ice-T/ Coco. [ Comments: none ]
After Ice T shocked the world and revealed he has never tried coffee or a bagel, he finally tried them thanks to the dating site Coffee Meets Bagel.
What did he think? Even though he is NYC, where you can get some of the best coffee and bagels, it sounds like they did not bring him anything good. What is wrong with them? They should have gotten him the best and not something from Starbucks. Sorry, but in NYC, you have so many options, you don't get that stuff at a chain. Take advantage of the city.
So Ice, I say try a toasted sesame seed bagel with melting cream cheese and you will be hooked. I am from The Bronx, not a huge bagel eater, and even I love those.

---