Mariska Hargitay and Ice T dye together
December 8th, 2021 under Dick Wolf, Ice-T/ Coco, Mariska Hargitay. [ Comments: none ]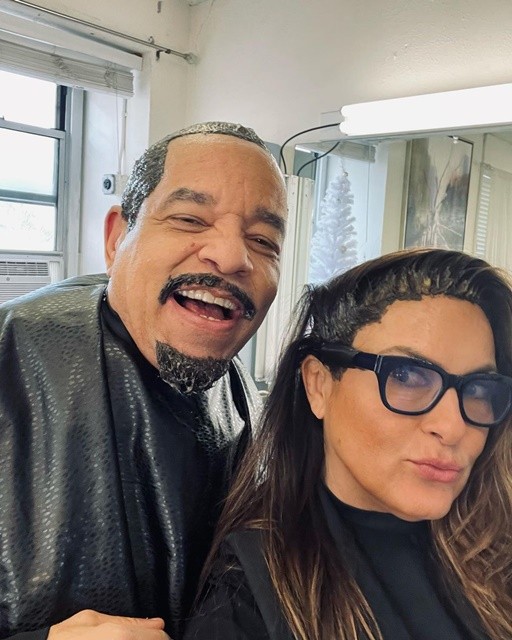 Mariska Hargitay/Instagram
Law & Order: SVU has been on the air for 22 years. Yet, Mariska Hargitay and Ice T have not gone grey after all these years and cases.
What is their secret? They dye their hair, and they do it together. Or, as the rapper puts it, "A little dye will keep us fly." And it does.
I love when stars get real about how they keep their youthful looks. And this is as real as it gets.
Personally, I think they both would look good with some salt to go with their pepper if they opted to stop darkening their roots. They look great no matter what. What do you think?

---
Caption Mariska Hargitay and Chris Meloni!
September 30th, 2021 under Caption the Celeb, Chris Meloni, Mariska Hargitay. [ Comments: none ]
These photos of Mariska Hargitay and Chris Meloni from tonight's Law & Order: SVU has caption me written all over it, so go ahead and do it!

---
Do Chris Meloni and Mariska Hargitay have something to tell us?
August 23rd, 2021 under Chris Meloni, Do they have something to tell us?, Mariska Hargitay. [ Comments: none ]
Chris Meloni shared a photo of him and Mariska Hargitay about to kiss, so do the two Law & Order stars have something to us? Like, are Stabler and Benson going to boom chicka wow wow this season? That would make fanfic fanatics flip! Say that three times fast.
Anywho, they are not giving away any spoilers. So, what is happening in this picture? Duduca_22 asked the two actors on Twitter, "Can y'all imagine if one day @Chris_Meloni and @Mariska posts a picture like this pretending they are kissing with the caption #Rehearsing It would be the end of us and the end of the internet." Therefore, they did it.
Did it end the internet? If you are reading this, then no. But it definitely slowed it down for a while, so we could catch out breath.

---
Is Chris Meloni trying to break whatever bones Mariska Hargitay hasn't broken?
August 19th, 2021 under Chris Meloni, Mariska Hargitay. [ Comments: none ]
Back in May, Mariska Hargitay revealed that she had a broken knee, a hairline fracture in her ankle, and a torn ligament. She spent the summer recuperating because of it. In fact, she is still healing and needs help to get around on the set of Law & Order: SVU. Chris Meloni, her partner in crime, was more than willing to help.
However, he might not be the best person to be pushing, I mean, pulling her around. That is because he was pulling her on an office chair when they hit a bump in the road. You can only imagine what happened next. She went down faster than a crime on a Dick Wolf procedural.
Thankfully, she is OK. Because as they say, "Laughter is the best medicine." And there was plenty of laughter to go around.

---
That is a lot of Stablers and Bensons
April 8th, 2021 under Chris Meloni, Dick Wolf, Mandy Moore, Mariska Hargitay. [ Comments: none ]
Mariska Hargitay and Chris Meloni are once again paired up together, and they are enjoying being side by side. So much so they each got masks with their mugs on them. Therefore that is six Bensons and six Stables in one photo. Then if you include their Thursday night NBC procedurals Law & Order: SVU that airs at 9p and Law & Order: Organized Crime that starts at 10p, that is eight of them. Oy!
I have to admit, as much as I live this photo, Cagney & Lacey, aka Sharon Gless and Tyne Daly did it better.

---