COVID is causing celebrities to drop out of The Critic Choice Awards
January 15th, 2023 under Colin Farrell, Coronavirus. [ Comments: 4 ]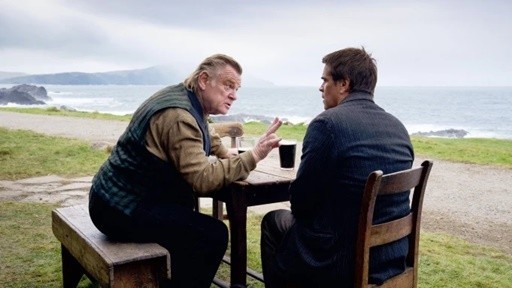 On Tuesday, several celebrities attended the Golden Globes Awards, and today they are cancelling on The Critic Choice Awards because they tested positive for COVID-19.
So far, Jamie Lee Curtis, Brendan Gleeson, Colin Farrell, and Michelle Pfeiffer are negative to attend but positive for the coronavirus.
And there might be even more because Deadline says that all attendees need to take a COVID test before they show up tonight. If you get a single line on your test, then you can be in line to enter the theater.
Although, the test has to have been taken 72 hours before the show. They should make it so that you need to take the test before you get into the limo. That is the most accurate way to know if someone has it. And even that isn't perfect.
This is going to be a fun awards season!

---
Colin Farrell auditioned for Boyzone
March 27th, 2019 under Colin Farrell, Danny DeVito. [ Comments: none ]

Dumbo stars Colin Farrell and Danny DeVito sat down to answer Wired's Web's Most Searched Questions. Someone wanted to know if it is true that Farrell auditioned for the Irish (Yes, he is Irish and not British. Don't make that mistake) boyband Boyzone.
He admitted that he did and the tone-deaf actor sang Wham's Careless Whisper not once but twice for the producers. He believes they asked him to sing it again because he was so tone deaf and "they could actually believe I had the balls to stand in front of them and sing."
How bad was he? The actor not singer said, "It was a boy band and look, two of the members of the boyband had dead mics and I could not even be one of them. That's how bad I was."
While he was not good enough to sing with Boyzone, he was good enough to sing in Crazy Heart. That was his voice in the movie.
Oh and Danny DeVito really did eat fish in Batman when he played the Penguin.

---
Is Colin Farrell's manscaping story worth $10,000? YES!
May 8th, 2017 under Colin Farrell, Ellen DeGeneres. [ Comments: none ]

Colin Farrell is on Ellen today and Ellen DeGeneres offered to give $10,000 to his charity of choice if he told a never before heard story that is worth that amount of money.
He agreed because he would do anything for his son's school, CHIME Institute, that has done so much for his child. Since the actor isn't shy, he has no problem sharing a story about the first movie he did in the US back at the turn of the century.
Back when he was filming Tigerland, he had to do his first sex scene and he was very nervous. He asked the film's director, Joel Schumacher, "'Is it a bit?' Because, like most men, I had what you could refer to as 'retro bush'…and Joel, the director, went, 'Oh.'"
Thus, the actor ran into the hair and makeup department and asked to borrow their beard shaver. He went to trailer and shaved some off the right and then the left. He looked and realized he took too much off of the left, so when back to the right side. He kept doing this until he was left with a pinky sized landing strip. Which is why we didn't see him do full frontal in his American debut. Damn that beard trimmer!
And with that story, CHIME Institute is $10,000 richer. Which was well deserved because not too many actors would share a story like that with anyone else, let alone on national TV. Heck, I would like to see Ellen match the $10,000 because that tale is worth so much more than that! Don't you agree?

---
Do Ellen DeGeneres and Colin Farrell have something to tell us?
October 13th, 2016 under Colin Farrell, Do they have something to tell us?, Ellen DeGeneres. [ Comments: none ]

Ellen DeGeneres and Colin Farrell were seen kissing lip to lip, so do they have something to tell us? Probably not, it was just his way of saying hello and I would like him to say hello to me like that after he quits what he told Ellen he is doing now on her show today. Think you know what it is, you will just have to tune in to see if you are right.

---
Colin Farrell was questioned as a late teen for attempted murder?
June 19th, 2015 under Colin Farrell, Jimmy Fallon, Vince Vaughn. [ Comments: none ]

Colin Farrell was a guest on The Tonight Show yesterday and Jimmy Fallon challenged him to a game of True Confessions. Basically Farrell, Fallon and Vince Vaughn were all given two envelopes, one was filled with a truth about the person and the other one contained a lie. Then after they read the contents the other two got to question them for :60 seconds. When they were done, the other two players had to guess if the other one was telling the truth or a lie.
Farrell went first, and his envelope said, "When I was a late teen I got brought in for questioning as a suspect in an attempted murder." As they were questioning him, he admitted that when the cops showed a sketch of the suspect he thought the guy looked at him. Then he realized he had a blackout the night of the crime, and he started to wonder if he was the one who did it.
So did he do it? No, as he explained, "Thankfully a friend of mine kept a journal and that particular night and at that particular time we were at a party on the other side of town doing ecstasy." In other words, he had committed a crime, just not the one he was brought in for.
Then it was time for Jimmy Fallon's confession and he got his head stuck in a fence when he was kid. Explains a lot, no?

---