LeAnn Rimes looks good enough to eat
October 27th, 2021 under Halloween, LeAnn Rimes. [ Comments: none ]
LeAnn Rimes is serving up some Halloween scares with a costume that is heads above the rest. Mostly because it is just her head.
The singer's Halloween look gives new meaning to her song How Do I Live. That is because how does she live without a body? We don't know, but we do know she looks good enough to eat.

---
This Halloween costume gave me a boner!
October 18th, 2021 under Halloween. [ Comments: none ]
I have been searching for a costume that gets me excited for Halloween, and this weekend I finally found one via a TikTok video.
Census' Jathan Neider found a turtle in the road, and walked it over to safety.
Since the bassist was going to a Halloween party, he was dressed for the occasion as a skeleton. However, this skeleton comes with 207 bones. The 206 that we all have and one boner!
Can you think of a better costume? I can't! And for less than $35, it is the perfect one for all of the men in your life. Well, not the ones who work with kids.

---
Luke Bryan is cheesy
October 31st, 2020 under Halloween, Luke Bryan. [ Comments: none ]

They say you are what you eat. I say you are what wear. Luke Bryan dressed up as a block of swiss cheese, and it fits him perfectly.
Just joking! The American Idol judge is not cheesy, or is he? You decide!

---
Guess who is that sexy devil?
October 31st, 2020 under Guess who?, Halloween. [ Comments: none ]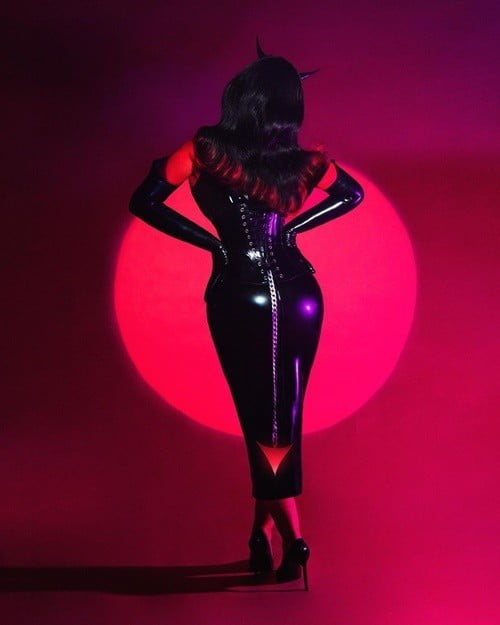 Want to see what girl wants to be naughty, then click here!

---
The Halloween spirit takes over Elton John
October 28th, 2020 under Elton John, Halloween. [ Comments: none ]

We are still a few days away from Halloween, but Elton John is celebrating now. He dressed up as Prince, got behind his piano for a family affair as he performed his 1972 hit Crocodile Rock with his husband, David Furnish, and their two crocs, Elijah, 7, and Zachary, 9.
Do you know how so many celebrities release Christmas albums? I think John should do a Halloween one. Out of all of the singers out there, he is the most like the holiday. Well, after Marilyn Manson, but the latter is the scary version of one. John is the feel-good one of the spooky season.
Now let's talk about his two rarely seen boys; they are so precious. I hope they grow to be just like their dad!

---