Shaq's lost bet shows off his receding hairline
March 4th, 2020 under Gabrielle Union and Dwyane Wade, Shaquille O'Neal. [ Comments: none ]

Dwyane Wade had a little bet with Shaquille O'Neal over the Milwaukee Bucks vs. the Miami Heat game on Monday, and the latter one lost. When Shaq asked D-Wade what he needs to do to settle up, the winner told the loser to "let his hairline grow out."
That is exactly what Shaq did, and he debuted his new look on NBA on TNT yesterday. Then he told the audience to go ahead and joke about it because you won't hurt his feelings.
His forehead is just like him and oversized. But in his hairline's defense, it has a big head to fill. There is only so much hair that can grow on someone's body and imagine how many strands it must take to cover all 7'1″ of him. He had to go bald somewhere. Better there, then down there.
When it comes to his new hairstyle, and I do mean hair, I hope he lets it grow out even more. I want to see him with the George Jefferson. Too bad, Sherman Hemsley is no longer with us. I would have loved to have seen them do a Twins remake.
Now that I think about it, imagine Shaq and Kevin Hart doing it? Hart is not even big enough to cover the NBAer's bald spot.
One last note, thanks Dwyane! It is just another reason to love you!

---
America's Got Talent loses two judges
November 23rd, 2019 under America's Got Talent, Gabrielle Union and Dwyane Wade, Julianne Hough. [ Comments: none ]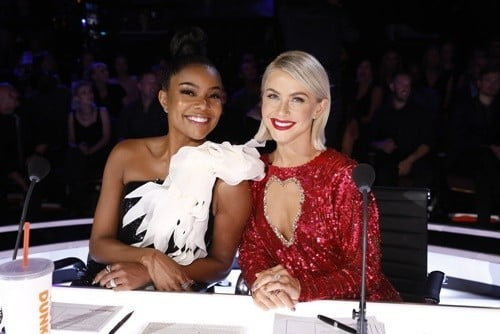 Last season, America's Got Talent added two new judges and now Variety is reporting that Gabrielle Union and Julianne Hough will not be back for another one.
No reason was given for their departure. I am assuming that Union wants to spend more time with her retired husband Dwyane Wade and work on projects with him. When it comes to Hough, I bet they will say she is busy with several projects. However, I bet Simon Cowell was not 100% thrilled to be working with her. She is a camera hog and that makes her so annoying, to me.
No word who will replace them. Who do you think should get the job of working with Simon Cowell, Howie Mandel and host Terry Crews?

---
Dwyane Wade left his mark all over Gabrielle Union's body
August 29th, 2019 under Gabrielle Union and Dwyane Wade. [ Comments: 1 ]

The other night, Gabrielle Union wore a black and white body-fitting dress on America's Got Talent that looked good on all of her curves. Curves that her husband Dwyane Wade knows so very well. How well? If you look closely at the dress, his face is all over it.
A couple that wears their faces all over their bodies, stay together. That is how the saying goes. Right?

---
Caption Dwyane Wade!
July 11th, 2019 under Caption the Celeb, Gabrielle Union and Dwyane Wade. [ Comments: none ]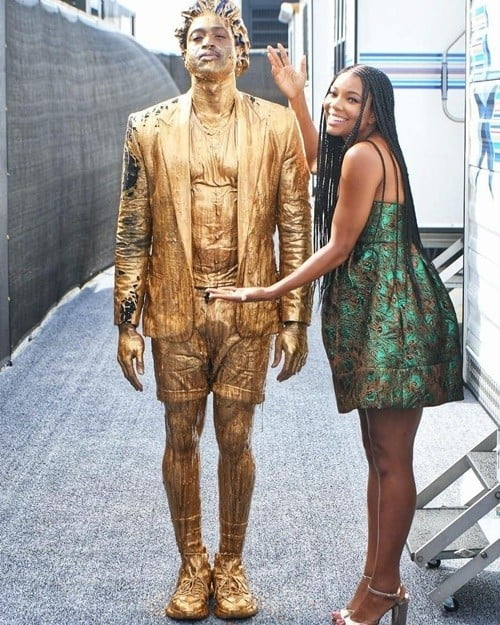 This photo of Garbrielle Union with her husband Dwyane Wade has caption me written all over it, so go ahead and do it.

---
Kodi Lee left everyone in tears on America's Got Talent
May 29th, 2019 under America's Got Talent, Gabrielle Union and Dwyane Wade. [ Comments: none ]

America's Got Talent is back on NBC and I was not sure how the new judges, Gabrielle Union and Julianne Hough, would do. Well, Union is proving to be the heart of the show.
Kodi Lee, a 22-year-old man who is blind and autistic, came out with his amazing mom Tina. The judges asked him some questions and he told them that he is going to sing for them. He sat down at the piano and started to play Donny Hathaway's A Song For You. Once he sang his first note and you heard his soulful voice, the tears began to stream down our faces. When he was done, the judges and the audience rightfully gave him a long standing ovation. Making a special moment even more special.
However, it did not stop there. All four judges, including Simon Cowell, praised him, and Union took it one step further. She hit the Golden Buzzer sending him directly to the live shows.
Lee said he will never forget that moment and neither will we. This is what talent competitions are all about. Finding extraordinary people with amazing talents. It is about giving people a shot that would normally not get one. I hope he goes all the way!
However, who knows who else we will find out about this season because yesterday was only night one.
To hear Lee talk about his audition, then click here!

---