When will America's Got Talent be back?
March 5th, 2019 under America's Got Talent, Gabrielle Union, Howie Mandel, Simon Cowell. [ Comments:

none

]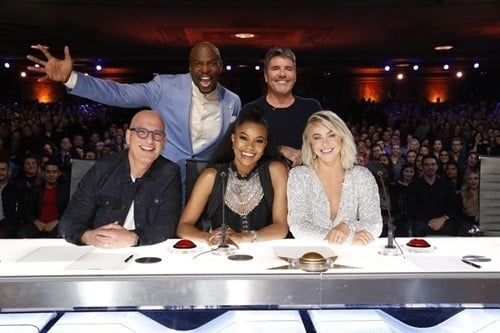 We know that America's Got Talent changed it up this season, but when will we see those changes? NBC announced today talent competition show will return on May 28th.
That is when we will find out if the new judges, Julianne Hough and Gabrielle Union, work well with Howie Mandel and Simon Cowell and new host Terry Crews. I think it will be interesting because we know that Hough doesn't like to share the spotlight and neither does Cowell. Since it is the latter one's show, I think we know who will win out.
---
America's Got Talent is changing things up
February 11th, 2019 under America's Got Talent, Gabrielle Union, Simon Cowell. [ Comments:

none

]


You know how they say, if it is not broke, don't fix it. America's Got Talent never heard of that. That is because for season 14, they are changing things up again.
Out are Heidi Klum, Mel B and Tyra Banks, in are Gabrielle Union, Julianne Hough and Terry Crews. The Brooklyn Nine-Nine actor has been well received as the host of AGT: Champions, so his hiring makes sense. As does the departure of the three ladies who are working on other projects. What I cannot get into is Hough joining the panel. Who doesn't find her annoying? I am sure Simon Cowell will find out soon enough that she thinks it should be all about her.
On a positive note, at least there are Americans on the panel again. The first time there has been one since Howard Stern left after season 10.
What do you think of the new America's Got Talent?
---
Forget Bad Boys 3, it is all about L.A. Finest now!
February 7th, 2019 under Gabrielle Union, Jessica Alba. [ Comments:

none

]

So Will Smith and Martin Lawrence are filming Bad Boys 3 as you read this, but that movie is not going to come out for another year. Plus, it is a one-time showing.
Its spinoff, L.A. Finest starring Jessica Alba and Gabrielle Union will debut on Spectrum OnDemand May 13th. Not only that it is 13 episodes. If this trailer is just a tiny glimpse of what we can expect from the show, then who is going to want to see that movie? These actresses will show them who is boss! They are.
Boys might like their explosions and car chases, but they like it even more when there are two sexy women causing them. Thus, what is not to like about L.A. Finest?
---
Gabrielle Union and Dwyane Wade's baby has been blessed by Oprah
November 20th, 2018 under Gabrielle Union, Oprah Winfrey. [ Comments:

none

]

While us peasants have our babies blessed by clergy, Gabrielle Union and Dwyane Wade are not like us. Their newborn daughter, Kaavia James, was blessed by Oprah Winfrey.

What did it cost them for the holy honor? Their first on-camera interview will be with her on OWN December 8th at 8p. Worth every cent!
---
Gabrielle Union reveals her daughter's name!
November 18th, 2018 under Gabrielle Union. [ Comments:

none

]

About two weeks after Gabrielle Union and Dwyane Wade revealed that they had a baby daughter via surrogate, this weekend they shared her name with us.

The ecstatic mom wrote, "Just greazzzy and happy. That is all. @kaaviajames pronounced Kah-Vee-Uh James. She has 102 nicknames including but not limited to Kaav, Kaavi, Kaavi Baby, Kaavi J, Jamie, KJ, Nugget, Nug, Pooters.

"We wanted to include my family in her name so the 'James' is from my uncle James Francis Glass who is also my godfather. Union is her middle name. I've waited this long so fo sho I was gonna get in there 🤷🏾‍♀️👶🏾☺."

A beautiful name for a beautiful baby girl who will spoiled!
---