Jimmy Fallon gets locked in a phone booth with a 10′ pyhton!
May 18th, 2019 under Gabrielle Union, Jimmy Fallon. [ Comments:

none

]

Yesterday on The Tonight Show, Jimmy Fallon played Phone Booth with Gabrielle Union. A game he quickly regretted playing.
It is a very simple game, they answer questions in a phone booth. If they get it right, a person is put in their opponent's booth. If they get it wrong, they are placed in theirs.
Fallon thought he was in the clear when he got the first question right. Unfortunately for him so did the LA's Finest star. When it came time for the NBC host to find out who would be joining him, he got a surprise. Animal Trainer Grant Kemmerer brought a friend with him, a 10′ python. How did Fallon, who is afraid of exotic animals, feel about it? As a disgraced comedian once said, "First you say it, then you do it."
Which is why I love this game so much!
---
LA Finest is the finest LA cop show!
May 13th, 2019 under Gabrielle Union, Jessica Alba. [ Comments:

none

]

Bad Boys was good, but they have nothing on the television spinoff LA Finest. Jessica Alba and Gabrielle Union bring their sass to Spectrum OnDemand today. The networks might have rejected it, but Spectrum was smart to make it their first scripted show.
Syd (Union) moved from Miami to LA to have a calmer life as a detective after being shot and left for dead. That past makes her the tough cop that she is, but she does not share her former life with anyone including her partner.
Nancy (Jessica Alba) also has a troubled past, but she turned her life around. She is now married to Patrick McKenna (Ryan McPartlin) and together they are raising his teenage daughter Izzy (Sophie Reynolds). Patrick just got offered the job to be the District Attorney and that is going to affect the McKenna household
You don't care about that. You want to know if they are going to be explosions, car chases, shoot outs, fights and all those other things that come with Dick Flicks. The leads might be females, but they have bigger balls than most of their male competition.
They are women hear them roar on Spectrum.
---
BTWF: Gabrielle Union on City Guys
April 18th, 2019 under Before They Were Famous, Gabrielle Union, Saved by the Bell/City Guys. [ Comments:

none

]

Before Gabrielle Union was one of LA's Finest, she was dating the finest guy on City Guys. She has not aged a day since she was 24 in that 1997 episode.
---
When will America's Got Talent be back?
March 5th, 2019 under America's Got Talent, Gabrielle Union, Howie Mandel, Simon Cowell. [ Comments:

none

]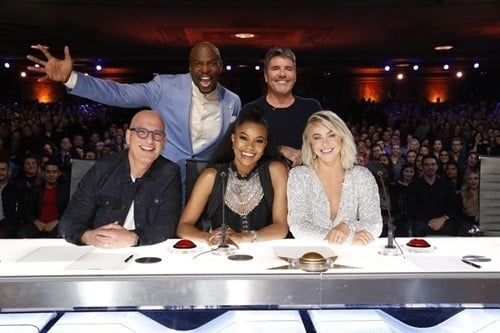 We know that America's Got Talent changed it up this season, but when will we see those changes? NBC announced today talent competition show will return on May 28th.
That is when we will find out if the new judges, Julianne Hough and Gabrielle Union, work well with Howie Mandel and Simon Cowell and new host Terry Crews. I think it will be interesting because we know that Hough doesn't like to share the spotlight and neither does Cowell. Since it is the latter one's show, I think we know who will win out.
---
America's Got Talent is changing things up
February 11th, 2019 under America's Got Talent, Gabrielle Union, Simon Cowell. [ Comments:

none

]


You know how they say, if it is not broke, don't fix it. America's Got Talent never heard of that. That is because for season 14, they are changing things up again.
Out are Heidi Klum, Mel B and Tyra Banks, in are Gabrielle Union, Julianne Hough and Terry Crews. The Brooklyn Nine-Nine actor has been well received as the host of AGT: Champions, so his hiring makes sense. As does the departure of the three ladies who are working on other projects. What I cannot get into is Hough joining the panel. Who doesn't find her annoying? I am sure Simon Cowell will find out soon enough that she thinks it should be all about her.
On a positive note, at least there are Americans on the panel again. The first time there has been one since Howard Stern left after season 10.
What do you think of the new America's Got Talent?
---