LA Finest is no longer Spectrum's finest
October 15th, 2020 under Gabrielle Union, Jessica Alba, Spectrum. [ Comments:

none

]

Spectrum announced today that it is not moving forward with a third season for LA Finest, according to The Hollywood Report. The Bad Boys spinoff, which stars Jessica Alba and Gabrielle Union, has quite an interesting history. The pilot was made for NBC, but they turned it down. Spectrum decided to get into the series business and picked it up. When Fox needed some programming for the fall, due to the coronavirus pandemic, they picked up the first season to fill their airtime. The show's second season premiere was delayed due to the Black Lives Matter movement after George Floyd's death.
It was the little show that could until it couldn't.

---
L.A.'s Finest's season two will not debut today
June 8th, 2020 under Gabrielle Union, Jessica Alba, Spectrum. [ Comments:

none

]

L.A.'s Finest was supposed to debut its second season today on Spectrum Originals. However, they decided to hold off on premiering the Bad Boys spinoff, that stars Gabrielle Union and Jessica Alba, until later this year, according to Variety.
The cable provider did not explain why they are delaying the cop drama, but it is assumed because of the current climate of protests against the violence and systemic racism towards black people by corrupt cops. It is just not the best time to air a show glorifying police officers.
Even though L.A.'s Finest is a Spectrum Original show, the first season is slated to air on Fox in September. I have a feeling the cable provider will debut season two right after season one finishes on broadcast. Which would be smart. Why wait for season two, if you can watch it immediately? They might even get a few subscribers to uncut the cord.

---
America's Got Talent loses two judges
November 23rd, 2019 under America's Got Talent, Gabrielle Union, Julianne Hough. [ Comments:

none

]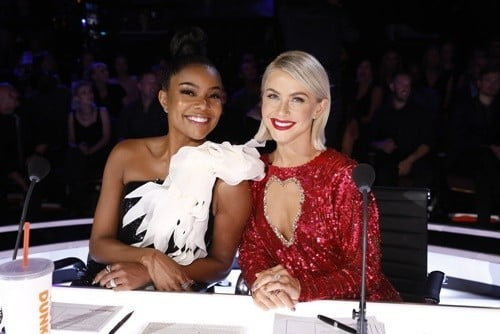 Last season, America's Got Talent added two new judges and now Variety is reporting that Gabrielle Union and Julianne Hough will not be back for another one.
No reason was given for their departure. I am assuming that Union wants to spend more time with her retired husband Dwyane Wade and work on projects with him. When it comes to Hough, I bet they will say she is busy with several projects. However, I bet Simon Cowell was not 100% thrilled to be working with her. She is a camera hog and that makes her so annoying, to me.
No word who will replace them. Who do you think should get the job of working with Simon Cowell, Howie Mandel and host Terry Crews?

---
Dwyane Wade left his mark all over Gabrielle Union's body
August 29th, 2019 under Gabrielle Union. [ Comments:

1

]

The other night, Gabrielle Union wore a black and white body-fitting dress on America's Got Talent that looked good on all of her curves. Curves that her husband Dwyane Wade knows so very well. How well? If you look closely at the dress, his face is all over it.
A couple that wears their faces all over their bodies, stay together. That is how the saying goes. Right?

---
Caption Dwyane Wade!
July 11th, 2019 under Caption the Celeb, Gabrielle Union. [ Comments:

none

]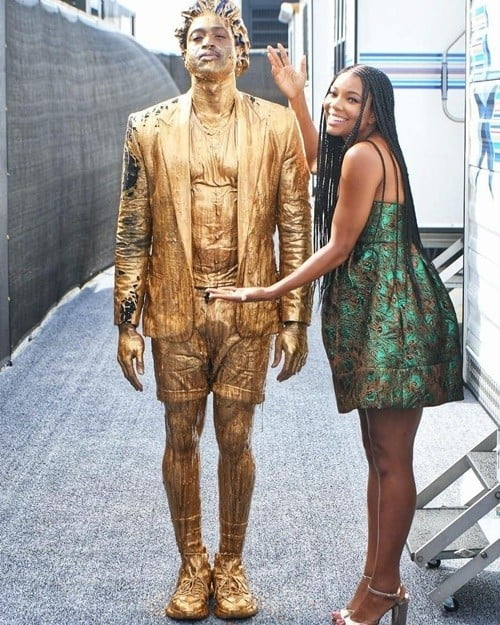 This photo of Garbrielle Union with her husband Dwyane Wade has caption me written all over it, so go ahead and do it.

---